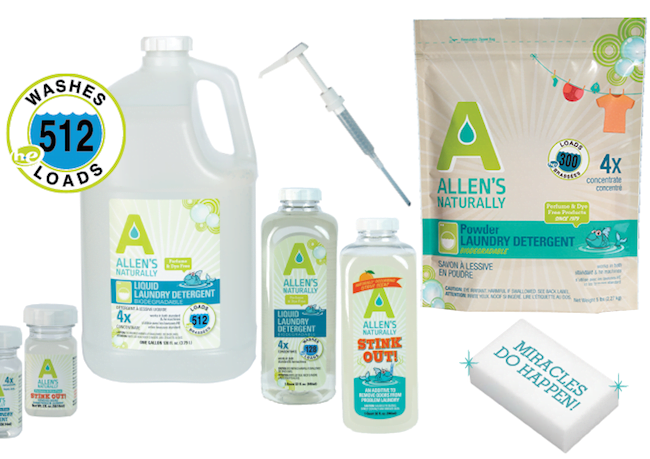 *UPDATE Feb. 2017 — We still agree with Kristen's review from 4.5 years ago, and we'd like to add that Allen's Stink Out is equally amazing at removing odors from stinky laundry.
I'm excited to share this laundry detergent for several reasons today. First, it's made in my home state, and I love giving away products made in Michigan.
Second, this is the detergent we use at home to clean all of our laundry; Allen's Naturally Laundry Detergent is the brand I choose to spend my money on. Lastly, Allen's Naturally is an ethically sound business that you never have to worry about. They are, in fact, the real deal.
Allen's Naturally was born about 30 years ago in cooperation with a Store Front Cooperative named Stone Soup (which has since closed), whose members wanted home care products free of dyes, perfumes, and fragrances. Many of the members were involved in the Feingold diet. Dr. Feingold's theory was that children were hyperkinetic because of the dyes in food. It was the belief of the co-op members that the dyes in national brands of laundry detergent might leave a residue that could possibly migrate through the skin into the body. Other members had MCS (Multiple Chemical Sensitivities) and believed perfumes or fragrances to be a major culprit.
Let's get down to the nitty-gritty. Allen's Naturally Laundry Detergent is environmentally friendly, never tested on animals, and is a great choice for those with Multiple Chemical Sensitivites. Allen's is offered in a liquid or powder form and is recommended by many major cloth diaper manufacturers. Great for cloth diapers, yes, but Allen's is the perfect choice for all of your laundering needs. The gallon size is the most economical choice and lasts my family of six, with one in cloth diapers, SEVEN months. Yes, you heard me correctly, my gallon size of Allen's Naturally Laundry Detergent lasts me seven months!
One of my favorite things about Allen's Naturally is that when we travel, I can adjust the amount of detergent depending on the type of machine I'm using without ill consequence. I often err on the side of putting in more detergent than I probably need but because Allen's is so "clean" there is never any change on my daughter's very sensitive bum.
Another favorable attribute is that unlike other unscented detergents, my clothes are left clean but with the absence of ANY smell. With other unscented detergents I've tried, there's a noticeable "unscented" scent. This is never the case with Allen's. My laundry room is not a laboratory, but from my experience, Allen's is as close as you can come to having no residue left behind on your clothes.
**This giveaway has ended. Thanks for entering!

Kristen Fecker Peroni received her MFA in photography from the University of New Mexico in 2007. She has taught Photography at Eastern Michigan University and the University of New Mexico. She's the mother of four children and blogs about art, family, and sometimes, the intersection of the two.

Latest posts by Kristen Fecker Peroni (see all)