Back to school brings in a favorite season for many — Fall!  And with all the smells, tastes and colors, this recipe makes apple cinnamon parfait the perfect autumn snack!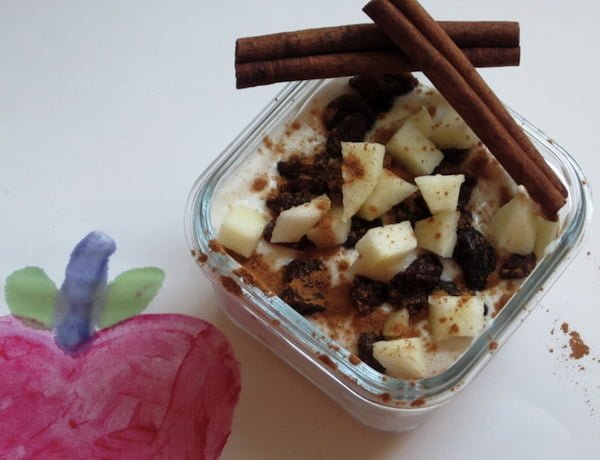 We chose organic ingredients for this apple cinnamon parfait and used Wean Green tempered glass snack cubes with snapping lids for this recipe.

Ingredients
3/4  unflavored greek yogurt
1/2 tsp of cinnamon
1/2 tsp of nutmeg
1/2 cup of favorite granola
1/2 apple – diced small
1/4 cup of raisins 
Directions
Mix the yogurt and the spices together, taste and add more if needed.
Add 2 heaping tsp of yogurt to bottom of snack cube
Add 2 tsp of granola
1 tsp of diced apple
1 tsp of raisins
Repeat until you reach top of snack cup/cube 
Cinnamon and nutmeg contain potassium, vitamins A, C and E to name of few.  And they're favorite spices among kids, and a great way to enjoy the natural flavors of fall.
Wean Green is a Canadian company dedicated to providing parents with safe and environmental baby products that fit into every parent's diaper bag.
Wean Green offers environmentally friendly, modern, and unique baby products.   Wean Green grows with your baby, too. Our Wean Cubes were designed with many secondary uses, including keeping cereal from spilling all over your purse or diaper bag.

Since 2010, Green Child has published a digital magazine devoted to natural parenting and conscious living. Hailed as "good for a green mama's soul," Green Child has grown into a resource valued by parents who care about bringing simplicity, compassion, social responsibility, and instinctual intelligence back to parenting.

Latest posts by Green Child Magazine (see all)