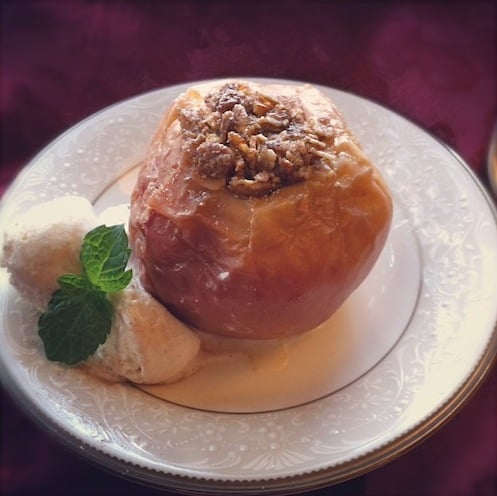 There are many varieties and uses of apples.  A medium apple provides 10% of your daily value for fiber and helps fill you up.  Stop by the roadside stand or farmers market to pick up a bunch for snacks, salads, savory dishes or dessert.  Johnathan, Jonagold, Honeycrisp, Braeburn, Gala, Cortland and Golden Delicious varieties hold up well to high temperatures.  Nothing makes the announcement that autumn has arrived than the smell of apples and cinnamon baking in your oven.
Baked Apples Recipe
Ingredients
4 Organic Apples
2 Tbsp Butter, softened
5 Tbsp Rolled Oats, raw
1 tsp Pumpkin Pie Spice
2 Tbsp Brown Sugar
2 Tbsp Almonds, chopped
Directions
Preheat oven to 350 degrees.
Hollow out apple, removing the core but leaving bottom intact (don't go all the way through).
In small bowl, combine remaining ingredients.
Place apples in baking dish and pack with filling.
Bake in oven for 50 minutes to 1 hour.
Serve warm with whipped cream or a scoop of vanilla ice cream.  
Yields 4 servings
If you want to shave off some calories, keep it simple by using just a sprinkle of brown sugar and spice.

Since 2010, Green Child has published a digital magazine devoted to natural parenting and conscious living. Hailed as "good for a green mama's soul," Green Child has grown into a resource valued by parents who care about bringing simplicity, compassion, social responsibility, and instinctual intelligence back to parenting.

Latest posts by Green Child Magazine (see all)