Indian spices are entirely natural, promote good health, and add masses of flavor to even the most simple of dishes. With nutritionists recommending a reduction in the amount of salt and sugar children consume, the use of spices can help create meals that are anything but bland… and add variety to even the most simple ingredients.
This traditional rice dish is known as Pilaf or Pulao, cooked with either fresh vegetables, meat or both in one pot, suitable for toddlers from 10 months onwards.
SuperFoods included: olive oil, onion, tomato, ginger, garlic, lemon, yogurt, cauliflower, peas
SuperSpices included: cardamom, cloves, cinnamon, black pepper, cumin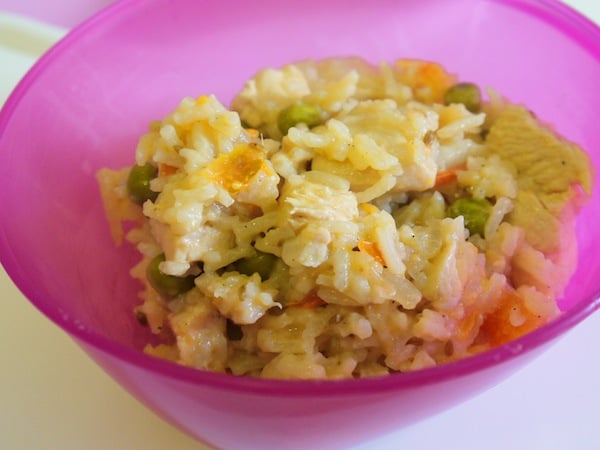 Chicken Pilaf with Vegetables for Baby
2014-02-10 16:02:28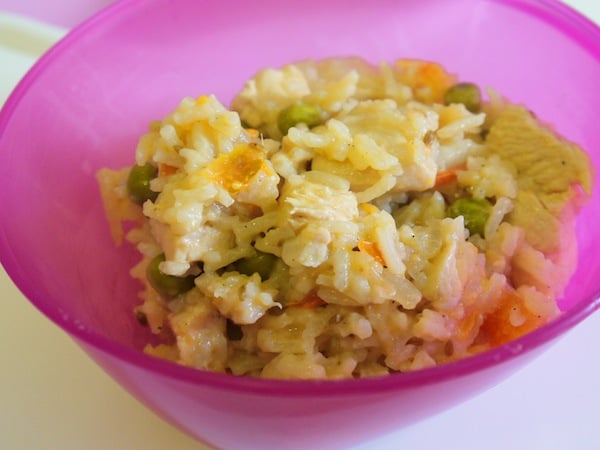 Ingredients
1½ tbsp olive oil
1 onion – peeled, chopped
1 whole cardamom pod – black
1 whole clove
1 small cinnamon stick
1 tomato – washed, chopped
¼ tsp ground black pepper
1 tsp cumin seeds
1 tsp minced ginger
1 tsp of minced garlic
Squeeze of ½ a lemon – ensuring no seeds fall in
2 tbsp plain unsweetened yogurt
1 chicken breast fillet (skinless) – washed, cut into 1cm cubes
3.5 oz. white basmati rice – washed, drained
2.5 oz. cauliflower florets – washed, chopped (no stems)
1.5 oz. peas – frozen, washed
8 oz. water
Instructions
Heat the oil in a pot and add the onion, cardamom, clove, and cinnamon.
Stir-fry on medium-low heat for 8-10 minutes, until the onion crisps up and turns brown.
Turn to low heat and add the tomato, black pepper, cumin seeds, ginger, garlic, lemon juice and yogurt gradually a little at a time, stirring in between to avoid curdling. Stir-fry for 2-3mins.
Add the chicken, stir and cook (covered) on low heat for 5mins.
Add the rice, cauliflower and peas to the pot, pour in the water, stir and bring to the boil. Simmer (covered) on low heat for 10-15 minutes until the rice is tender and all the water has been absorbed. The rice should look a little moist when it's done. Stir and set aside (covered) for 5-10 minutes.
Notes
IMPORTANT: Remove the cardamom pod, clove, and cinnamon stick before serving to baby.
Green Child Magazine http://www.greenchildmagazine.com/
Recipe contributed by Zainab Jagot Ahmed, author of Indian SuperMeals: Baby & Toddler Cookbook. Available at Booksamillion and Amazon

Since 2010, Green Child has published a digital magazine devoted to natural parenting and conscious living. Hailed as "good for a green mama's soul," Green Child has grown into a resource valued by parents who care about bringing simplicity, compassion, social responsibility, and instinctual intelligence back to parenting.

Latest posts by Green Child Magazine (see all)