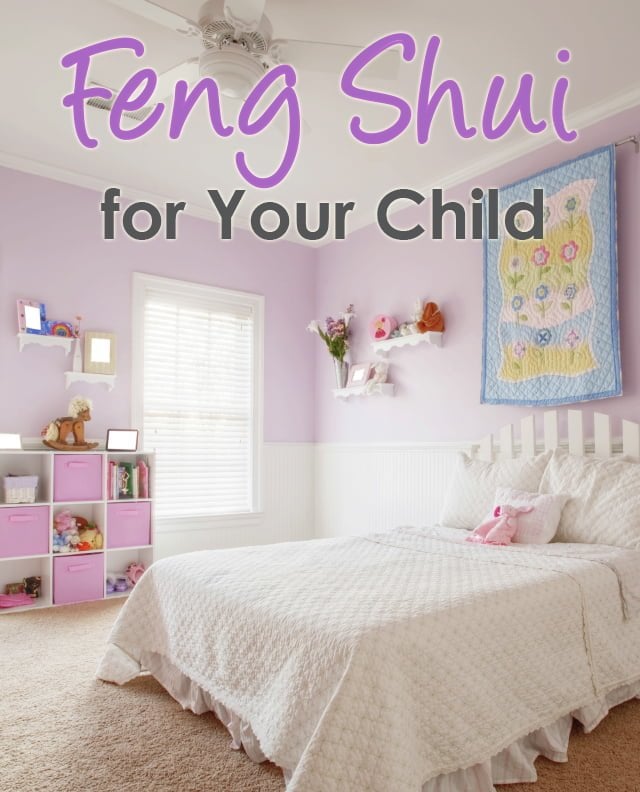 Did you know that the ancient art of Feng Shui (pronounced fung-schway) can give your child the joys of a happier and more fulfilled life?
The places you spend the most time have a profound effect on your life outlook. Giving your home good Feng Shui helps create a positive life trajectory with meaningful, purposeful adjustments to the space that lead to a nurturing sense of flow, comfort and ease.
Ultimately, Feng Shui helps you more easily face life's challenges and achieve your most cherished goals.
A child's environment is no exception; in fact, Feng Shui is essential in childhood, because it can have such a positive effect on a child's first steps to a happy and successful life path.
Start Here: The Bedroom
Because your child spends so much time in his or her bedroom, Feng Shui recommends making adjustments here first. Dedicating your child's bedroom to quiet play, sleeping, and dreaming will help him develop and grow into his full potential.
How to create "positive Chi" in your child's bedroom:
Correct bed placement. For the best night's sleep and sense of control, in Feng Shui the bed should be placed in the "Commanding Position." This placement puts the sleeper in the greatest visual command of the room: diagonally across from and facing the doorway is best.
Bed securely against a wall. For young children especially, it is beneficial to have one side of the bed against a wall for a sense of security and protection. (This is not the case for older children and adults, who need ample space on both sides of the bed.)
Calm paint colors. Soft blues and greens encourage growth while creating a serene atmosphere. Keep the use of primary colors and aggressive patterns to a minimum in the bedroom.
Family photos. Remind your child of the love and support she has in her life with up-to-date family photos, reviewing them frequently to keep them as much in the present as possible.
A good-sized mirror. For a child, a mirror (or these decorative mirror murals) serves the purpose of creating good self-esteem. A generously sized mirror should reflect at least the upper half of her body in its wholeness: no cracked, fractured or antiqued glass that could create a less-than-positive impression, please!
Minimal electronics. The tech age has made its way into every part of life and can be especially invasive in a child's bedroom. The negative effects of overexposure to electronics range from anxiety and stress to illness and nerve damage. Protect your child by keeping bedroom electronics to a minimum. If you choose to allow them in the room, TV's, computers and video games should be kept at least 36" away from your child's head and feet as he sleeps, as these are the main channels through which energy enters our bodies.
Create A Chi-Filled Study Area
Just as she'll sleep best in a room that's dedicated to resting, a study space of her own with a good-sized desk, bookshelves, writing materials and so on will encourage her to focus on her schoolwork when it's time.
Other ways to bring good Feng Shui to the study area include:
Achievement certificates, best located on the back wall of the room where they can be easily seen and appreciated.
A bulletin board or memo board for posting recent artwork and other fun souvenirs of an active life.
A small mirror on the wall above the desk that reflects activity behind him. He'll focus more on his work rather than wondering what's happening behind his back!
For best results, reduce stress and anxiety by placing your child's study and active play areas away from the bedroom if at all possible. If his desk and study area must be located in his bedroom, use your best organizing skills to create a space that can be truly "shut down" at night when it's time for rest.
Eliminate "Poison Arrows"
Last but not least, be aware of "poison arrows." In Feng Shui poison arrows refer to sharp corners that point at your child from a near distance, creating a sense of pressure and stress. Poison arrows can interfere with everything from sleeping well to developing good study habits.
For example, is there a nightstand near your daughter's bed whose sharp corners point at her head as she sleeps? If so, either replace the nightstand with one with rounded edges, or cover the nightstand with a piece of cloth to blunt the effect of the arrows.
As you can see, in Feng Shui every item and object in your child's environment has a powerful effect. Taking the time now to create a supportive space makes it easier on everyone as your child embarks on her exciting life journey!
Ann Bingley Gallops, owner of
Open Spaces Feng Shui
in Brooklyn NY, is a Feng Shui expert who helps you attract abundance, get unstuck, and create a space where you can blossom and thrive.
Latest posts by Ann Bingley Gallops (see all)