Frozen layers of blueberry, yogurt, and strawberry combine to make a delicious treat your kids will love this summer.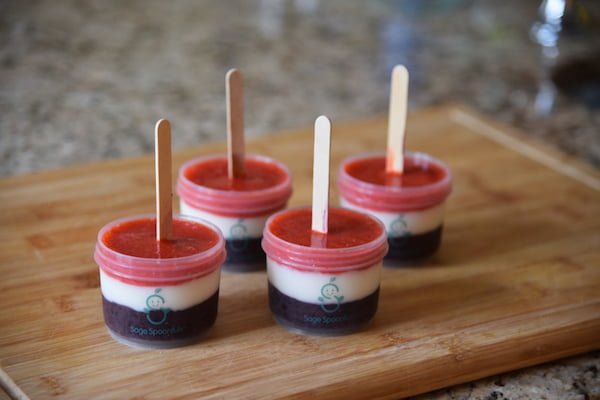 Healthy Red White & Blue Pops
2017-06-27 11:23:28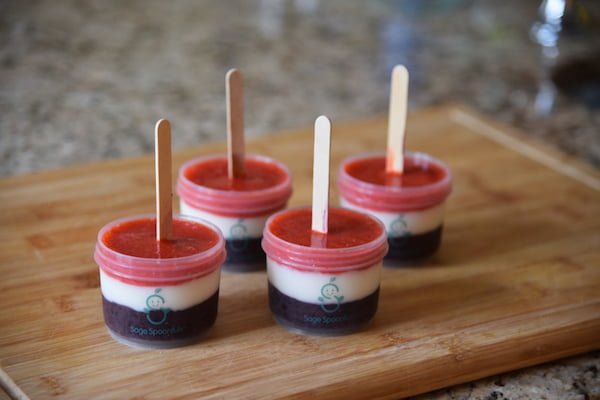 Ingredients
1 cup vanilla yogurt (dairy or non-dairy)
1 cup strawberries
1 cup blueberries
4 banana slices
wooden popsicle sticks
Instructions
Place one banana slice into the bottom of each jar and then add popsicle stick.
Blend the blueberries until smooth and fill each jar partially with the mixture. Place jars into the freezer for 20 minutes so the layer can freeze.
Add a layer of vanilla yogurt evenly into each jar and freeze for 20 minutes.
Blend the strawberries until smooth and add in an even layer to each jar.
Place jars back into the freezer for 2 hours until frozen solid.
When you're ready to serve, just run the jar under warm water for 10 seconds to release the popsicle. Enjoy!
Adapted from Sage Spoonfuls
Green Child Magazine http://www.greenchildmagazine.com/

Liza Huber is an award-winning author, wife, mother of 4, and CEO and Founder of
Sage Spoonfuls
- the award-winning homemade baby food system that allows parents to easily make, serve, store and take their healthy, homemade baby food on-the-go.

Latest posts by Liza Huber (see all)