I'm always on the lookout for new carriers and just like cloth diapers, I'm searching for the "perfect" one. So I was (selfishly) excited when I found out I would be testing the Eco-Classic Carrier from Kokopax. When the Kokopax backpack arrived I was immediately wooed by the pattern (called flutter) and excited to try it on, hoping it would feel as great as it looked.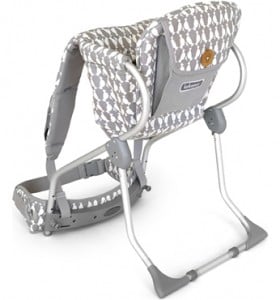 If you've been reading my reviews over the last seven months, you may have noticed that I love simple, easy to use designs, but I refuse to give up style just because something is green. (There's no reason we can't have our organic vegan cake and eat it too!!) Kokopax is one of those well-designed products you'll fall in love with because  besides being super cute, it functions to meet your needs without a lot of hassle.
My daughter is another two months away from meeting the 6 month age requirement of the Eco-Classic and my youngest son is three pounds over the thirty-five pound weight limit. This meant enlisting the help of my niece to test out the carrier. The eco-classic features an anodized aluminum frame with kickstand, allowing one person to safely get their child in and out. Most carriers are designed with the child sitting lower on your back, which means constantly having their head turned to the right or left in order to see. This position results in a disconnect between what the parent is engaged in and what the child is experiencing. In the Kokopax, the child sits higher on the back, an aspect I love, allowing him/her the ability to see more of the world over the parent's shoulder.
Getting your little one in and out of the Kokopax is easy with a little practice, and the seat feels well cushioned and
comfortable. The backrest for the baby was a little stiff at first and pushed my niece's body slightly forward, but after some use, it loosened right up. When I tried it out the first time, I was unsure how to release the waist strap from around the frame – it's original shipping position. I consulted with the owner's manual since I had to force the strap out more than seemed normal and I was afraid I would break the carrier if I tried any harder. This resulted in the only frustration I had using the Kokopax, since the manual offered no help answering my question. A redesign of the manual would go a long way in creating a frustration free carrier.
My overall experience with the Kokopax was a great one. The shoulder straps that the parent uses are broad, thick and very comfortable. The fabric choices are excellent and make the old-school design of the carrier modern. I would highly recommend checking out the Kokopax line if you are in the market for a carrier.
Thanks to Kokopax, one lucky Green Child Magazine reader will win the Eco-Classic Carrier, the premium carrier in the Kokopax line valued at over $179!! Just fill out the rafflecopter form below, for your chance to win!
a Rafflecopter giveaway