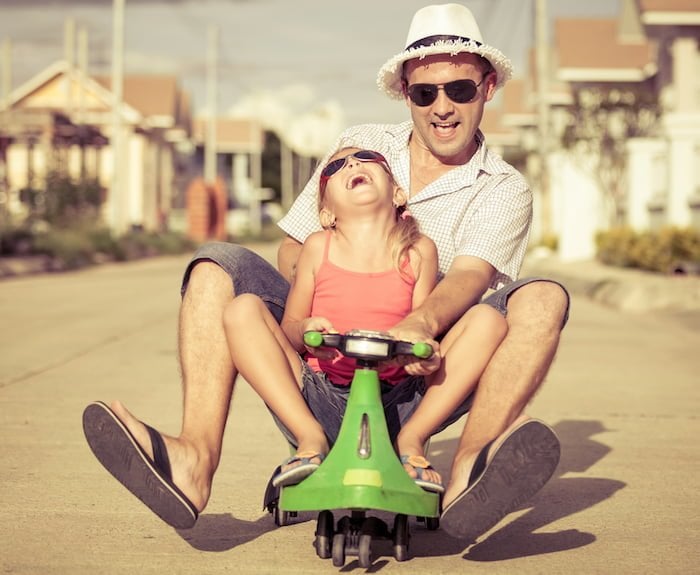 There's no doubt that good schools and rockstar teachers are key to kids getting a quality education. However, the education that will really stick with kids is the one they get at home.
According to Maurice Hedish, LCSW and and creator of Specialized Family Therapy, children go through new stages of development every 5-7 years. Each stage essentially requires kids to develop inner skills which allow them to mature mentally, emotionally, and socially. So they quite literally grow out of tantrums (Hallelujah!). But the catch to this is that, when they don't get the opportunity to build these skills, they'll keep turning to their "immature" behavior. And they'll keep doing it until they finally learn a new approach.
All things considered, the way we interact with our children plays a helluva role in the kind of adult they'll grow up to be. My past childhood and my present parenthood has caused me to reflect on this, and my reflection and research has led to me develop these rules to guide me in my parenting.
Listen
As parents, we have A LOT to do and only so much time to do it. That means multi-tasking and doing things quickly with whatever time and effort available. When our kiddo throws a sudden tantrum, it throws a wrench into our plans (and faltering sanity), but these moments are when they need our parenting the most. Unfortunately, many of us try to address such situations by listening to our kids over a 10-30 second time span while we're doing a mental (and physical) juggle with three other things. Not cuttin' it. It we expect our kids to listen to us, we damn well better set the bar and do the same.
So, let's set everything down so we get, and see, eye-to-eye. Genuine active listening happens by letting them speak, repeating the overall message you're hearing, and acknowledging that this is important to them (even when it seems trivial to the insanity of adult life). The real trick to listening is to genuinely care about what they're saying, and to understand what they're trying to express to you. Yeah, we're going to have to take away our attention from everything else, but sincere listening can be done in as little as one to two minutes (and the benefits will last a lifetime).
Hear Beyond The Words
We think of hearing and listening as one in the same, but hearing to our children speak is a small part of the listening equation… Really hearing our children requires us to take in the situation as a whole. This kind of "hearing" goes beyond words by taking in vocal tone, emotions, past and present events, and their typical behavior. You got to dig past the surface and get to the roots!
Take that hypothetical kiddo for example. Pretend child threw a tantrum that they attributed to having a bad day after fighting with their friend. It would be easy to leave it at that, but by hearing the message within their words, feelings, and actions, we may realize that their hurt feelings are about more than their fight with their friend. If we really hear them out, we may see they're struggling with a situation at home, unhappy with something at school, and so on. Their tantrum may not be a reaction to their fight with their friend. It could be related to all sorts of different things. So, hear them out. Hear, see, and feel everything.
Keep It Simple
Believe it or not, long-winded explanations, detailed sticker charts, and daily itineraries can be horribly boring and overwhelming. The simpler we can keep things, the easier it will be for them to catch on. This also gives us the opportunity to encourage our children to develop skills. If we're telling our children what to do, how to think, and what they should feel, they won't develop the skills to do so themselves. We should trust that they have the ability to do these thing themselves, and encourage and guide them in doing so.
As the saying goes, "Less is more." Take the opportunity to shut up, and try open-ended questions to encourage thinking, clear statements for basic instruction, prompts that provoke action, and to-the-point explanations that allow for creativity and learning. You can even open up the floor to let them devise schedules, plans, and limits so they can learn about priorities and organization firsthand. And, of course, don't forget to include some creative or suggestive reminders now and then (it's a big part of the parent job).
Embrace Your Inner Child
We'd squirm and sweat if our boss reprimanded us for our work. Our kids are basically in that position every time we call them out on something. Being the brunt of someone's disappointment, criticism, or frustration is a serious drag. But we're dragging our kids down with it every day. Agh!
If we want to connect with our little ones, we need to take a hint and act more like a kid. So, instead of talking at them, we can talk with them. We can swap out being critical and task-crazed for being encouraging, playful, and helpful. We can talk about the positive aspects of a situation as well as the negative (or rather, the "learning opportunities").
We can laugh at ourselves and share stories from our adult life or childhood that parallel the situation our child is in. Tapping back into our inner child gets us living in the now and making the most of it. What could be more important than that? So, let's be light, and happy, and turn challenges into lessons and opportunities. And, if we really want to get our kid out, we can look for all the ways we can make the most mundane things fun. Boring is boring! Have fun!!!
For more ideas on how you can maximize your parenting and bring on the love, check out PBS's parenting tips. They have some great guides that everything from communication to meltdowns. And they even offer age-by-age insights that are super helpful with little ones. But be warned…. Family life may improve by 100%.

Ash Stevens is a writer, mother, and wannabe shaman. When she isn't being serious writing or talking family and relationships on her blog, she's listening to stand-up comedy and soaking up some sunshine.

Latest posts by Ash Stevens (see all)