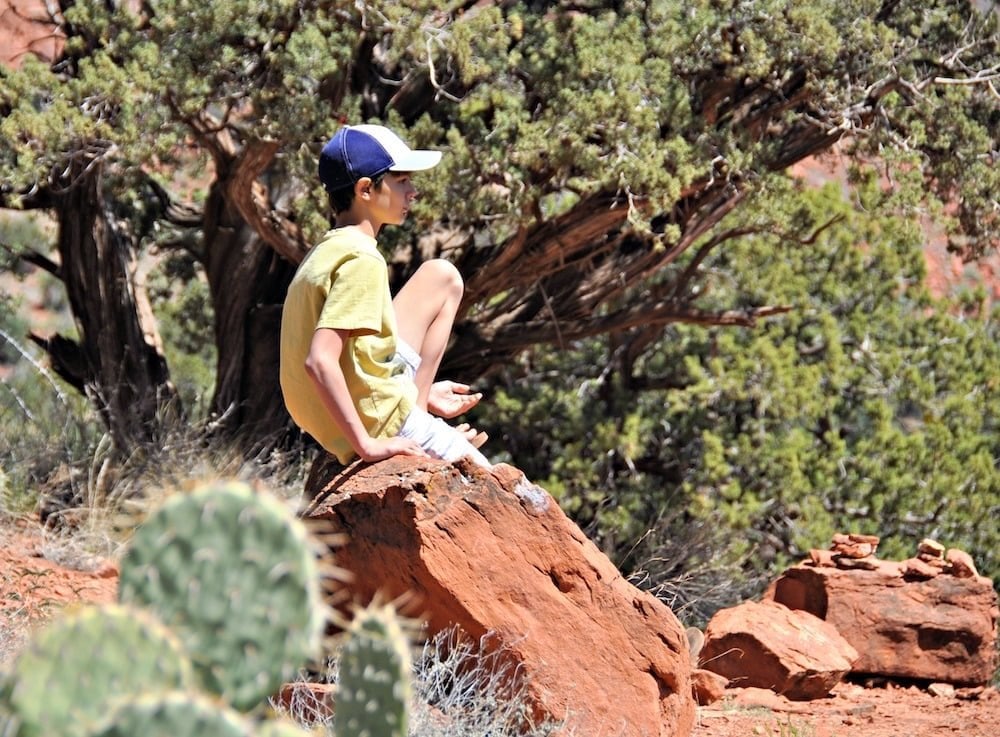 It's not just parents who need a deep and relaxing break. Kids need one, too.
When everyone in the family gets the space and time to do nothing, the whole family wins. A new positive family rhythm is born from doing nothing. The reasons to get the whole family on board are many fold: it's a frugal and easy self-care technique for parents and an entry point for the kind of deep, creative play and simplified life that some children unfortunately miss in today's digital age.
Teach Your Children the Art of Stillness
If you're thinking that telling your kids to just "do nothing" might initially be…challenging, you're certainly not alone. Most kids are used to being busy, so when they aren't being taught, coached, or entertained by a screen, they may find themselves bored. And their boredom probably won't lead them to immediately enjoy stillness; they'll most likely ask you for more distractions and entertainment. Nonetheless, teaching your kids to do nothing, to deeply relax and calm their minds, will make them less stressed and more in tune with themselves. And it's probably not going to be as difficult to teach as you fear.
Doing nothing for kids should be the same as it is for adults: simple, fun, and easy. So start your children out with age-appropriate and kid-specific short breaks to relax. Make your initial attempts very brief: ask them to do just three minutes of a calm and restful activity like sitting and imagining themselves at their favorite park or beach or watching clouds outside. Ask them to sit quietly and think of just one thing, like a relaxing and positive experience or hobby. The older the child, the longer these sessions of doing nothing can be.
Doing Nothing Can Lead to Quality Playtime
Once your children have become comfortable with deeply relaxing and doing nothing distraction-free, they'll glean all the same benefits from it that you do. Their creativity will be sparked, and they will move on from their breaks to deep creative, mental, or physical play. This brain reboot will remove their distractions and allow them to engage in the kind of play and activity that feeds their brain and body. For younger children, doing nothing will lead them to the kind of open-ended, limited-toy, imagination- and nature-focused play that they need for proper development. For teenagers, doing nothing can be the perfect lead-in to studying and homework or even to sports or music practice.
In pediatric occupational therapist Angela J. Hanscom's book Balanced and Barefoot: How Unrestricted Outdoor Play Makes for Strong, Confident, and Capable Children, she recommends three hours a day of outdoor play for children for optimal development. Hanscom notes that today's modern children spend so much time indoors participating in structured activities and screen time that they don't at first know how to play outdoors. Children need time to warm up to open-ended creative and physical play, particularly if they aren't doing this kind of play regularly. If you want your children to spend more time outdoors or in open-ended play, a brief session of doing nothing could be their entry point. Use that distraction-free time, even a brief five minutes, to help your children reset.
Budget-Friendly Parental Self-Care
Doing nothing is a wonderful form of self-care for parents because it's free and doesn't require hiring a babysitter. Many parents don't have the financial resources to take a weekly date night: dinner and a movie, with the hourly rate for the neighborhood babysitter added in, quickly increases the cost of an evening out. A weekly massage or a night out for beers for one of you requires financial investment, planning, and asking your partner to solo parent for the evening. When you make time to do nothing, you get quality self-care time in without inconveniencing your partner or calling around for a babysitter.
Not only is doing nothing a free form of self-care, but it can also actually help you save money by curbing your casual spending. For example:
· You're less likely to order takeout due to sheer exhaustion when you take moments to refresh yourself and do nothing.
· When you intentionally do nothing, you don't need to buy things as a quick pick-me-up. No need to spend money on a "treat" or buy something out of stress when you've already given yourself the free gift of doing nothing.
Doing nothing becomes a go-to way to de-stress and, wonderfully, there's zero impact to the family budget from simply relaxing and doing nothing.
How to Find the Time to Do Nothing in a Busy Family
If you haven't gone to the bathroom with the door closed in five years or your Google calendar is jammed with complicated carpools for three different soccer schedules, this section is for you. Because you definitely deserve this do-nothing time in your life. No matter how your schedule looks, you'll find pockets of time hidden in there. The beauty of doing nothing is that it can be done anywhere at any time.
Use Those Fringe Hours
The primary place to start finding your do-nothing time is in those fringe hours we discussed in the first chapter. The fringe hours, the ones that we are usually too tired to take advantage of, really can become a wealth of usable time with just a few simple lifestyle changes. Scavenge that time for a short window to yourself. It could be. . .
· Waking up before those early riser children to enjoy a little morning peace and quiet.
· Doing one small piece of prep work—putting the kids' clothing out, packing daycare bags—the night before so that you can squeeze in a bit of time when the kids are eating breakfast.
· Reclaiming part of your night. If mornings are unavoidably packed, look to the evening.
Everyone can find twenty minutes before they go to bed for themselves. Set an alarm on your phone for thirty minutes before you want to go to bed and put down or shut off whatever you are doing when it goes off.
Let Some Housework Wait
Set a mantra that the laundry can wait. Parents often use downtime at home, the hours that children are napping or nicely occupied with Lego construction, to work. They open their work computer or knock out some household chores while their children enjoy their own do-nothing activities. As the children happily engage in a singular and refreshing activity, parents rush around trying to "catch up" and then hit the evening hours exhausted and ready to sit comatose on the couch once the last bedtime story has been read.
Rethink what is most important for the family. The laundry will get done; it always does. There will be a meal for dinner; there always is. But will there be an engaged and refreshed parent there to help the three-year-old dress himself? Will there be a focused parent at the dinner table ready to listen and respond because they took a moment for themselves in the afternoon?
Make some of that catch up time for you. Even a short five minutes of deep breaths and a blank mind will pay you back with some Zen and happiness that will benefit you and your family.
Excerpted from The Joy of Doing Nothing: A Real-Life Guide to Stepping Back, Slowing Down, and Creating a Simpler, Joy-Filled Life by Rachel Jonat (TheMinimalistMom.com). Copyright © 2017 Adams Media, a division of Simon and Schuster. Used by permission of the publisher. All rights reserved.

Rachel Jonat (Vancouver) is the author of Do Less and The Minimalist Mom. A sought-out expert on minimalism and simplifying, she has been featured on television and radio, The Globe and Mail, Babble, and Business Insider. She lives in Vancouver, Canada, with her husband and three sons. You can read more of her work at her popular blog TheMinimalistMom.com.

Latest posts by Rachel Jonat (see all)