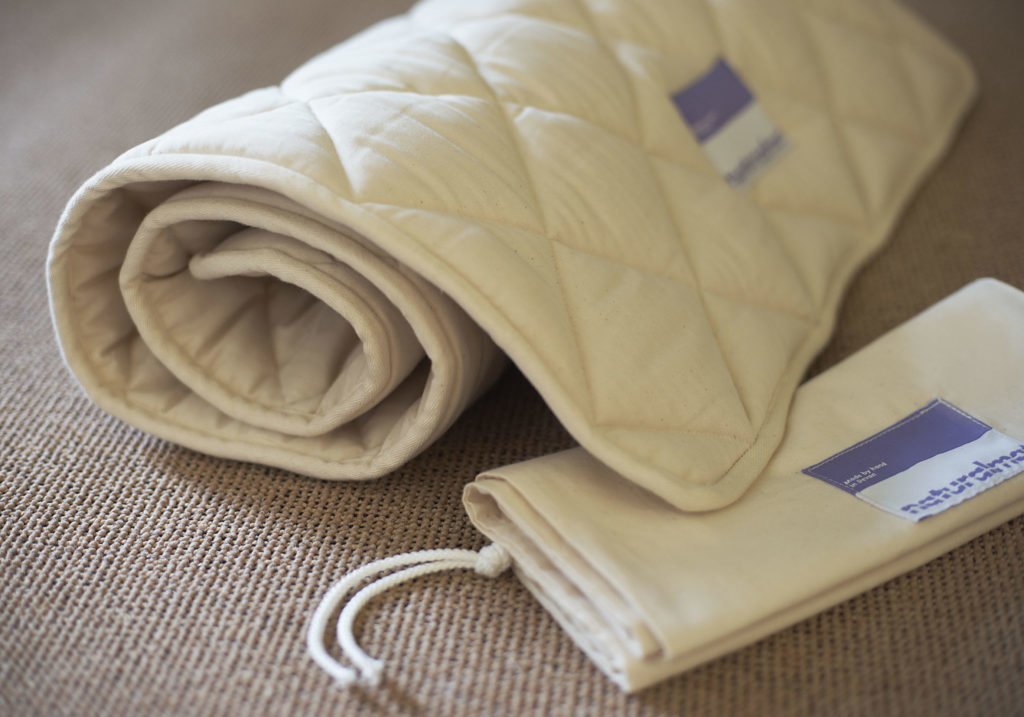 Worried about the second-hand mattress your friend gave you because it's not organic and may off-gas? Do you have a mattress from your first child and now you're more leery since you possess greater knowledge of the materials used to create crib mattress? Are you looking for healthy solution but you don't want to throw away your old mattress or pay big bucks for a new organic crib mattress?
Top Mat by NaturalMat is your answer.  Seriously. (Angelic music soundtrack plays in the background.) Ahhhhhhh… I love this product; it is a great green solution in so many ways.
I have used my Top Mat everywhere; it provides me with an awesome soft organic place to put my daughter down wherever I go. This lightweight quilted mattress can be rolled up and slipped into a convenient bag (available separately) that you throw over your shoulder and take with you, just like a yoga mat. Or fold it up and slip it in your suitcase. It's a great size to take just about anywhere you need to travel. The top mat is an economical way of turning your crib into an organic one.
Two layers of organic lambswool are contained within this overlay to your child's crib. The natural and breathable materials contained within the top mat regulate your baby's temperature and help them to sleep soundly.
Here are the stats on the Organic Top Mat:
Contains two layers of organic lambswool
Breathable overlay for better ventilation
Lambswool treated with essential oils including lavender, lemon and eucalyptus, which offer protection against bed bugs and dust mites
Machine washable
Complies with all standards
Completely chemical free
Three cheers to NaturalMat for providing one lucky winner with a Top Mat valued at $129! Fill out the rafflecopter widget below for your chance to win.