Soup is a wonderful expression of love. Each one is hand crafted with the intention of serving up a little home-spun goodness.  It's a beautiful warming and nurturing expression of how much someone cares for their clan.
After a woman gives birth, her body is in desperate need for some restorative foods to replenish all that she has lost. Giving birth requires an incredible output of a mother's physical, emotional and spiritual resources and what better way to nourish her back to her full glory than with some delicious comforting soup.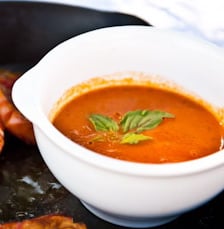 Nurturing Roasted Tomato Soup and Rustic Garlic Bread
Ingredients
8 large beef tomatoes
1 whole head of garlic, roasted
1 tablespoon olive oil
2 teaspoons sea salt
1 teaspoon cracked pepper
1 teaspoon tarragon for tomatoes, 1 teaspoon for soup
1 pat of butter
1 large yellow onion, chopped
2 limes, chopped into wedges
1 teaspoon oregano
1 container vegetable stock, (16 oz.)
2 vegetable bouillon cubes
4 cups of water
1 handful kale, chopped
1 teaspoon pepper flakes
1 lime
4 slices of your favorite rustic bread, toasted  
Directions
1. Preheat oven to 350°.
2. Cut all tomatoes in half and place on a large baking sheet lined with parchment paper. Cut top off garlic head and get all cloves out.
3. Sprinkle tomatoes with olive oil, salt, pepper, and tarragon.
4. Add garlic cloves all over the sheet to roast both together.
5. Roast tomatoes and garlic for 45 minutes to 1 hour.
6. Add butter to a large soup pot. Add in chopped onion, along with 1 teaspoon of tarragon and oregano. Brown the onions.
7. Add in roasted tomatoes and garlic, vegetable stock, water, bouillon cubes, kale, and red pepper flakes.
8. Blend the soup together in a blender.
9. Serve immediately with a wedge of lime to squeeze on top of soup right before eating and garlic bread to dip.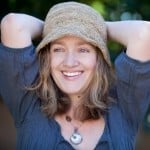 Anni Daulter, author of Sacred Pregnancy and The Organic Family Cookbook, is a Conscious Family Living lifestyle expert, professional cook, advocate of sustainable living and author of 6 books. She recently, along with Elena Rego began her new online website and community, Sacred Pregnancy.