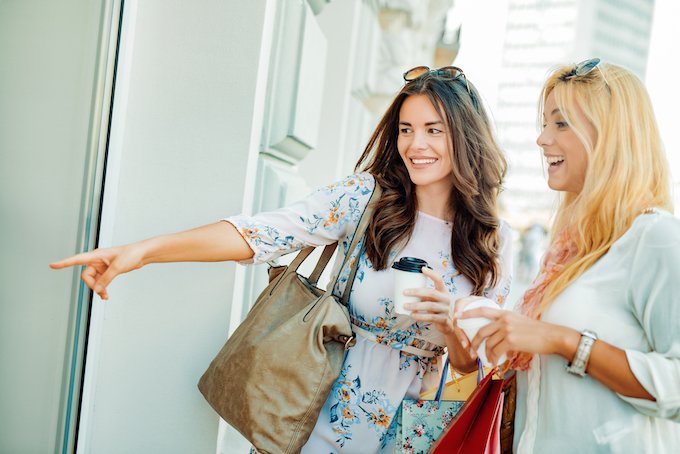 Ok, so you may have just read this headline and said, "Girl, I went to Tar-jay at 9:00 last night, childless and husbandless, and had a grand ol' time!"
I hear you!
It's cheap. It's easy. It's fun. But it's actually a major contributor to debt, "stuff" culture, and our ever-crowded landfills and e-waste dumps.
Our shopping decisions don't just affect us and our families. We're part of a global community. When you cast off your iPhone because a shiny new one came out, it could end up in a seven-foot-deep pile where people in developing countries are risking their health to recover valuable parts. While this can feel overwhelming, the good news is that we have combined purchasing power. We can make a difference by taking the time to think about how we shop and what we buy.
Here's how you can become a more conscious consumer.
Set Your Intention
There are many issues concerning consumption- from toxic chemicals and high emissions in shipping to un-ethical labor and GMO crops, to fast fashion and waste sites, our consumption decisions are more important than ever.
So where did I start? I sat down, grabbed a cup of coffee and started a list. I set my shopping intentions by identifying what is important to me. Of course I would love to find brands or solutions that tick off my whole check list, but narrowing down on a list of ethics that are most valuable to me helps me not get frustrated or want to start a riot. #truth
Here is my list of what is most important to me
Organic
Non petroleum
Ethically made (not necessarily fair trade, there is a difference).
Gives back to women and/or the people who make it
Eco-friendly
If I am buying clothing, it is tailored and in a flattering cut.
Now your turn. Grab your cup of something and get to it. Ask yourself:
What is important to me?
What do I value?
How can my purchasing power make change that I feel good about?
Create Your Conscious Consumer Mission Statement
Now that you have your intention list down, phrase it in a positive, proactive paragraph that is written in a first person narrative. Here's mine:
I consciously choose organic and petroleum-free products. I buy things that are ethically made and give back to communities and the environment. Whenever possible, I buy things that are naturally dyed. I buy things that are tailored to my body and make me look great.
Why do you need this paragraph? To check yourself. When you are shopping, you can refer back to this paragraph and ask, "Does this product or brand reflect my shopping intentions and my values?"
Print out your intention paragraph and put it in places that are relevant to your shopping habits; for example, one in your wallet, or a note on your computer screen. Make it bright and bold so it grabs your attention and you remember.
Change Your Habits One Room at a Time
Taking control of your purchasing power and making positive change is challenging. Like anything good, it takes time. Do it slowly. Changing any habit can be overwhelming especially one that is so large. Pace yourself, let your self breathe and go slowly.
Start with something small like cleaning supplies.
Spray bottles – Buy a glass spray bottle that can be reused for a long time.
Essential oil – Buy a fragrance you love and make you think that your house is clean. A versatile essential oil to start with is lemon.
Vinegar – Did you know that vinegar kills germs? It is an incredible disinfectant, and also kills mold. Vinegar does SO much.
Soap Nuts – A completely natural nut that makes soap! One bag of soap nuts can last you a full year of cleaning.
Reusable cleaning rags – Reusable rags eliminate disposable paper towels. With your new detergent option, you can now do small reusable towel loads in an affordable way.
Sponges – Look for completely biodegradable sponges for cleaning. Some types are even naturally resistant to bacteria and mold.
That's all you need to clean your house. Not convinced? Find out how we use these in our household.
Make a Calendar and Commit
Now it's time to knuckle down and commit to taking on the next part of your purchasing power. When you go to the grocery store, what do you buy? Is it locally sourced and organic?
Back to school shopping is around the corner, what are you going to buy? Are the clothes and products you buy for school ethically made?
Make another list of the things you are going to buy this month and start with those items. Tackle a whole room of your house- start with the bathroom since it's the smallest. Get that calendar out now and pencil in a date with yourself and START!

While living in India for, Elise Gonzales-Sahota organized a women's artisan workforce of 20 members and established a female-centric workspace with systems that support working women. Through this, her ethical and eco hand knit company, Blue Ullu was created. Elise is passionate about women's rights and development, conscious and simple living and cultivating healthy relationships.

Latest posts by Elise Gonzales-Sahota (see all)