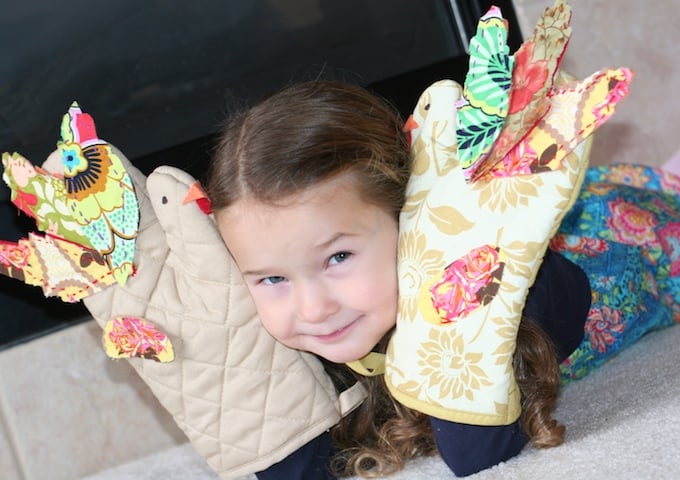 Remember tracing your hand and turning it into a colorful turkey drawing? That's what this project reminds us of… in 3D.
Kim from MommySteffan shared this Thanksgiving craft idea you can make from things you already have on hand.
Materials:
Hot Mitt and Hot Pad
Fabric Scraps
Floss
Needle
All-Temp Fabric Glue Stick (glue gun)
Stiff Felt (orange, red and other warm colors)
Little hand for small hot pad
Hand Mitt:
I created a feather, wing, eye, beak and waddle pattern. You can look at some examples online and free hand them on scrap paper.
Trace three feathers, one waddle, one eye and one beak onto the stiff felt. You can put wing on felt or stitch wing scraps directly to the mitt.
Use fabric glue to add beak, waddle and eye.
Trace the felt feather onto the fabric scraps.
Stitch the fabric to the scraps. This will keep it stiff and not droopy.
Stitch fabric scrap wing directly OR stitch to felt and hook under with thread + add fabric glue. I tried both ways and liked stitching it directly on best.
Stitch under the wings to add them on but then reinforce them with fabric glue stick.
Hot Pad w/ Little Hand:
Trace little hand on fabric scrap
Cut out a beak, waddle and wing from felt (Brianna didn't want a wing on her hand print?) Looks cute either way.
Stitch little hand on hot pad
Use fabric glue to add wing, beak and waddle
Stitch on an eye
Happy Thanksgiving!