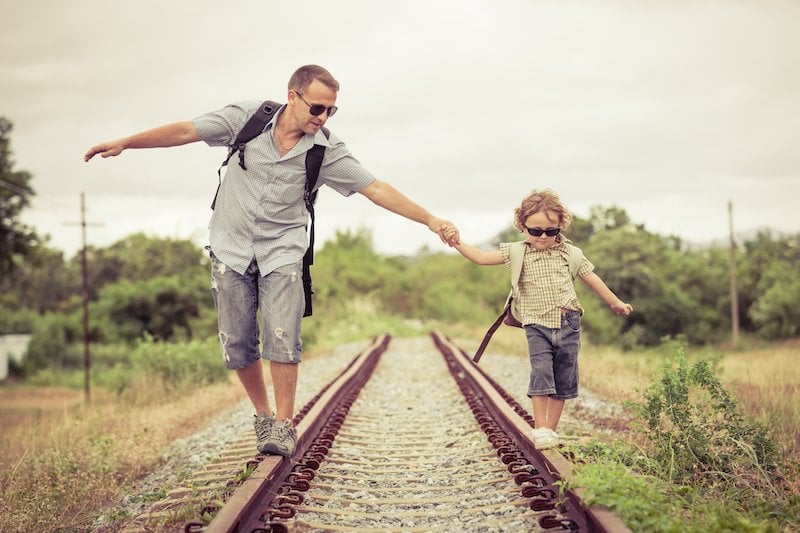 For many working fathers, the time you get to spend with your children is limited. When work takes up the majority of the week, you have to take the little time you have left and make it count.
Fortunately, with a little creativity and foresight, there are many ways to build on this. You can, in fact, be a great father at home and work a full time job.
1. Create time for individuals
While it's great to spend time with the family unit as a whole, it is nonetheless made up of individuals. As such, if you have more than one child, always try and make time for each one on their own. This is important because while certain hobbies and interests may overlap, children have unique personalities and tastes. If you always group them together, they might feel unappreciated. As an added bonus, if you spend time with each one on their own, you can discover their personality, likes and dislikes more easily. Importantly, it will help you develop a great relationship with your children.
2. Set up family-friendly spaces
In any home, it's important to create family friendly areas, or areas where children know you are free to be approached. If you have an office in the house, than your children likely see this as 'off limits' and will recognise that you are busy when you are in there. As a result, you should strive to make the rest of the house feel welcoming and open. Living rooms, for instance, should be free of any work influences, so that children know they are appreciated and not a second priority.
For example, why not convert the garden into something more child-friendly? This will open up another area and give you more opportunities to enjoy yourselves, such as using the garden whenever the weather happens to be nice. Opening these areas up lets younger ones know their needs are being considered and that you value them around.
3. Value your family members' opinions
One of the worst things you can do is undervalue someone's opinion. This is just as true for you at work with your boss as it is at home with your children. As such, even when you're busy, always strive to make time to hear someone out. This doesn't need to be right away. Sometimes it's okay to say you're busy, as long as you positively set time aside in the immediate future.
If one of your kids is having problems, you should be willing to listen. If you constantly make excuses, whether it's watching TV or working, then children may quickly learn not to try talking to you at all, which can cause communication problems further along in life. However, if you always make the effort, children will open up more to you and this will build a stronger bond. Remember, if it's important to them, then it should be important enough for you to want to listen.
4. Find quality activities

As we already mentioned, the time you get to spend with your children is fleeting, but good quality time isn't based on how long something lasts. Kids have good memories and will remember fun events with their father, not how long they lasted. As such, if you take the effort to do something special when you are free, such as the weekend, it will have a positive impact.
This could be almost anything, but it's often best to get outside the house. Why not go on a nature walk or visit the park, for instance? If you do stay at home, make the most of the outdoors or launch a project you can do together. The garden, for instance, is a great place for projects. With a simple water pump, you could grow a garden, build a pond or just redesign the garden. Such tasks give you an ongoing way to spend quality time with your children on a regular basis.
5. Work doesn't always come first
Finally, no matter what you do, don't make work your life's priority. There are many times where work will creep up on you and a small number of favours can have big changes. Start working overtime every Saturday, for instance, and you're no longer at home most weekends.
Of course, financial needs will often restrict what you can and cannot do, but the right gesture at the right time can mean a great deal to your family. Don't miss birthdays and other events because work gets in the way. Set time aside, plan ahead and, if needs be, let your office know you can't avoid these events. It's one thing to cancel time with children because of work, but there's nothing that stops this from being the other way around.
These tips might seem simple, but they nonetheless work. Your main goal as a father is to balance your work and family life. Even if you don't have all the time in the world, you can make the spare hours you do have truly count with just a little forward planning.

Tim Sparke is a devoted family man with a hands-on approach. When, he's not enjoying the wonderful moments of being a husband and father, he enjoys his hobbies of writing and gardening. He practices his trade as the CEO of 4 Pumps.

Latest posts by Tim Sparke (see all)