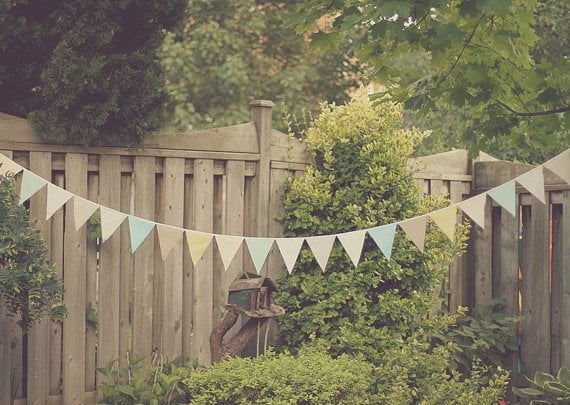 Throwing an eco-friendly birthday party isn't just great for the environment. It's fun!
It's more affordable and just brimming with opportunities for creativity and handiwork. Of course, planning it can feel intimidating because of all the things to consider (especially when attending guests don't share your love of all things green). But this list of ideas will get your birthday imagination brewing.
Food & Drinks
Parties bring people together, and food is an important way to both set the stage and nourish your guests. This is a time to show your peeps that green-worthy food and drinks can be delicious in a smart and sustainable way.
DIY Fizzy Brews |

If you aren't already brewing kombucha, then now is the perfect excuse to get started. This naturally-carbonated drink is loaded with probiotic bacteria and vitamin B12 — a huge plus — but you can make gallons of it with minimal time and expense. Of course, it ain't everyone's cup of (kombucha) tea. In that case, you can put a homemade twist on classic favorites. With a little whey and lemon juice, you can make a

homebrewed probiotic lemonade

or ferment your very own "ginger bug" for

homemade lacto-fermented soda

.
Food |

As health-conscious parents, we are well aware that everyone has different food preferences and dietary needs. And, as parents, we are also well aware that planning and prepping parties can be overwhelming. Thus, the food bar. You provide the table and the individual ingredients, and your guests turn them into a plate-work of art that appeals both to tongue and digestive system. You can use a food bar for everything from pudding parfaits, yogurt trifles, DIY kabobs, and mini pizzas (with gluten-free crust options, of course).
Paper Products
As green parents, we prefer our trees stay in the ground rather than in the paper mill. Using cloth napkins and real plates in place of the paper alternative is one great way to pull this off, but we can vouch for trees in even more ways.
E-vites |

As much as we want to save paper, emails and Facebook events take all the magic out of birthday invitations. But you can keep invites fun and magical with

kid-themed online invitations

.

You can find invites with your child's favorite themes and characters. Some are designed to look like real paper, so kids will be feeling some pretty serious magic when they see their invitation lit up on a tablet.
Upcycled Wrapping |

If you're handy with a sewing needle and you've got a stash of fabric lying around, you can make anything from sweater gift bags to curtain wrapping squares to your own DIY fabric gift bags. If color and aesthetics are your style, make a thrift store run for headscarves and cloth napkins that can be used as colorful and simple (and repurpose-able) wrapping. And don't forget about that stash of paper shopping bags in the kitchen cupboard! A pair of scissors can turn them into the perfect wrapping paper for books and boxed items. (Pro Tip: Have kids draw on them for a personal and colorful touch)
Decor |

Nothing says party like a birthday banner. Thanks to the

creative DIY banners

of mom bloggers, no green child has to go without. They can be made with recycled paper, fabric strips, party napkins, and all sorts of different odds and ends (

while you're at it, make some party hats, DIY party streamers, and a centerpiece for the table

).
Birthday Party Games
Because of the strong parental movement to have just one less thing to have to do, games often go forgotten and unconsidered. Don't do this! Even though games may take a little planning and prepping, they always deliver outrageous fun and entertainment. As a bonus perk, keeping kids busy with fun games will reduce your risks of broken limbs and vases (from impromptu living room ninja training), and undesirable explorations and discoveries (like grandma's stash of candy-like calcium chews). And while you're planning, make sure you read up on tricks to capturing the perfect photo. Game moments will make for AMAZING photo opps, so make sure you capture the memories!
Turn The Party Into A Game |

Instead of limiting games to "game time," you can make it a part of the whole festive occasion. A great example of this is

Sticker Stalker

. The delight of sneaking stickers onto friends and family keeps everyone jolly and alert. Of course, stickers aren't the greenest thing out there. Luckily stickers can be substituted for DIY velcro with clothing pins or DIY velcro.
Birthday Gifts
Today, bringing someone a gift for their special event isn't so much a nice gesture as it is a social expectation and an obligatory expense. This wasn't always the case, though. Years back, gifting was revered for showing appreciation and deepening human bonds. If you want to bring back the gift love — and save yourself the pains of more toys and questionable plastics — you can try these ideas out for size.
Plan An Experience |

With some planning and coordination, you can use your kiddos' latest obsessions to create an outstanding birthday experience. Take little pirates as an example. Instead of taking presents, you can gift them with the ultra-pirate experience. The time and money that would go into getting presents could go towards pirate crafts, a cardboard ship, or a

DIY pirate mast

. If you

really

want to do something big, then collaborate with friends and family to create the ultimate gift — like, say, a

pirate ship playhouse

. When the big day comes around, emphasize the experience being the gift by "wrapping" everything with bedsheets and creating a grand reveal with friends and family. After the party, you can even go on a "treasure hunt" for

free birthday goodies

. You can also use this birthday as an excuse to bring your own obsessions to life (Hello party-rific She-shed).
Personal And Meaningful (And Eco) Gifting |

Take a moment to think of all the things your child loves and all the mediums they love them in. Then, when you're putting together party invitations, include this list of loves (

ie. fairies, animals, Disney characters, and superheroes

). You can also include a list of ideas for bringing them to life (

ie. drawing pictures,

making a paper mosaic

, or a DIY "book"

). This idea is so great because (1) it allows for children to use their own skills and creativity, (2) it makes for fun and unique gifts, and (3) it makes gifting a personal and meaningful experience. What parent isn't a sucker for that?
Party Favors |

See the idea above? This can be used as a substitute for goodie bags! Set up a craft bar for beaded necklaces, clay sculptures, painted pots, cloth ninja masks, or your

child's

favorite thing ever

craft. Even better, you can use your craft bar to encourage kids to create their very own gift for their birthday buddy. Kids get to make a meaningful present, party-goer parents are relieved of birthday pressure, and kids get entertained by entertaining

themselves

.
The suggestions above are just some of the many ways a party can be made green. There are all sorts of simple and powerful green living tips to enhance your party. So don't stop with these ideas! As for all you seasoned eco party-throwers. Help our imagination soar by sharing your favorite tips and stories below.
Top image via A Fete Beckons

Ash Stevens is a writer, mother, and wannabe shaman. When she isn't being serious writing or talking family and relationships on her blog, she's listening to stand-up comedy and soaking up some sunshine.

Latest posts by Ash Stevens (see all)