Sitting atop a heap of Legos, your child announces he's almost finished with his Christmas list. The top five items on that list? New Lego sets.
We all want the holidays to be magical for our kids. But how do we balance our desire for seeing our child's eyes light up on Christmas morning with our desire to live a less consumerism-focused life? Even more importantly, how do we help our child gracefully realize we can still be content, even when we don't get everything we want?
One way we've learned to enjoy gift-giving while helping our children develop realistic expectations is teaching them how to prioritize. Encouraging your child to prioritize her wish list can help her learn to make choices and cope with disappointment. When she shows you a long list, ask her to choose the top one or two things she really wants.
With the Want-Need-Wear-Read approach, each child gets one thing they want, one thing they need, something to wear, and something to read. While you can't control what other people give your kids, you can set the expectation of what they'll get from you.
We created this easily printable holiday wish list, and gift tags, in Want, Need, Wear, Read fashion to help guide you and your child through the list-making process.
And our adorable printable gift tags bring a little extra excitement to gift-opening time!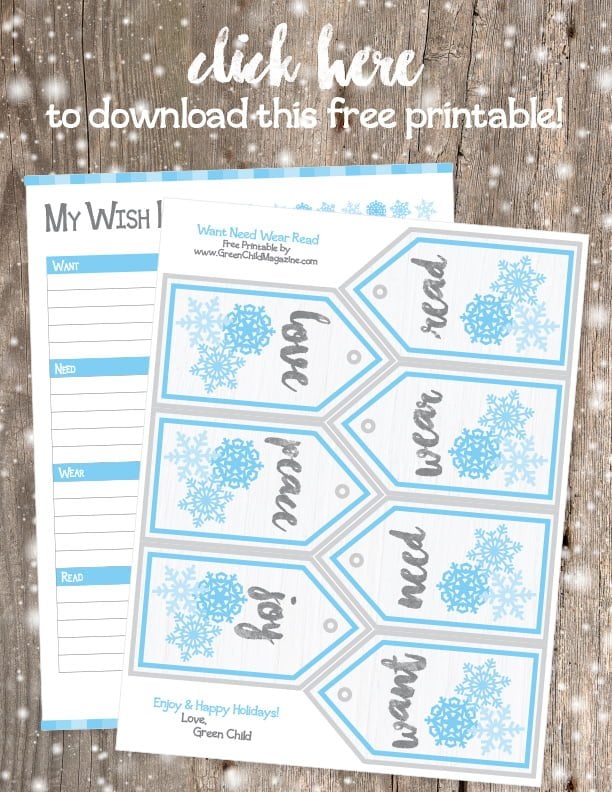 Save

Since 2010, Green Child has published a digital magazine devoted to natural parenting and conscious living. Hailed as "good for a green mama's soul," Green Child has grown into a resource valued by parents who care about bringing simplicity, compassion, social responsibility, and instinctual intelligence back to parenting.

Latest posts by Green Child Magazine (see all)