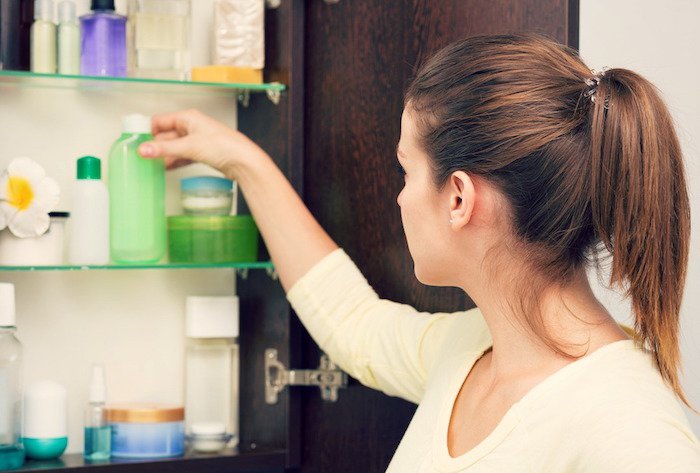 When our friends at Earth Mama Angel Baby asked their followers to check the toxicity scores of their personal care products, they quickly realized how much work is still needed to raise awareness of what we're putting on our kids and ourselves.
"I felt a little bit duped!" shares Mikki Bell, mother of one and expecting her second child any day. "I suppose it was naive of me to think that just because a brand uses natural colors in their marketing or claims to be gentle, it doesn't mean it is ALL natural. And by whose standard is a product considered 'gentle'?"
As our collective awareness of toxins, chemicals, and artificial ingredients in health and beauty products grows, more brands are jumping on the natural bandwagon.
All of this awareness helps make naturally-made items more mainstream and obtainable to consumers. It also helps raise awareness of what goes in and on our bodies. However, with companies attempting to cash in on this trend, it can lead to greenwashing and misleading labeling practices.
How to see through the greenwashing
That's where trusted resource the Environmental Working Group comes in. EWG is a non-profit, non-partisan organization dedicated to protecting both human health as well as the environment.
EWG's guides and easily searchable databases provide consumers with the knowledge to make wise choices that are safe for their families and help to support companies that are doing it right. By using the Skin Deep Database – and their handy number system – you can actually see what your favorite products' score is in terms of toxicity and safety for your family.
Broken down simply, the lower the score, the better it is.
Some companies that offer seemingly safe, earth- and body-friendly products reveal a much different story when rated by EWG. It can be eye-opening to find a favorite product on the high end of the scale, but ultimately awareness is what breeds change and helps us to integrate safer products into our homes.
Mikki is part of the Earth Mama Bump Squad, a group of lucky expecting mamas selected to help make their pregnancies as natural as possible. "I was very surprised that some products that seemed natural, because of their marketing, had higher scores than I would have liked. I was floored by the score for the sunscreen we were using! We have switched up a few things because of this test. I honestly just wasn't as aware before."
Mikki has fallen in love with several of Earth Mama's trusted products. When we asked her what she loves most about being part of the Bump Squad, she said, "I guess it's a combination of how wonderful the products and the people are. I've been telling everyone about my most loved products and even buying and gifting them for other pregnant friends and relatives. The people at Earth Mama have taken great care of us with products, evidence-based education, support, and encouragement. And the women in the bump squad have become a group of supportive friends who have never met but have gone through a pretty great journey together. We've talked openly about the joys and hardships of pregnancy, connecting with spouses while pregnant, staying healthy and loving yourself, the challenge of child rearing while pregnant and much more. We all cry each time a new birth story is shared."
Finding a safer brand across the board
Researching a company like Earth Mama Angel Baby we see that they walk their talk of safety and purity in all their products… earning a 1 on the EWG scale. It's clear they prioritize transparency and quality in the products they make for families.
Earth Mama is dedicated not only to upholding its stringent standards but to giving its customers what they demand – honesty, trust in a truly natural product, and altogether quality. It's comforting that their baby products fare extremely well given the horror stories we sometimes hear in the news. Earth Mama's Natural Non-Scents Baby Lotion rates a 1 on the scale, with no scent and super gentle formulation. Considering that a teething baby's hands (and toes and arms…) are constantly being gnawed, it's refreshing to have such a safe, effective option.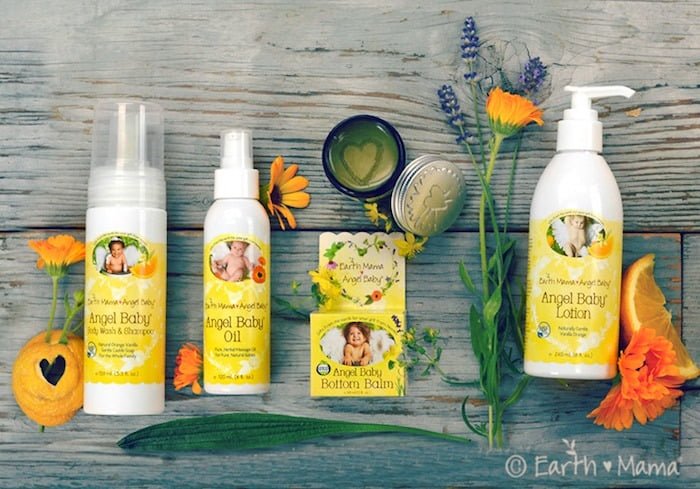 Another stellar Earth Mama product is their popular Angel Baby Bottom Balm. Also rated a 1 on EWG's scale, this item is a safe herbal diaper cream that effectively safely battles existing diaper rash and protects against flare-ups. Certified by Oregon Tilth, it's the only ointment made with Earth Mama's proprietary blend of naturally antibacterial and antifungal organic herbs, shea butter and pure essential oils, soothing to thrush, itchy bug bites, scrapes, chicken pox, minor rashes, and burns.
What's your score?
You may be surprised by the scores of your favorite products. Do you have a pregnancy, breastfeeding, baby care, or personal care product you love? Do you have products you want to replace but haven't gotten around to it?
We're thrilled to help Earth Mama Angel Baby carry out their mission of raising awareness of what's in the products we're using for our families. When it comes to toxins, higher is NOT better! Go look up the toxin score on the Skin Deep Cosmetic Database, then come tell us what it rates.

Since 2010, Green Child has published a digital magazine devoted to natural parenting and conscious living. Hailed as "good for a green mama's soul," Green Child has grown into a resource valued by parents who care about bringing simplicity, compassion, social responsibility, and instinctual intelligence back to parenting.

Latest posts by Green Child Magazine (see all)