On Sunday afternoons, I love to put on some music, chop vegetables, and get a big yummy pot of comfort stew going. There is nothing like the warm scent of simmering onions and garlic to create a cozy atmosphere.
It's funny to me that my kids claim to not like onions, and yet whenever I simmer onions in a little grapeseed oil, one by one they start to drift into the kitchen and say, "Mom, it smells so good in here!" It never ceases to amaze me how flavorful and hearty winter vegetables are, and the carrots, potatoes, cauliflower, and cabbage in this stew make it a filling meal.
For more pure organic recipes, check out Veronica Bosgraaf's Pure Food Cookbook.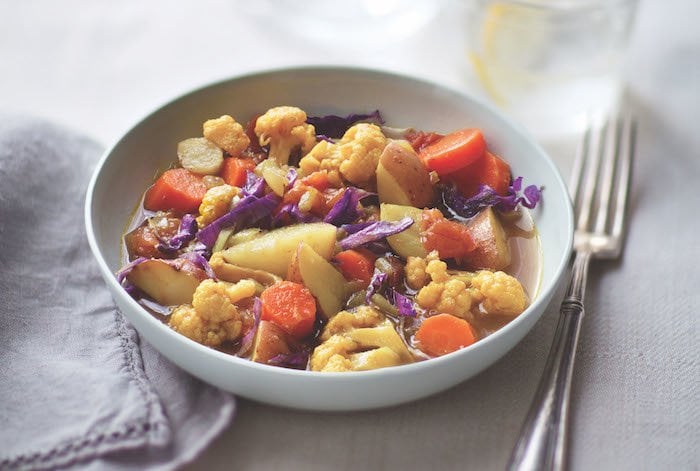 Winter Garlic and Vegetable Stew
2017-01-09 21:53:59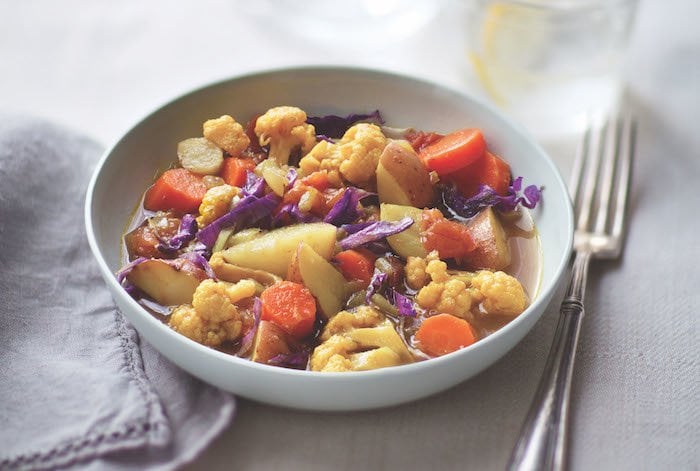 Serves 6
Ingredients
3 tablespoons grapeseed oil
1 large onion, chopped
8 garlic cloves, cut in half lengthwise
1/2 teaspoon turmeric
1/2 teaspoon ground cumin
3 large carrots, sliced into 1⁄2-inch thick rounds
5 medium red potatoes, chopped
1 head orange cauliflower, coarsely chopped
1/2 head purple cabbage, coarsely chopped
2 medium tomatoes, cored and chopped
1 cup vegetable broth
1 teaspoon sea salt, plus more to taste freshly ground black pepper
Instructions
Heat the oil in a large pot set over low heat.
Add the onion, garlic, turmeric, and cumin, and cook, stirring, until the onions are soft... about 10 minutes.
Add the carrots, potatoes, cauliflower, cabbage, tomatoes, broth, and 1 teaspoon salt.
Bring to a simmer and cook until the vegetables are tender, about 45 minutes.
Season to taste with salt and pepper, and serve.
Green Child Magazine http://www.greenchildmagazine.com/

Veronica Bosgraaf is an entrepreneur and lifestyle expert who founded the Pure Bar in 2006 when her 6-year-old daughter declared herself a vegetarian. Veronica supported her daughter's decision and began to research and cook for a vegetarian lifestyle. Today, Pure offers a range of vegan bars, clusters and fruit snacks that are certified organic, gluten-free and non-GMO, with antioxidant-rich fruits, heart- and brain-healthy nuts, grains, organic fiber and organic protein. Veronica's cookbook, Pure Food: Eat Clean With Seasonal, Plant-Based Recipes, also features a variety of simple, healthy vegetarian and vegan recipes designed to inspire people to get back into the kitchen.

Latest posts by Veronica Bosgraaf (see all)