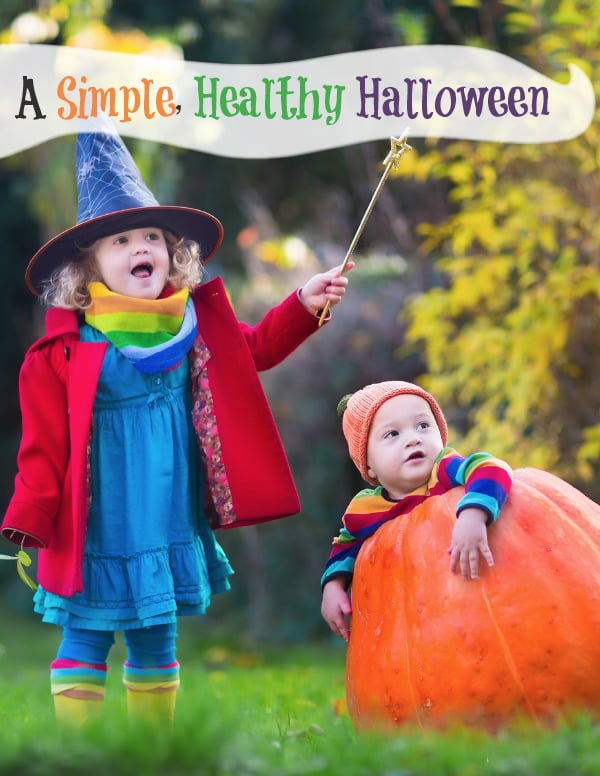 With so much emphasis on sugary treats and plastic costumes, it can be difficult to plan a healthy Halloween while keeping the kids happy. This year, we're all about teaching our children the art of simplicity and the value of moderation.
Costumes
Lots of costumes available in stores contain toxic dyes and petroleum-based materials. Look for costumes made of 100% cotton, wool or silk. Don't just think about costumes for use for one night — a high-quality costume can be used all year long for kids to play dress-up!
If you're crafty, consider making your own costumes using items from around the house, recycled boxes, and old clothes. If you're not into DIY, shop secondhand at thrift stores and online sale sites, or swap last year's costumes with a friend. Many costumes are only worn once on Halloween, so you can score a like-new costume at a fraction of the cost.
Healthy Snacks & Treats
Halloween offers lots of fun opportunities to play with your food. When it comes to parties and gatherings, think seasonal and colorful!
Autumn provides us with lots of choices that naturally come in shades of orange, black and green. As you select snacks, desserts and treats for the kiddos, look for organic and pesticide-free foods made from whole ingredients without artificial colors or flavors. Limit the amount of salt, sugar and caffeine as much as possible, and opt for locally produced foods when available.
Toasted pumpkin seeds
Air-popped popcorn and popcorn balls
Jack-o-lantern faces drawn on clementines
Shredded carrot salad, shaped like a pumpkin with raisins for eyes
Baked apples with raisins and cranberries
Mini broomsticks with pretzel sticks for the handle and string cheese for the broom
Mini pizzas made into mummies using mozzarella cheese as "bandages" and black olives as eyes
Hot apple cider or 100% organic apple juice and cinnamon sticks
Trick or Treating Tips
If you're heading out to trick or treat, here are some tips to increase the exercise and decrease the sugar overload.
Make sure to eat a good, healthy dinner before trick or treating. Kids (and parents too) are far less likely to binge on candy if they've already had a full meal.
Encourage kids to walk from house to house to trick or treat instead of asking parents to drive them. Wear pedometers or activity trackers and see who can be the most active while out collecting treats.
When the kids come home with all their candy loot, spread it all out and take a photo of your child basking in all the candy glory. Then ask her to pick out her favorite 10 pieces to keep and bag up the rest. When my kids were little, they'd choose their favorites and then leave the bags of candy out for the Great Pumpkin to pick up overnight. In exchange for all that candy, the Great Pumpkin would leave them a small toy, book or movie that they had been wanting. The kids agreed it was worth letting go of some candy in exchange for a better treat. The handful of candy they kept was parceled out as after-school treats for the next week until it was all gone.

Sandy Kreps helps people simplify their lives so they can live with intention in a sustainable way. By focusing on simple living, organization, and time management, Sandy helps families find calm in the chaos. Get her free ebook, 101 Ways to Simplify Your Life, at modernsimplicity.org/hello. You can also get her free 5-day Christmas Challenge at modernsimplicity.org/christmaschallenge.

Latest posts by Sandy Kreps (see all)