Today's parents value products that are safe, intuitive, and recommended by someone they trust. Green Child delivers brands the tools to reach and engage natural families.
When you partner with Green Child, we share what we genuinely love about your product alongside quality content & advice from leaders in natural parenting. On this page, we've shared a few options – ads in our digital magazine and sponsored content articles. For a full media kit with pricing or tailored options, please email our advertising director, Tracy Carter.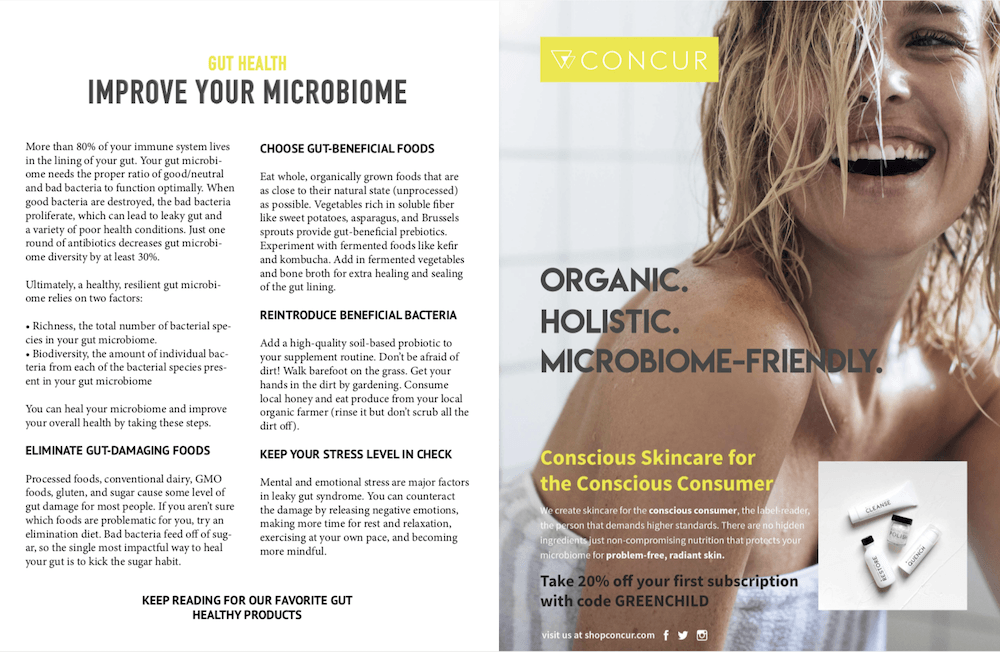 Green Child Demographics & Reach
With sponsored content packages, ads in our gorgeous digital magazine, newsletter options, social media campaigns, and gift guide features, we use our networks to expand yours. If your brand is a fit, we're happy to discuss the best ways to get it in front of our readers.
Get in Front of Our Readers via Social Media
Despite the ups and downs of all the algorithms, our Facebook superstar, Cai, has helped us maintain an extremely engaged Facebook following. Our other social networks continue to see growth in reach, and we're constantly working to improve engagement.
Facebook: 116,000
Pinterest: 20,000
Instagram: 14,500
Twitter: 14,500
Sponsored Content Packages
Authentic Content & Engaging Photos… Tailored to Your Target Audience
We'll integrate your brand or product into our original content so you can authentically reach a highly engaged audience. In fact, we love sharing with our readers why a product or service is healthy, ethical, sustainable, long-lasting, or extremely useful.
Take a look at some of our sponsored content packages and gear guides…
Magazine Advertising

Reach natural-minded parents via our gorgeous digital magazine (find our current issue here). We offer full and half page ad options, and we're happy to discuss advertorials if your brand is a fit.
For advertising options to maximize your brand awareness or to discuss any custom packages, please email us at media (at) greenchildmagazine.com.
Is Your Brand a Fit?
Because we're extremely attentive to what our readers want, we're picky about the brands we work with. If it's not a product or service we'd use within our home homes or for our families, we don't feel comfortable promoting it.
And please note – we don't accept payment for undisclosed links or prewritten content.
Working With Us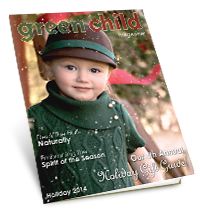 For every dollar we spend advertising with Green Child, I feel like we receive double what we pay. You truly over-deliver every single time. ~ Melinda Olson, Earth Mama Organics
My traffic has gone up an average of 300% since you started running the posts. No, that's not a typo! Super crazy and I am beyond elated 🙂 Needless to say, we'll be working together a lot! ~ Michelle C. Smith, MamaSuds
We received an email just two days after our ad appeared in your Back to School issue, and we now have a new wholesale customer! ~ Mona Weiss, EcoNuts
Green Child Magazine is one of my favorite magazines! First, their audience is so relevant to us. Secondly, they provide great, well-researched but still every day feeling content that makes green and eco-friendly less overwhelming for readers. They're so easy to work with and they often think of a new way to integrate our products with their content. We really appreciate the service they're doing for us and readers! ~ Heidi Baumgart, Naturepedic
Green Child is my go-to source for reliable, up-to-date information for parents concerned about raising their children in a green and healthy environment. The articles are always useful and relevant, written by knowledgeable authors who are experts in their field. ~ Lori Popkewitz Alper, Editor of Groovy Green Livin
Now I don't have to spend hours on the internet looking for healthy products and info for my son. I can find it all in one place!  ~ Shana Matney, Reader 
With articles on healthy eating, green cleaning, attachment parenting, Green Child Magazine is good for a green mama's soul. ~ Corey Colwell-Lipson, Celebrate Green
I adore how your magazine is accessible paper-free! Thank you from all of us + future generations of green kiddos! ~ Erin Malloy, Reader
Hands down one of the most informational and educated pages I'm on. Thanks again!  ~ Kate La Rose, Reader
For custom advertising options to maximize your brand awareness,
please email our advertising director, Tracy Carter.