Costa Rican-born mom of two and founder of Mama Instincts, Carolina King, shares her approach to natural parenting and her big, bold dreams.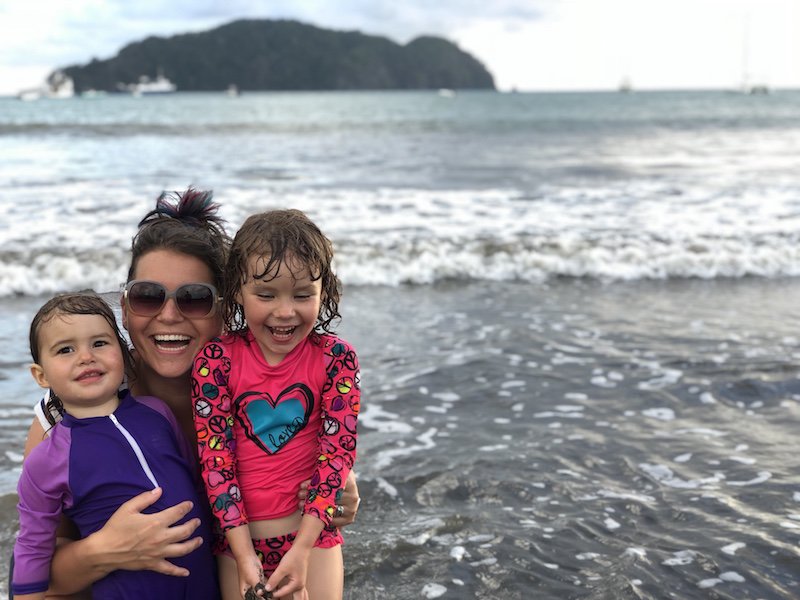 Favorite food: Mexican and Greek
Favorite vacation spot: Spain and Costa Rica
Favorite way to practice self-care: Sitting in my living at room after everyone has gone to bed
Words to live by: Follow your mama instincts, no one knows what is best for your child except you. Trust yourself and don't be afraid to do things in a different way.
What inspired your path to healthier or more natural living?
I was raised by parents that taught us the importance of eating healthy and doing exercise so I've always been inclined to living a healthy lifestyle. However, when I had my first child a whole world opened up for me and I learned about organic and toxic chemicals in everyday products.
I wanted the best for my daughter, which prompted me to obsessively research everything we did and bought for her.
I'm not going to lie, it was scary at first and I felt overwhelmed because I realized I could not protect my daughter from all the dangers out there.
I finally came to terms that I can control the environment in our home but not the environment outside our home. So we strive to leave a clean life, with as little chemicals as possible. We focus on minimizing exposure and making smart choices, but we also understand that we can't live in a bubble and our kids will be exposed to foods and chemicals we don't want them to.
I also believe there is a fine line between teaching your kids what's best and depriving them from experiences, so when we're out, they're allowed to explore and try different things. For example, we don't forbid foods at birthday parties but we only keep organic chocolates at home. My kids are still my inspiration for living a more natural life and I think they will always be.
Growing up in Costa Rica, you were surrounded by gorgeous natural resources. Is that what inspired your love for nature?
Yes, nature is just part of life in Costa Rica, in a different way than it is here in the US. We don't have seasons in Costa Rica, just a rainy season and a dry season. I am from the capital, San Jose, where the temperatures stay around the same range, between 70's-80's. This means my childhood was spent outdoors most of my life.
I honestly have very few memories playing indoors, everything we did was outside – in our yard, in a friend's yard, a trip to the mountain, a trip to the beach, etc.
I remember being a kid and grabbing a mango, or a guava, or a banana from our yard and just eating it. I also grew up buying fruits, vegetables, eggs and meat at the Farmer's Market. I loved talked to the farmers and having so much variety. It is one of the things I miss the most now that I live in the US.
In Costa Rica nature is part of your everyday life and also where you go to decompress so growing up there definitively played a huge role in who I am and my love for being outdoors.
You share a balance of sustainable and real world living on Mama Instincts. Are you where you'd like to be? Or does trying to be greener/healthier stress you out sometimes?
I am a perfectionist who is always thirsty for knowledge, so I will never be exactly where I want to be because I'm constantly learning new things and tweaking our life and habits around what I discover.
That being said, I feel I'm a pretty good place where I have the right balance in my life. The way we live is that we try and keep our home as chemical free as possible and buy only organic foods but we don't stress about it when we're out. There was a time I stressed out about everything – I even carried homemade hand soap for my kids!
I've also learned to let go of some things. For example, my kids as babies only had non-toxic toys that were NOT made out of plastic. However, now that they are older we do have plastic toys because we also encourage them to explore with things that catch their attention.
I still get stressed out something when I discover that products I like are not as safe as they claim to be. I also worry about endocrine disruptors, but I keep reminding myself that stressing is not helpful and that our bodies are smart. If we can minimize exposure, our kids will have a better start in life.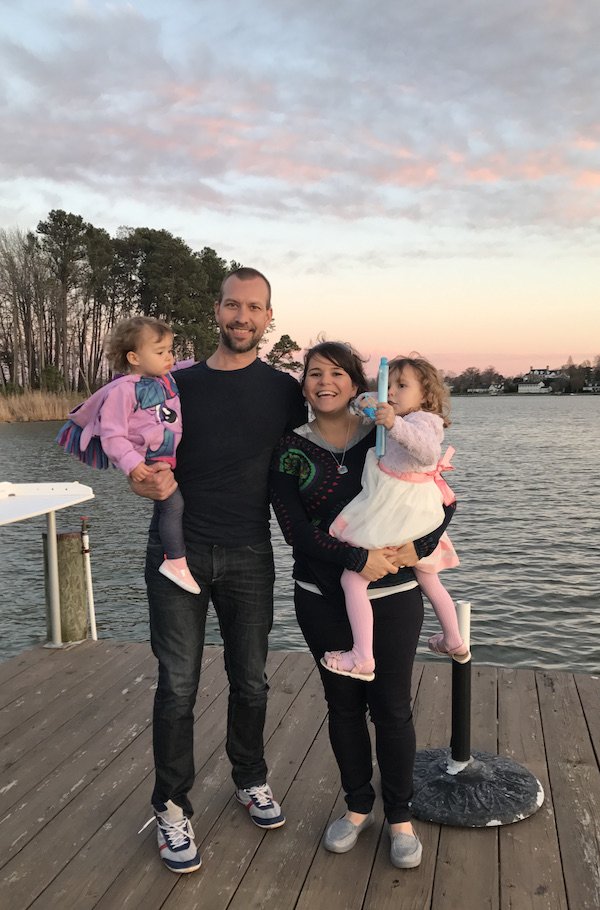 I have also learned not to give myself a hard time for not being able to buy everything organic. We use conventional clothes in our home and while I do make sure we buy from brands that don't use lots of chemicals, we simply cannot afford to switch our entire wardrobe to organic. So we focus on what we can do and hope that little by little companies will start switching to safer products.
We know you're a passionate person. What advice do you have for someone looking to live her dream?
This is a great question and part of me wants to say, "just live your dream" but I am a mom now, bills have to get paid and if things are not okay financially my kids suffer.
So while I still believe you should be living your passion, it doesn't mean you have to be living your passion right now. You can start little by little living the life you want because little changes add up and eventually you'll be exactly where you want to be if you're working towards that goal.
I believe in the law of attraction so I visualize daily what I want in my life and I also thank the universe for all the wonderful experiences and things we have in our lives.
Believing that you are worth it and can live the life of your dreams is the most important step anyone can take towards achieving their dreams. Once you believe, you just have to keep reminding yourself of it and follow the signs the universe sends you.
I started my blog because my husband insisted I should share all my research with other moms. I never thought I would get many views nor that I could make money from it. It was born out of love and out of passion and that is still what fuels my blog.
I feel I'm not where I want to be with my blog as I'd love to reach even more moms and empower them in their journey but that doesn't mean I'm going to give up.
Once I read the only difference between a loser and the winner is that the winner tried one more time. You will never know when your big break is going to come, so just keep on dreaming and stay open to different opportunities but also don't obsesses so much over it that you forget to enjoy your life.
If you find that you are not living the life you want to live, that you are not living your passion, but you don't know where to begin, then start just by being grateful with what you have. It will change your mood and your view of life and it will make it so much easier to figure out what's the next step.
And never forget that only you know what's best for you so only take advice from those that have what you already want in life.
What's the biggest life lesson you've learned?
The biggest lesson I have learned is to trust my instincts, which is probably why my blog is called Mama Instincts. When I had my baby and I realized I was parenting so differently from everyone else around me, we breastfed on demand, co-slept, we didn't let our baby cry, we only fed her organic, she had non-toxic toys and the list goes on and on…there were times when I felt cornered, not understood and judged.
For a while I even kept a lot of these things to myself because I didn't want to be questioned but then I realized I am this child's mom for a reason and it's okay to be different.
I learned to stand up for my child, even though I don't like confrontation. I learned to stay true to myself and most importantly, I learned to believe in myself.
Research is one of my best friends, and whenever doubts creeps up on me I will research the topic until I feel confident about my decision or until my mind is changed. Parenting is about being open to who your child is and what your child needs and learning how to listen to what that inner voice says.
Any big dreams you'd like to share?
We all have crazy big stuff we dream about. For me, it's always been to create a strong and supportive community of natural moms. What makes a mom a natural mom varies a lot but in essence we're parenting in a different way that doesn't always align with mainstream thinking. We strive for healthier choices and to be more present in our kids lives.
Living this way comes with its challenges and sometimes we don't have support from those around us. I want to build a community that will provide this support. The blog is a big part of it and I've also created a Facebook group called Natural Mamas Community. This group is my third baby because this is where I can talk to other moms in this journey and provide them support when I can. What I love about building a community is that I don't have to have all the answers – there will always be someone that can give a helping hand.
I hope to make this community even bigger. Maybe one day we can even have our own app to chat about experiences and support each other privately.
I also have a crazy dream of having my own TV show for natural moms, where we can talk to moms, interview experts in green living, positive parenting and other topics that interest moms. That right there is truly a crazy big dream!
I love for natural parenting to become the norm and for moms not to ever feel lonely in their journey, like I did at the beginning of mine, so I'm doing all I can to make this a reality and provide support.
I have no idea how things will evolve but if I can help just one mom, that is all that matter. That one mom will help someone else, and so on. If we all focus on helping one person, this world would be a better place for us and for our children.

Latest posts by Green Child Magazine
(see all)