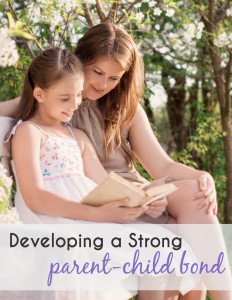 Do you remember the moment you first laid eyes on your child? I remember clearly the moment the doctor immediately placed our newborn son on my chest, as most mothers do. I don't remember the chaos of nurses, the doctor, or my husband cutting the cord. Time slowed and my attention completely fixated on his tiny hands, first squalls, and long toes.
Within seconds after my son's entrance into the world we were beginning one of the most important steps in child development: attachment.
Why Is Bonding Vital?
Bonding with a parent is a major influential factor in a child's life and can even predict a child's future success. This process is often explained in the popular attachment theory. In a study conducted at the University of Iowa they discovered that babies who had a strong relationship with at least one parent reaped a lot of benefits as they aged.
Children lucky enough to develop an intimate bond within the first two years are less likely to demonstrate behavioral and emotional problems as they enter school. Well bonded and secure children display less aggressive or troublesome behaviors. Positive attachments influence their self concepts, how they view others, and their outlook on life.
The Building Blocks Of A Strong Bond
Attachment-based bonding activities can be wonderful tools to help nurture a bond between parents and children. Even older children who may be experiencing trauma, displaying aggressive behaviors, or demonstrating whiny or needy behaviors can benefit from these activities–especially if they were exposed to early challenges as infants.
Here are 7 activities to help children and parents create a bond well past the first few months:
Mirror the child's expressions and movements. This is a simple and pleasing game that babies and toddlers enjoy immensely. Copy your child and make it a game. Focus on eye contact, smiling, and reading facial expressions.
Take time to include physical closeness in your daily routine. Gently soothe your baby by talking and making eye contact while massaging him or her with warm lotion. As he ages rub his back or hold his hands on walks. This act can promote intimacy and trust.
Acknowledge his or her coos and words. Interacting with a baby is important. Talk to your child and explain the world around him or her. As he or she ages, make it clear that you are paying attention and value his or her ideas.
Interact during feeding times. Take mealtime to the next level by serving eye contact and rich vocabulary with dinner. Avoid propping bottles or ignoring the baby during feedings. Make family dinners a priority.
Play! Blow bubbles, stack blocks, or race cars. Focus on interacting, making eye contact, and responding to his cues–have fun!
Read, read, and read. Cuddling and relaxing while reading a favorite book can encourage bonding. If a child is too young to read, he or she will enjoy hearing the soothing rhythm of your voice, looking at the pictures, and being close.
Be aware of his Internet or Smartphone usage. Monitor the amount of time he or she spends on a device and know who his or her contacts are. It is suggested children under the age of 2 avoid screens altogether.
Extending The Bond Into The Teen Years
Looking back to those first moments with our son, all those years ago, I now understand our doctor was encouraging the parent-child bond when he handed our new son to me. For years, always being practical, I figured the doctor just handed our son to me because I was the only one without something in my hands. Not really–but some parents are familiar with this feeling, despite all rational knowledge.
Our doctor actually helped more than deliver our child. He began our journey and helped us form a strong bond that will see us through the ups and downs of the teen years. And yes, there probably will occasionally be tears along the way.
Amy Williams is a free-lance journalist based in Southern California and mother of two. As a parent, she enjoys spreading the word on positive parenting techniques in the digital age and raising awareness on issues like cyberbullying and online safety.
Latest posts by Amy Williams (see all)