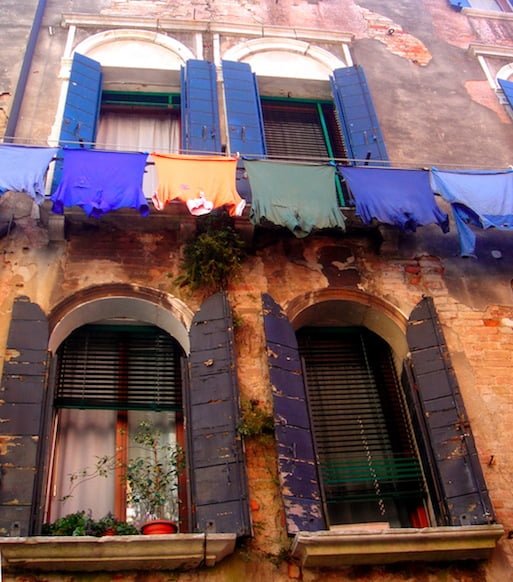 By Claudia Looi and Bethany Looi
Walking along the narrow alleyway along centuries old buildings and stores…the smell of fishy water, occasional dripping of water from the cracks of walls…and they looked up.
Rows of colored dresses, sheets, shirts and underwear were hanging outside the second and third floor windows.
"Why are they hanging clothes outside?"
"To air dry them…most countries in the world do not use dryers…they depend on the sun and wind."
That was in Venice….
Upon arrival at the Hotel El Conquistador, the youth leader checked us all in. Excited and exhausted at the same time…traveling to a new country without my parents…seriously…. for seven days!
Immediately taking a tour around the hotel…a courtyard in the middle with open windows and chairs in the courtyard…. no air-conditioning or fancy lighting…. just natural air and light.
That was in Nicaragua…
"Selamat Datang" was written all over the airport as we stepped out of the airplane. Instantly, we were the majority…we looked like them though we understood none of their language.
Retrieving the luggage and walking out to the waiting room were rows of little restaurants, bakeries, souvenir shops and coffee shops. It was time to refuel…
Sitting down at the coffee shop we ordered our food and drinks. There was a difference…they were served in proper plates and cutleries…no disposable plates, cups and plastic spoons and folks…
That was in Malaysia….
One week in Italy, seven days in Nicaragua and six weeks in Malaysia were all it took to inspire and transform teens into thinking and living green.
Travel has always been a huge part of our life. Instead of buying stuff for the last seven years, we took on the approach of buying an experience for our children and ourselves.
Five things they learned while traveling that turn them into green living teens:
You hang your clothes out to dry. While most of the world, like Italy, New Zealand, Australia, Malaysia and the non-sunny England hang their clothes outside in their lawn, backyard, and balconies or by the window to dry, we Americans use the dryer.
Terrapass.com has these numbers and facts about not using the dryer for our laundry:
Cost/load (electric):  $.35
CO2/load (electric):   5.6 lbs.
Loads/year for a family: 365
Cost of a clothes horse: $5-10
$ saving/year (1/2 loads air dried): $63.88
Lbs. CO2 saved/year (1/2 loads air dried): 1016 lbs.
Teens can see these facts in action and implement them once they return home.  Other eco travel tips we picked up along the way are…
Enjoy the Natural Environment
Most countries we visited including Belize, Costa Rica and France do not have a whole house air-conditioning system. Some homes in Malaysia do not even have a window unit for the year round hot and humid tropical climate.
In the United States two-thirds of homes have air conditioners, which use about 5% of all the electricity produced in the United States. Instead of having to wear sweatshirts indoor because of air conditioners at 65 degrees, we have the temperature at 78 degrees or higher and save money.
Air conditioning costs homeowners $11 billion a year. Imagine that?
Stay Away from Styrofoam
They use china, plastic and glass in restaurants across Italy, France and Singapore. Styrofoam is not only bad for the environment; it also threatens our health and reproductive systems. Earthsource.org said the toxic chemicals would transfer into our food when heated in a microwave. The product is made with petroleum, which is a non-sustainable and polluting resource.
It is less labor intensive to use disposable plates, cups and cutleries. In recent years, we find that more countries are using less of the non-disposable plates, cups and cutleries. However, Americans are becoming more aware of living green.
Don't Litter
Through our eco travel, we realized all humans are the same…we tend to liter. The only country that is perfect in this category is Singapore. The place is so clean that you will be fined if you are caught chewing gum.
Upon arrival at the airport, travelers are given mints and asked to discard all their chewing or bubble gums.
Travel Light and Go Digital
There is so much hassle with heavy luggage, dozens of magazines and books. We have to lug the luggage everywhere and are required to pay extra for the extra weight on our heavy luggage.
We learned our lessons and have since travel light and have gone digital with our reading materials.
Travel definitely enriched our lives and helped us live a green lifestyle with less clutter and being more aware of our environment.
Claudia Looi is a mom to two teens, a freelance copywriter, travel and web content writer at Travel Writing Pro. Her works include writing for tour operators, hotels, real estate, wellness and immigration consulting industries.
Bethany Looi is a 16 year old high school student who has traveled to 14 countries and runs
an online business at On Task VA.  Bethany enjoys playing golf, food photography, traveling and learning new languages. She is currently pursuing advanced level Spanish with a private tutor and a desire to be a top teen journalist.

Latest posts by Green Child Magazine
(see all)