Equal Exchange has taken fundraising to a whole new conscious and worthwhile level. We're beyond excited to help them spread the word to people like you — who really can influence the fundraising choices made at your school, church, or nonprofit.
When your organization chooses Equal Exchange, you get to offer an amazing collection of organic and fairly traded chocolate, coffee, cocoa, tea, and gift products, sourced from more than 40 farming communities that are cultivating their land wisely. Each group's purchases support authentic Fair Trade, which means the farming families receive above-market prices for their crops plus social premiums that can be invested in community development, farm renovation, healthcare, and other essential projects.
How an Equal Exchange Fundraiser benefits your organization
40% profit
No minimum orders
No upfront costs
Free catalogs and posters
Free shipping for order over $135
Guaranteed delivery within 10 business days
Not only are they making a difference in communities around the globe, Equal Exchange provides educational resources for students here at home. Their education page includes videos, PowerPoint presentations, and graphics about where their products come from so kids can feel a strong connection with the people and resources they're supporting.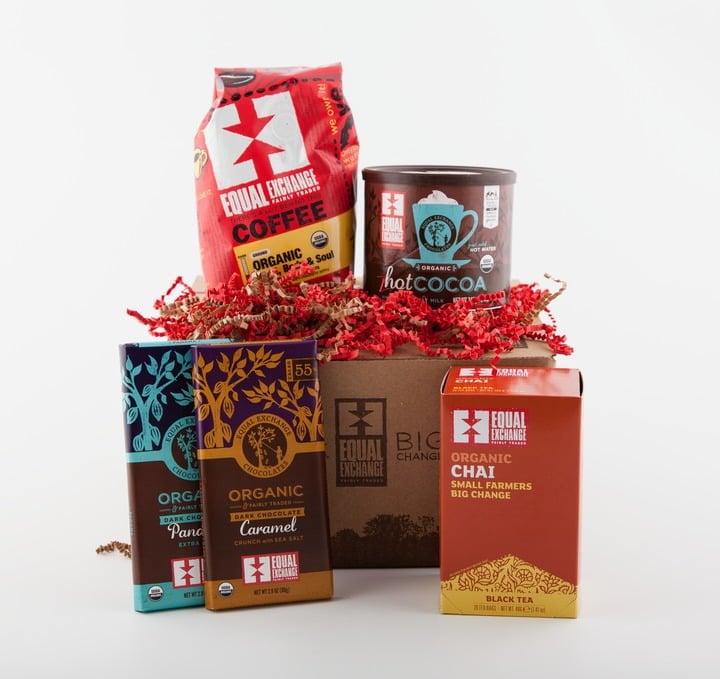 Here's your chance to try out their

Fair Trade

products
You can enter for your chance to win an Equal Exchange Crowd Pleaser Gift Box by signing up to receive a free catalog and more information about Equal Exchange's Fundraising Program.
Their goal with this giveaway is to encourage our readers to learn more about their fundraising programs. You don't have to be an administrator or organizer to enter. You can pass the catalog along to your school's PTO or your organization's fundraising office with a gentle reminder about how important it is to do good in the world, while raising money for your group.
We'll choose three winners on November 30th. The Crowd Pleaser Git Box includes:
2 bars of chocolate
1 bag of coffee
1 box of tea
1 can of cocoa
Here's the link to enter:
http://go.equalexchange.coop/GreenChildMagazine.html
And here are just a few reviews from groups with great results with Equal Exchange:
"We raised over $12,000! The Equal Exchange fundraiser really emphasized the understanding of supporting our own community, but also supporting communities around the world. And the chocolate is sooo delicious." ~ Leslie Dimaio, Columbia Falls Junior High School, MT
"I am so thankful you offer fundraising while supporting so many global issues. Finding your fundraising program was a dream!" ~ Merrit DesLauries, Waldorf School of Pittsburgh, PA
"The Equal Exchange fundraiser was much more than a fundraiser; it was a vehicle that sparked conversations among our students, faculty and parents about how our behaviors and practices in our own community impact communities across the globe. Besides, it's easy to choose organic and Fair Trade when it tastes great!" ~ Melissa Tomback, Brimmer and May School, MA

Since 2010, Green Child has published a digital magazine devoted to natural parenting and conscious living. Hailed as "good for a green mama's soul," Green Child has grown into a resource valued by parents who care about bringing simplicity, compassion, social responsibility, and instinctual intelligence back to parenting.

Latest posts by Green Child Magazine (see all)