Finding Your Balance this Summer
Summer is both restful and exciting at the same time, so it's the ideal opportunity to slow down and enjoy life. Here's how to ease into finding your balance this summer.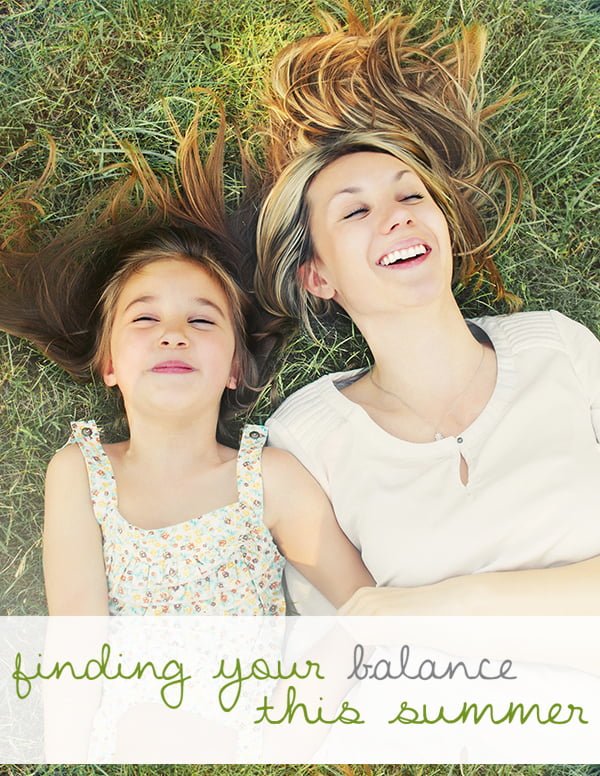 If you work outside the home, your schedule may loosen and you find good excuses to take some of that well-deserved vacation time.
If you work inside the home, you may grow a bit more lax in your scheduling, enjoying more non-structured free-time with your young ones and adhering to less strict bedtimes. No matter your situation, it's simply a wonderful time to recharge.
Here are ways to help create some new, healthy habits during this sunny season.
Start your day with self-care
Take some quiet time to yourself and start meditating at the same time each day (yes, even if it involves getting up earlier), or take up yoga. By using some of your extra summer free time to learn how to properly focus and find inner peace, you'll get into a great habit and continue it throughout the rest of the year.
Take advantage of the sunshine
It's difficult NOT to be happy on a gorgeous, sunny day, isn't it? Get outside when nature allows the chance, whether it's just to garden or do yard work while the kids run around, or on a more structured nature walk. Just be sure to use natural sun protection for any prolonged exposure!
Schedule family reading time
Many studies prove that children who are raised by parents who model good reading practices (even if it involves reading a magazine or newspaper) have a far greater chance of becoming life-long readers (and learners). So, block out a quiet time for the family to read, whether separately or all in the same room.
Make regular visits to the library to allow your child to try new and different books. Talk about the things you've read, especially any ideas that popped into your heads or questions that might have arisen. Your child is also likely to have less of a summer learning gap when they return to school in the fall since their brains were still "exercising" all summer long. You'll also notice your brain sparking quicker in the process!
Enjoy great seasonal food
Summer is the perfect time to get creative in the kitchen. During this time, meals aren't as rushed, grilling allows you to prepare foods in new ways, and the abundance of fresh farmers' market produce gets your wheels turning. If you're feeling super adventurous, purchase a CSA (find some near you at Local Harvest), which can actually last you well into the fall. Either way, be mindful while you cook and add some new recipes to your meal plan for when things get busy again.
Allow for unstructured play
Okay, most of us do this during the summertime, anyway, but the point here is to create the habit, then see it through. Allow for an allotted time of unstructured play during the same block of time (if possible) everyday. When the autumn hits along with the busyness of school and added responsibilities, try to maintain that daily hour or so (before or after dinner, for little ones after a nap, etc) for creativity and imagination to bloom. This is also a time for you to relax and allow your own creative juices to flow, which can be far more powerful than parents may realize.
Get in touch with your inner child
We can get serious and, at times, grumpy when things get stressful. Use the open flow that summer brings to not only get back in touch with your actual children, but with your own inner child, as well. Throw on your own "play clothes" and get down in the dirt with your little ones. Blow DIY bubbles and look for shapes in the clouds. Truly listen to the conversations your child starts and reciprocate, no matter how silly or nonsensical they may be. If playtime doesn't help, try journaling to find your true voice again (it's not just for teenagers; most people jotted down short diary entries a century ago).
Take just a couple of these steps to heart and see if they help to rejuvenate your spirit this season. Ultimately, it's all about taking a step back from the fast-paced environment we all experience daily and filling our summer (and beyond) with moments of calm and joy.