Many middle-aged people have nostalgic memories of a childhood spent in perhaps more "free-range" ways than kids today enjoy. Good memories make us want our own children and grandchildren to have the same healthy outdoor benefits, which means being vigilant about conserving our towns' green spaces. Which leaves one to wonder, how possible is it to go the free range parenting route in today's overdeveloped world?
Are Free Range Parenting and Free Range Childhoods Possible?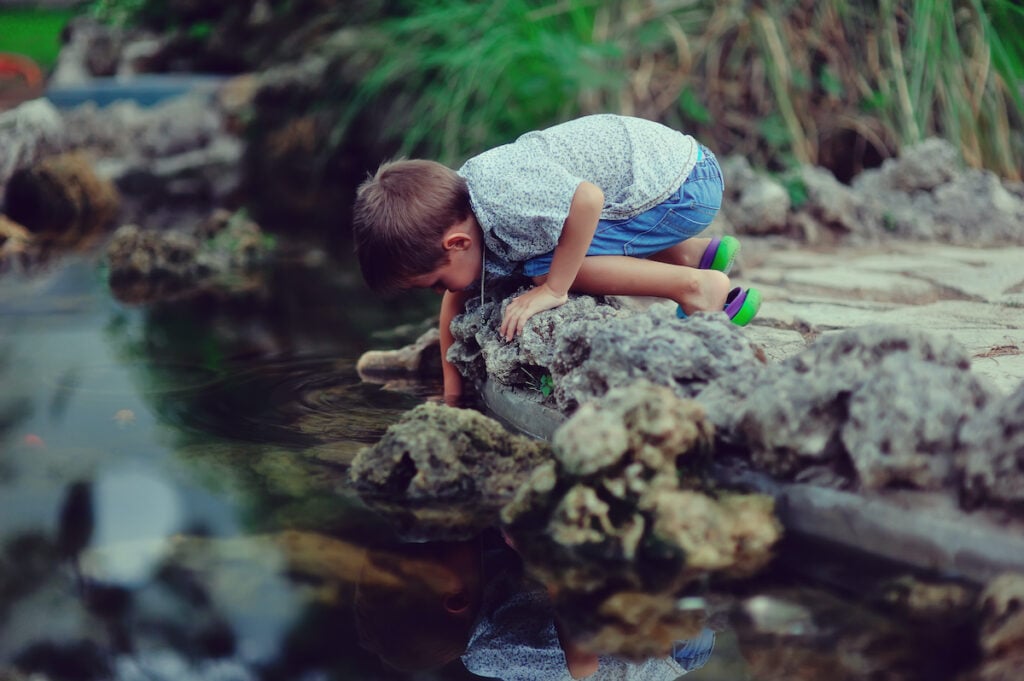 Canada's west coast is a case in point. There, childhood, like the landscape, has changed. British Columbia has a 15,985 mile long shoreline. Even in the urban centres, children once grew up close to it.
Today, those living in the centre of town might be separated from the shoreline by offices, highways and condo towers, and be scarcely aware of the beaches across town.
Temperate-marine, wet in one season and hot under arbutus trees the next, tidal, craggy and forested, the geography and climate of the west coast primed us to expect grandeur. Now, folks are adapting to something less.
Now the cliffs are blasted for building and highway widening.
Horticulturally-minded residents rescue native wildflowers and shrubs from the building sites, transplanting them to city gardens which are themselves at risk of subdivision.
Whither paradise?
In his lyrical and persuasive book Last Child In the Woods, Richard Louv describes nature deficit disorder, which afflicts youths living indoor lives on landscapes paved and developed.
Often these kids are wedded to smartphones, streaming, downloading and living a digital life.
West coast childhood used to be indoor-outdoor and physically active. As a Memoirs Coach working with seniors I learned about childhood between the World Wars. It seemed trying at the time, during the Great Depression, but it's looked back on with nostalgia today. People become nostalgic for hardships overcome.
For children growing up on the wet west coast life was shaped by woods, beaches, wildlife and weather on a continental edge. The domestic context by the mid-twentieth century consisted of well-treed neighbourhoods with large gardens and quiet streets. Rows of boulevard trees blossomed extravagantly each spring (gifts to Canada from Japanese sister-cities), and cats and dogs roamed free.
In summer kids ran barefoot through garden sprinklers ("water restriction" was unheard of, and lawns were green). In fall they jumped into piles of oak leaves raked up by their parents, the air pungent with autumnal smoke which heralded the end of Indian Summer and the looming promise of Halloween. The sharpening in the air was not unwelcome, despite the end of summer's long evenings and hot days. Melancholy mixed itself with expectation as the school year started afresh.
"What did you do on your summer holiday" was the time-honoured essay question. Some families had gone camping or to cottages up-island, where they walked on hot beaches and cooled their feet in shallow tide-pools, each step sending a spurt of tiny shadowy fish ahead.
We floated dreamily on logs, hands trailing in the coolness while our backs were sun-burned by rays we didn't know were dangerous.
"Getting into the sunshine" was the prescription for good health. Later you'd lie on a towel in the shade, dreaming over a novel. The novels changed as we became teenagers, but the drowsy summer somnolence of the beach stayed the same.
By night we were tired, muscles well-used. We drifted into sleep to the chirp of robins trilling outside open windows, and caught the faint perfume of the roses and nicotiana gleaming whitely in darkening flower beds.
Smell they say is the most evocative sense, and we had a cornucopia … the heady scent of new grass, its energizing tang on the first spring day of track-and-field at school making us think that this year we'd long-jump further and high-jump higher than ever. Scottish broom too was intoxicating. It had colonized the rocky hillsides ever since early immigrants imported the seeds from home.
Now the blaze of yellow slashed across the slopes is reviled by native plant purists, which makes their insistent olfaction seem subversive and daring: here's a plant that will not be denied, an immigrant admired for tenacity.
There was also the swoon-y midsummer fragrance of warm horse-hide when we rode on dappled trails, mixed with scents of newly mown hay wafting from the meadows. The sensory pleasure of smell paired with the creaking sounds of hot saddle leather was linked to anticipation of adulthood, of life's rich promise.
We couldn't wait for adulthood to arrive, and had no clue that one of its chief pleasures would be in remembering a hopeful, free range childhood lived on the edge of nature. The bitter underside of pleasure is its fleetness of foot.
It will not be detained, and nor has small-town nature been. The Edenic lifestyle lived between harsh wilderness on one side and noisy urbanity on the other lasts but a generation or two, and then survives only in melancholy but semi-consoling memories
On the trails were horses but to the beach we road bikes. We skipped stones over the waves, competing to see who skipped the most. Riding home we'd spend a precious saved quarter on an ice cream cone, stopping to eat it in the shade of a chestnut, dogwood or maple arching over someone's fence.
Today the trees are gone, the lots they grew on are subdivided, paved, and hold two or three houses each.
Only the wind hasn't changed; it snatched shouts of joy out of our mouths as we cycled, ran and tobagganed through the bracing days, and it snatches shouts of protest now as we lose nature both wild and sub-urban. In our free range childhood, we didn't know that detached gardens with backyards would become unfashionable when population exploded.
We wouldn't have guessed that municipal planners would scheme to "undo the legacy of single family zoning" to create dense housing "in neighbourhoods where it was once forbidden".
We understand now why it was forbidden. It had been forbidden when people valued privacy and space, but all species are adaptable, including our own. The deer now living in urban gardens have forgotten the woods; they adapt to back yards even as these shrink. Because they have shrunk, the quail have disappeared, while the gulls that used to nest on rocky offshore islets now nest on downtown rooftops.
The gulls and crows contribute a raucous urban chorus of comment, knowing and confident around our garbage bins. The rocky islets they once nested in have been taken over by eagles which have been driven from the forest by logging which comes ever-closer to town, clearing landscape for housing.
Urbanization pushes us up against other species. In the new tiny yards raccoons co-exist with pet cats, growlingly taking over the pet-food dishes. Rats turn up everywhere. And whales, unbelievably, in 2019 turned up in Victoria's downtown Inner Harbour.
Harbour seals had long cavorted around the docks, fetching like pet dogs the fish that tourists bought and threw for them. Even an elephant seal might turn up every few years on a neighbourhood beach. A solitary creature who lives most of its life in the cold reaches of the Pacific Ocean, it still might pull up on ancestral beaches to moult.
Whales in the downtown harbour were something new. Resident orcas live in the straits between B.C. and Washington State, an area containing over 8000 human residents but only a few hundred orcas. Their habitat is polluted and filled with underwater shipping noise. This remnant population suffers food shortage, most of the salmon they need being taken by humans. In 2018 when a newborn calf died, its mother made worldwide headlines by carrying the corpse on her head for seventeen days, with the help of members of her pod.
Marine experts theorized about her motives. Pure grief? A shockingly human-like refusal to face facts? A message for humanity?
A few months later when a group of orcas turned up inside the capital city's harbour among the yachts, ferries and seaplanes, theory went into overdrive. Residents drinking coffee in harbour-side cafes looked up astonished from their smartphones to see black dorsal fins slicing the water between boats. After a few mesmerizing minutes, the orca delegation left.

Urbanites don't know what to think about whales in the harbour, but we are grasping that by thrusting themselves into our habitat they are demanding attention. They are communicatively advanced, and we feel abashed at our incomprehension, and our treatment of Orcinus orca.

Humanity, too, learns to habituate to new conditions. After the golden age of prosperous green-tinged childhoods, city life in its crowded noisy harshness might seem "nasty, brutish and short" — but life was always brutish and short for most wild animals. For some, town is a safer berth. For humans, life feels shortened because future overtakes past ever more quickly. Time accelerates, digital time disorients us, and that historic childhood suspension in the present disappears.
Nature seems to hide her face in the city but she has simply ordered a change of the fauna-guard. She now favours species adapted to drought, concrete and soupy air, creatures adept at making-do. We humans must become miniaturists now: where once we enjoyed gardens blazing with azalea, fragrant lilac and festoons of clematis, we now appreciate a flowering weed that miraculously survives in a crack in the sidewalk.
Now we enjoy the light-show of bright clouds as reflected in glassy high-rises, and the intricate delicacy of lichens and moss growing along a fence top.
How beautifully the spring sunshine picks out their fine detail, we exclaim.
The wild, free range childhood which humanity has aged out of will increasingly become a distant folk memory. It will become the theme of legend, as unreal as dragons and sea monsters, but like all legends, rooted in a past reality. Even if it only appears to urbanites in Blake-ian grains, in lichens and dumpster-diving crows, nature will always tug at us, prompting poetry
Latest posts by Sandra B Julian
(see all)