Demystifying Common Goat Milk Formula Myths
The popularity of goat milk formula in the US is growing, with online searches almost doubling in the last five years. Goat milk has been a bit of trade secret among parents, but there are still many misconceptions surrounding it.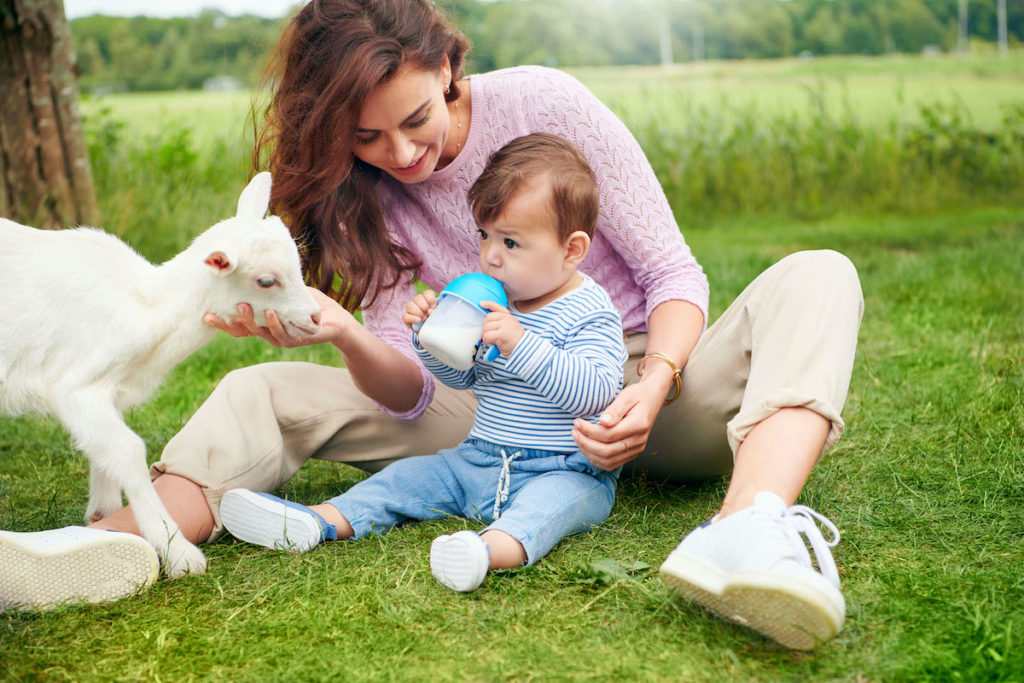 We broke down some of the most common myths about goat milk formula and hope it helps you make informed choices about your little one's nutrition.
Myth: Goat milk is suitable for children with cow milk allergy
For children with a confirmed cow milk protein allergy, there is a high risk that they will also react to the protein in goat milk therefore goat milk products, including formula, are not recommended.
However for children with minor issues associated with cow milk such as gas, constipation, diarrhea or eczema and without a true cow milk protein allergy, goat milk formula may be an ideal option. Goat milk protein forms a softer, smaller and looser curd in the gut compared to cow milk protein, which may make it easier to digest.
Myth: Goat milk is closest to breastmilk
Breastmilk is a complex and dynamic food, changing throughout the months, weeks and even days of breastfeeding. While the goal of all formula is to model the macro and micronutrient composition of breast milk as best as possible, there are many other factors that cannot be replicated.
While the protein composition of goat milk is different from cow (and easier to digest), goat milk alone is not suitable for little ones. Just like cow milk, goat milk must be adapted and fortified into an appropriate formula.
Myth: Goat milk formula lacks important vitamins
Both goat milk alone and cow milk alone lack important vitamins and minerals and must be adapted and fortified in order to be suitable for babies.
Formula is strictly regulated in the US by the FDA to ensure the safety of little ones. For example, Kabrita Goat Milk Formula contains safely adapted protein and is fortified with 22 vitamins and minerals including folic acid, iron and vitamin D.
Myth: All goat milk formulas are the same
Kabrita Goat Milk Toddler Formula is the only goat milk formula legally sold in the USA. Other goat milk formulas that may be found online are illegally imported and may not adhere to strict FDA shipping or nutrition standards.
While homemade goat milk formula may seem like a good option, there are significant risks associated such as possible nutritional deficiencies and contamination, and are not recommended by experts.
Myth: Goat milk formula tastes 'goaty'
The taste of goat milk depends on the goat breed, the freshness of the milk and milking techniques. High quality goat milk is delicious, creamy and rich. Kabrita Goat Milk Formula is made from fresh, premium goat milk from the Netherlands, and has a mildly sweet taste.
Kabrita Goat Milk Formula uses high quality, pasteurized goat milk from the Netherlands, is non-GMO and contains no added refined sugars. While adhering to strict European food guidelines that limit the use of antibiotics, growth hormones and pesticides, Kabrita is readily available in the US.
Kabrita's line of nutrient-dense first foods with the gentle goodness of goat milk includes Kabrita Goat Milk Toddler Formula (infant coming soon!), Porridges, and Snack Puffs with Goat Cheese.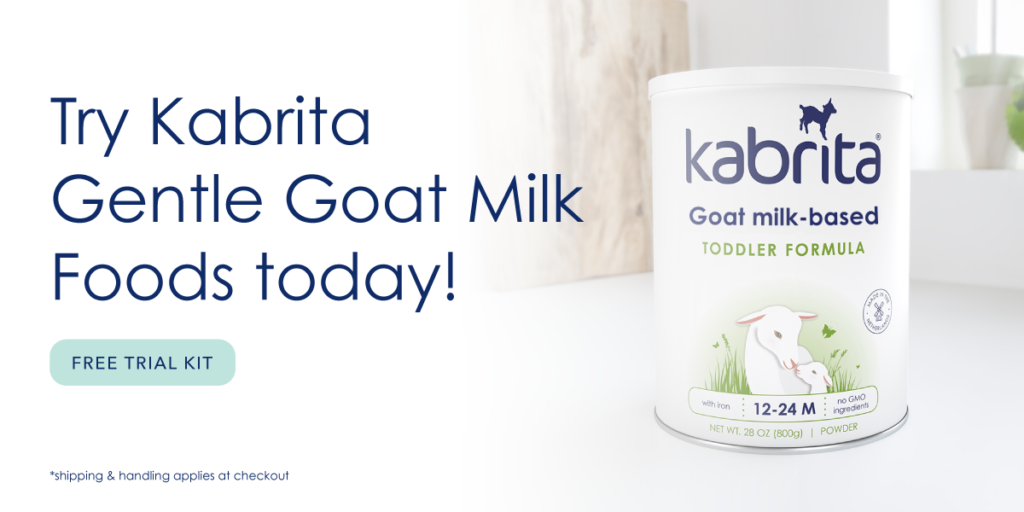 You can try all the Kabrita products for FREE through this special Free Trial Offer*!
Kabrita USA is 100% run by women and led by moms. Our mission is to empower parents to nourish their child with confidence and we are dedicated to the health and well-being of all children, our happy goats, and the planet.
*Goat milk products are not recommended for cow milk protein allergy. Always talk to your doctor before making feeding changes.
$4.99 shipping and handling applies to trial offer at checkout.
This article is part of a collaboration with our advertising partner, Kabrita. All thoughts and opinions shared are strictly our own. Thank you for supporting the brands that make it possible for Green Child to share free natural parenting and healthy living content.