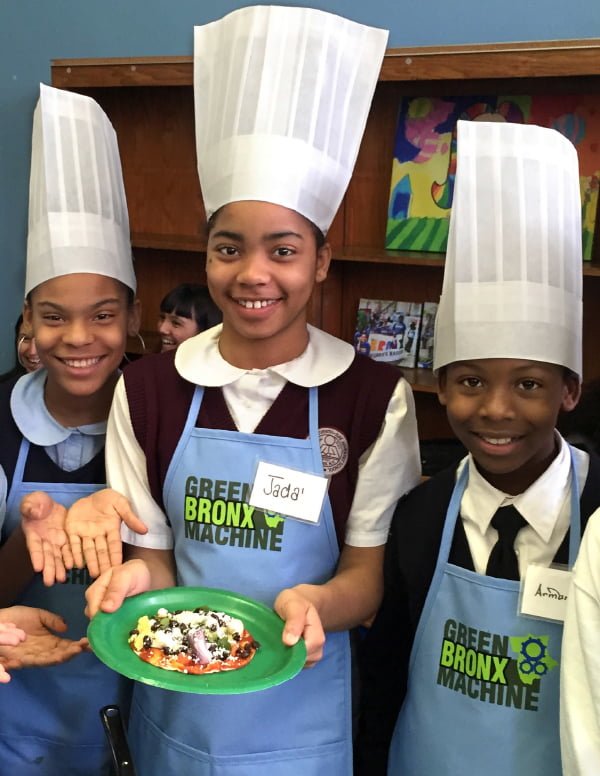 "The single biggest prognosticator for a child's success in life is to have access to one kind, caring adult. And I am going to be that kind, caring adult."
As the school year begins anew for many of us, it's a perfect time to evaluate the impact that teachers have on our children. Their work is invaluable and their level of care for our kids is incredible. On occasion, one can even see the proof of a teacher's influence spread far beyond their classroom walls.
Today, we introduce you to just such an educator. Stephen Ritz is a teacher in a high-needs, underserved South Bronx school system. Purely by serendipitous accident, he birthed the Green Bronx Machine, a project as varied as the plants and food that his students and their community grow. His concept and infectious knowledge is spreading en masse through a popular Upworthy video and TED talk. We hope you will feel as inspired by Mr. Ritz's work as we are.
Green Child: Stephen, your story is one of great inspiration and leadership. As an educator who has touched students on a deeper level while strengthening one of the poorest communities in New York through the use of urban agriculture, you've affected so many. What are the most powerful lessons you feel you've taught — to your students, the community, and yourself?
Stephen Ritz: The lessons are simple: dare to believe, dare to be great and, like I tell children, anything is possible! Seeds well planted can bring a harvest of epic proportions and that is what this is truly about – growing something greater, connecting to purpose and connecting to impact. No child and no person rise to low expectations; we've got to set the bar as high as possible in all that we strive to do.
That said, this is all about love, dignity and respect. My goal is to inspire healthy living, giving and learning everywhere I go; to move those who are "apart from" success to becoming "a part of" solutions that benefit 100% of society.
GCM: Can you describe the process by which you undertook this project? I know it began with accidental flower growth in your classroom (which is simply awesome). How did the idea "grow" into what it has become? Did you need to start small?
SR: I simply wanted to make a difference in my life and the lives of others; to create a multiplier effect. Of course I started small; we built concentric circles of success that created waves of impact. Along the way, we celebrated often and said, "please, thank you and have a nice day" to all we encountered. This work and the mission I am on is all about making connections with people and giving everyone an opportunity to succeed.
Ironically, gardening is the perfect vehicle and of course, plants always grow! My kids and I needed that opportunity as much as the plants needed us. Most importantly, when you teach children about nature, you teach them to nurture and when my students learn to nurture, we as a society collectively embrace our better nature. It is awesome to see those who are traditionally consumers and at the bottom of the "food chain" on so many levels become producers; that is a game changer on so many levels.
GCM: What were your early goals in this initiative and how have they changed from those first days? Did you have any failures along with your incredible success? Were students able to learn from any issues, such as a particular plant's lack of growth or challenging mindsets in the community?
SR: My early goals were to engage and involve children in a way they never had been; to love them until they learned to love themselves – to be that kind, caring, consistent and inspiring adult in their lives – and for us to grow together as well. We had the determination and mindset that we could and we would leave every place and everything we touched a little better than we found it – that was definitely doable – and very well received.
I am and remain an equity warrior – this is at the heart of what I do. Of course we had many failures – we still do – but those are learning opportunities for sure. Nature takes time and there is a season for everything. We are growing plants but what we are really growing is people; resilience, grit, determination and a work ethic and commitment to our community and ourselves.
Now we want to flip the script on education. We need not be the canaries in the coal mine but rather be and create the change we want to see. We need to roll up our own sleeves and get to work. I believe with open hearts and open minds that together, we can all prosper!
GCM: Upworthy is such a powerful means of spreading thought-and-conversation-provoking ideas. How has the production and distribution of your video with Upworthy effectively helped enlighten the masses about the importance of urban agriculture and its impact in education? Have you seen changes to your initiative because of your Upworthy popularity?
SR: The power of Upworthy is phenomenal! That the piece was released close to Father's Day was particularly significant to me and had major impact as well with regards to the lives I have touched and for those who have supported me all these years. The outpouring of love and support for my students, family and I and the work that we do has been spectacular.
I hope the video inspires others to do something great. My hat goes off to the Upworthy crew. The impact of the video on education truly reflects that anything is possible; teachers change lives! Teachers matter!
GCM: It must have been a daunting task to start an initiative such as this. For any readers facing similar opposition or just differing opinions regarding community-focused agriculture, what advice do you have for overcoming these obstacles in communities across the country?
SR: Asking for permission is begging for denial. Just get out there and do it! Make one simple change and lead others to do the same. Be sure to give everyone else credit and say "please and thank you" along the way. The eyes of the future are looking back at us and demanding we get this right! We have an obligation and an ability to do so. Civilized nations feed and educate their children. No child should go to bed hungry at night – not in this century.
We've got to end this bucket brigade mentality and really address issues or else we will continue to create and perpetuate a permanent underclass. It is easier to raise healthy children than to fix broken men. We need to treat children, farmers, food and the earth with the dignity and respect they deserve and demand or we will be dealt consequences we cannot even begin to fathom. I'd like to see more people work together, to extend themselves and to commit to a greater common good.
GCM: Do you think that it's possible for agricultural changes like yours to be made in all schools, nationwide (and beyond)? Should projects such as this be student-led or more of a community collaboration, or a synthesis of the two? How do you suggest that parents go about reaching out to help affect similar change in their own communities?
SR: Every child needs to know what food is and where it comes from. Every school needs to be growing food and put the academic concepts of growing food as well as respecting farmers and the earth – and all that entails – at the heart of what they do. I don't expect every child to be a farmer but I expect them to read, write, do the math, science, and develop the patience, fortitude and compassion to grow it.
Most importantly, input equals output. Given the nutritional and health crises facing this nation and the world, this is a human rights issue on a multitude of levels. That said, the greatest thing I have ever done to influence and impact school and academic performance is to grow vegetables in school with children aligned to content area instruction AND you get lots of yummy and healthy food along the way!
GCM: If people who encounter your story walk away with just one message, what would you want it to be?
SR: I am just one person (in a bow-tie) on amission who truly believes that together, at a grassroots level, we can change lives and outcomes for this and future generations. Every day is an opportunity to do something great and leave the world a little better than you found it. What people don't realize is that we are 100% volunteer driven and self -funded. The work my family and I do – as well as my students – is all volunteer. We hope to scale and build something bigger, touch more lives, have a greater and deeper impact.
If you feel inspired to help by donating even $1 to this 501C3 cause, please visit, support and share the Green Bronx Machine campaign.
Latest posts by Megan McCoy Dellecese
(see all)