Green Wedding Gifts That Don't Create Clutter
Wedding gifts can be a tough decision. This question showed up in my Facebook feed yesterday:
"What are your most used and least used items from your wedding registry? I don't want something in my kitchen or house that doesn't belong there."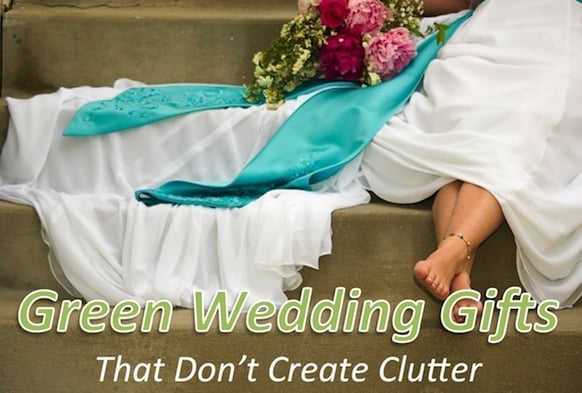 My friend's younger sister is getting married and asked this question. It's interesting to read the answers and see some of her friends consider the wedding gifts they registered for, and how useful they've turned out to be. She's getting advice to skip the formal serving pieces, and opt for more of the things you use every day like towels and linens.
When we registered for our wedding gifts years ago, I remember reading about keeping price points in mind when you create a registry. It said most people get the list, scan it for the first $25 or $50 item, grab it and go. Whether or not that's the most thoughtful way to choose a gift… that's for you to decide. I know it means you're getting the couple something they want.
What I know from experience is that the wedding gifts that now mean so much to us were not the things two 24-year olds scanned in a department store or Target on a Saturday night to cross yet another Wedding To-Do off our lists.
Next time you're shopping for wedding gifts, challenge yourself to think of something that will really make a difference in the lives of two people beginning a life together. They'll get plenty of "stuff" so why not give a gift that doesn't add clutter to their lives?
Local CSA Share – It really is the cliched "gift that keeps on giving." A share in a local farm or CSA (Community Supported Agriculture) will keep the newlyweds' kitchen stocked with fresh, seasonal foods throughout the harvest. Not only are you investing in good health, you're keeping money in the local community, instead of overseas where most of our stuff is made. Check Local Harvest for a CSA near the couple.
Couples Cooking Classes – Learning to cook is a fun and productive way to spend time together.  It's also another way to set up healthy habits of eating at home and being partners for meal times.  Look online for a culinary school in the couple's area. Or try Whole Foods, Williams Sonoma, or a local specialty store or restaurant.
Straight Talk on Money – If marriage came with an instruction manual, Sharon O'Day's How and When to Talk to Your Partner about Money  would be volume one. Learning how to have rational, non-judgmental conversations about money early on sets the couple up for a healthy relationship.  This digital e-book (little to no carbon footprint) is the perfect balance of feelings and finances.
Experience Gifts – Experiences create lasting memories and have been found to be more fulfilling and enjoyable than material items. A guided city tour, an Italian cooking class, or a whitewater rafting adventure are just some of the ways many couples enjoy spending time together. Check out Cloud 9 Living Wedding Experience Gifts section for more ideas.
Charitable Gifts – If the couple has a favorite charity they support, consider donating to it in their names. Make sure it's a cause that's important to them, not just to you. You'll find ways to donate to environmental, children's, health research, and many other organizations online. Research the fund on Charity Navigator so you know you're making a wise choice.
Cash – When in doubt about the perfect wedding gift, opt for money. Like an experience gift, money never ends up collecting dust in the basement. You'll also save the couple the trouble of returning another thing they don't want or need.