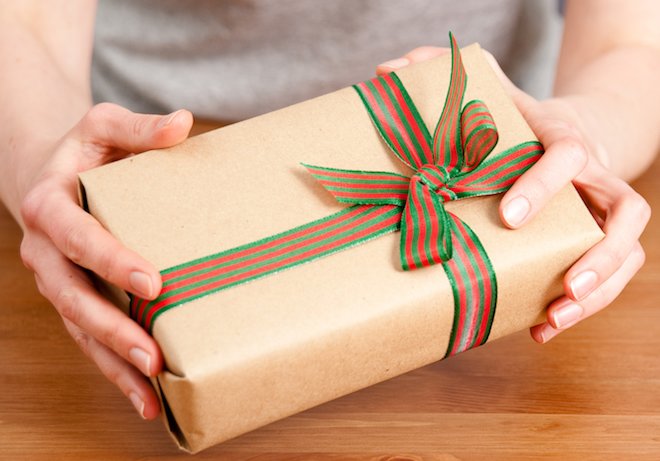 Editor's note:  What a privilege it has been getting to know Dana Holmes of Gifts.com. Today she's sharing her expert advice on holiday gifting etiquette.
The holidays are a time of joy and catching up with family and friends near and far. Between preparing a holiday meal, decorating your home in time for company, and shopping for gifts for your closest loved ones, the merry season can get hectic fast. So hectic, in fact, that gift giving etiquette may be the last thing on your mind.
Throw in juggling cocktail parties, dinner parties, and various gift exchanges and the holiday giving season can overwhelm even the jolliest of elves. The easiest way to enjoy all of the opportunities to share in the holiday spirit is to know the rules and be prepared.
Below are some reminders of what to get for which holiday engagement, plus some time-saving (and fun!) gift ideas for each.
If you start preparing now, you'll be able to celebrate the holidays with a smile.
 Gift Giving Etiquette for a Cocktail Party
Cocktail parties are so welcoming and festive, it can seem impossible to bring the wrong gift. But in fact, it can be done. To avoid mild embarrassment, skip that trip to the florist that you were considering. Getting the hostess flowers, while it seems like a sweet gesture, gives them an extra job. The last thing they need is an added chore while they're running around their house at the eleventh hour.
A safer bet is something they can use for their next party or for their home. Try a decorative or themed bottle stopper for something unique and stylish. Bottle stoppers are easy to keep on your shelf for emergency giving and everyone needs one, but never buys one for themselves.
If you buy more than one of the same kind, keep a list with them so you don't give to the same person twice. And for an unnecessary but nice touch, pick up a bottle of wine to give to the host. I like to pick up a case of my favorite wine for this purpose.
Office Party Gift Giving Etiquette
In office party culture, there are usually two approaches to gift-giving: either the staff or team collectively pools their money for a gift for their boss, or a staff gift exchange takes place.
In the first instance, typically, people on the team chip in whatever they can, $20 and up, to get one big gift. That way, no one ends up feeling like a kiss-up or like they didn't do enough. The next step is to get organized!
Start an email chain to the team where you can share ideas and eventually decide on one gift. Then decide who will collect the money and ultimately buy and wrap the gift. Designate someone to get the card and pass it around for everyone to sign. You are good to go!
To make the group swap more fun and memorable try a white elephant gift exchange. This popular holiday party game is played like this: each participant supplies one wrapped gift to contribute to the pile. Usually, there is a set dollar limit and theme, which is either decided on by the game's host, or agreed upon by the participants. I love making it a gag gift theme and keeping the limit low so that people have to get creative. One of my favorite examples is a box full of a 6-pack of cheap beer & a few scratch off lottery tickets. Everyone draws a number to set the order of the evening.
Then, the first person opens their gift. Once it's the second person's turn, they have the option to choose a new gift or "steal" a previously opened gift. If someone has their gift stolen, they can choose to "steal" another person's gift or select a new gift from the pile. (Once they open a new gift, their turn is over.) A gift can only be stolen 3 times. The game continues in this pattern until all the gifts have been unwrapped. For a twist at the end, you can decide which gift is the worst and let that person trade for whatever gift they want. The best part is how many different gifts you receive and give up along the way, and what you wind up with in the end may be the very gift you wanted all along, but it also might be the one gift you continuously tried to avoid! This game is a surefire success and guaranteed fun for all involved.
Family Gift Exchange
Families are spread out like never before, which can be especially difficult during the holiday season, gift-wise and otherwise. One solution is to use an online service for your gift exchange. A favorite Secret Santa organizer (Yes, Santa is in the title, but people of all religious backgrounds can participate!) is called Elfster.
It's as easy as registering, creating a gift exchange (what, when, and where), and inviting your friends and family. On Elfster, you can create a wish list for yourself, choosing from the selection of gifts they provide or from elsewhere; plus you can anonymously ask your secret giftee questions to get a better sense of what to get them. Using a service like Elfster provides you with all the tools you need to plan a fun Secret Santa with none of the laborious legwork.
Re-Giving Etiquette
Re-gifting used to be an automatic no-no, but as we get increasingly busier, the stigma has lessened and the act of re-gifting has become more commonplace. In other words, re-gifting can be done, but there are rules to follow in order to pull it off smoothly. For instance, only give to people in a totally different circle than the one the gift came from and always snazz up your re-gift with new wrapping paper and a fresh card. Use Post-it notes to record the gifter's name and the date you received the gift before you store it for future giving to prevent future faux pas.
Personality Profiler
If you are truly stumped for gift ideas, one of my favorite go-to options is Gift.com's Personality Profiler. Select the recipient you are shopping for (man, woman, teen, child), answer a series of questions (Example: For vacation she'd rather be a. soaking up the sun or b. soaking up the local sites), and voilà, endless suggestions appear at your fingertips tailored to their unique personality. You can then refine by your budget and can change your answers for endless personality combinations. Warning: this game can become pretty addicting, fast; it's that much fun!
So, whether you're planning to attend a friend's cocktail party, or it's your turn to organize the Secret Santa this year, you have it covered!
Latest posts by Amity Hook-Sopko
(see all)