If you've ever had the pleasure of visiting your local dump, you're probably aware of just how much garbage we are able to create. Think for a moment about how many bags you put at the curb each week, and multiple that by 52 – at the very least you've probably contributed at least 150lbs of garbage to the landfill this year, and the average family can multiply that number by six.
No matter how you look at it, that's a lot of garbage, especially when you take into consideration how much of it actually needed to be there.
Luckily, throwing stuff out isn't our only option; we can all make a difference simply by recycling. Not only does recycling help to keep unnecessary items out of the landfill, it directly impacts our environment by reducing the amount of waste we actually create.
The thing is, a lot of people assume that recycling is hard work and requires more effort than they're willing to put in, but that's where we come in. Today we're going to debunk this myth and a few others, and encourage you to start living a more environmentally friendly lifestyle starting now.
Myth #1 – It's hard to recycle
Because it's the most common, this is the first recycling myth we want to tackle. Although it requires a little bit of extra effort at first, once you're in a routine you'll see that recycling is actually pretty easy. To get you started, here are some of the most important things you need to know about recycling.
Can I recycle it? The short answer is yes. Whether it is collected with your garbage or delivered to a depot, almost all household items can be recycled.
Paper products
Glass
Metals
Liquids and chemicals
Paper and cardboard
Plastic
Textiles
Electronics
Appliances
Food waste
Light bulbs
Batteries
Printer cartridges
Clothing and textiles
The list of items that can't be recycled is much, much shorter and includes batteries, anything containing polyvinyl chloride (PVC), and aerosol cans (in most areas). While you'll probably want to check out your municipal rules and regulations for recycling, 1800recycling.com and Recyclenow are excellent online resources for any additional questions your might have. Not only will they narrow down what can and cannot be recycled in your area, they'll also point you in the direction of the nearest depot or collection grounds.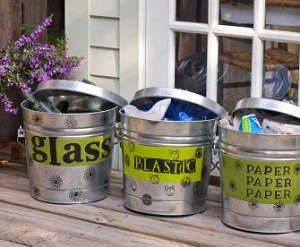 How do I make recycling easy? Organization is key to making recycling a quick and painless process. The first thing you'll want to do is set up a few bins to help separate your items. Whether you use cardboard boxes, bags or fancy designer bins, separating from the get-go will make your life a lot easier. To help keep things clear, you might even want to print off a few labels to help others decipher what goes where. We recommend bins for Garbage, Paper, Plastics and Glass, like these awesome and easy DIY ones from Relish.com.
Myth #2 – Recycling is expensive
This myth has been circulating for a long time and relates to both home expenses and overall costs of recycling in general. To set the record straight, while there is some truth to this rumor, any costs incurred are outweighed when compared to the many benefits of recycling.
Of course recycling costs money, but so does regular garbage disposal. There is no hiding the fact that it requires energy, time and funds but it can also save energy, reduce the amount of raw materials used and cut down on water consumption. While it's true that municipalities often find their recycling program quite costly at first, after a few years most see it drop down to a level that is comparable with regular garbage collection and disposal.
There is also no need for recycling at home to cost any more than what you were paying when everything was going in the garbage. Sort your items using the DIY bins we mention above and organize a neighborhood depot run once a week to cut down on delivery costs. These two actions alone should help keep all your pennies in your pocket.
Myth #3 – Recycled products are of lower quality
If you've ever used recycled paper, then you probably know where this idea comes from. That grainy, yellowed appearance however, is only one example of how recycled paper is produced. If it's bright white paper you're looking for, you can find that in the recycled variety too. While some materials can't be recycled infinitely (like plastic), there are those – like glass – that just keep on going. For the most part, differences in recycled and new products are fairly insignificant, but if you're really concerned, try looking for an alternative. Plastic water bottles for example, can feel more flimsy the second time around. Instead of complaining, by a reusable container and be on your way.
The truth about aluminum pull-tabs
We decided to include this myth at the last minute as it kept coming up while we were researching this post. Most of you probably remember collecting pull-tabs at some point in time – whether it was for wheelchairs, dialysis machines or just a full keg of beer. Of those we asked around here, almost everyone had a story about their collection. Considering just how many of us have this memory, one would assume there has to be some truth to it, right? Not necessarily. The great pull-tab conspiracy of the late 80's and early 90's is well documented online, and appears to have had national spread. Depending on where you lived, those pull-tabs had different uses, only a few of which we were able to find legitimate information on.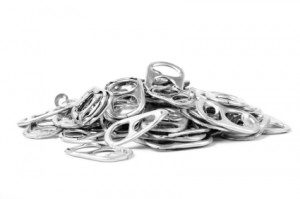 While there are a handful of registered charities who do make use of them, The National Kidney Foundation is not one of them and they are most certainly not redeemable for any amount of beer. If you're one of those people who (like us) got sucked into the idea that pull-tabs were worth their weight in gold, no worries – you can still redeem them at your local recycling depot. Find out what they'll offer you for your collection, cash them in, and donate the proceeds to your favorite charity.
This guest post was brought to you by PartSelect, the complete online resource for the do-it-yourself repair market and distributor of GE Appliance Parts.

Since 2010, Green Child has published a digital magazine devoted to natural parenting and conscious living. Hailed as "good for a green mama's soul," Green Child has grown into a resource valued by parents who care about bringing simplicity, compassion, social responsibility, and instinctual intelligence back to parenting.

Latest posts by Green Child Magazine (see all)