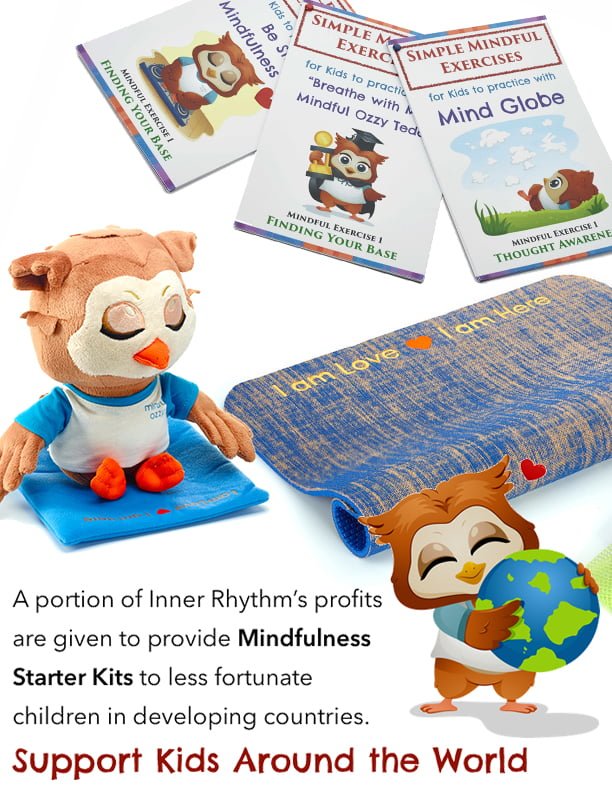 During the holidays, we all hope to give our children a gift that means a little more. The latest fad toy won't cut it; instead, we strive to purchase an item that will educate, inspire, and, of course, entertain kids.
But, is there truly one meaningful holiday gift for any child that hits all of these marks? Absolutely!
Consider giving the gift of mindfulness.
Believe it or not, it's totally possible to give something as abstract and powerful as mindfulness with a gift from Inner Rhythm.
What is Mindfulness?
So, what exactly is mindfulness? Simply put, it's a particular way of paying attention with a positive mind. Imagine your child using the mental process of purposefully bringing positive awareness into moment-to-moment experiences and changing her impulsive reactions instead to thoughtful responses. It may sound like a very mature or even complex concept, but it is actually totally attainable at a child's younger developmental stage.
Popular worldwide, especially over the years in meditative circles, mindfulness is actually being used effectively today in everything from medicine to the corporate world… and, now, with children through educational systems catching on to the powerful outcomes it ensures.
The exercises Inner Rhythm incorporates offer children access to the same basic mindfulness tools and techniques often used by the world's top athletes, leaders, entrepreneurs, physicians, and artists. These unique mindfulness products for children by Inner Rhythm will even be featured at New York Times Best-Selling Author and Parenting Expert Dr. Shefali's "Deconstructing Parenthood" parenting event this coming December.
As the company behind these products, Inner Rhythm does not measure its worth by dollars earned, but instead by the number of children empowered through mindfulness. As a social enterprise, a portion of their profits are given to provide mindfulness starter kits to less fortunate children in developing countries. Somehow, knowing that a company is this dedicated to their cause gives a greater sense of meaning beyond simply making a toy purchase; you're impacting not only your child's life with the system, but many less fortunate lives around the world.
Inner Rhythm's All-in-One Mindfulness Starter Kit
With a product like the All-In-One Mindfulness Starter Kit from Inner Rhythm, you can actually give children the gift of focus, self awareness, and positivity!
This kit includes three powerful tools to calming a child's mind and practicing these techniques:
Be Still Mindfulness Mat
Mind Globe
"Breathe with Me" Mindful Ozzy Teddy
… in addition to twelve simple daily exercises for children to practice regularly along with these mindfulness products.
With nothing like this system on the market today, you're sure to give a truly unique gift this holiday season. More than just a toy, these products will have a profoundly positive impact on the recipient and raise the bar on educational toys as a whole.
Inner Rhythm's School Mindfulness Initiative
On a broader scale, we can do more to touch more children's lives in our schools. That's why they created the School Mindfulness Initiative. Knowing that a child's personality is fully developed by the age of 7 years, Inner Rhythm believes those initial years are the most crucial to building the power of positive thinking. This mindfulness curriculum offers tested and proven strategies to ensure the content offered to children and teachers is comprehensive, sustainable, and effective.
How can you help spread positive thinking and focus with this curriculum? Tell your child's teacher or school administration to contact info@innerrhythm.ca to bring Inner Rhythm's School Mindfulness into your child's school.
So, whether you spread the gift of mindfulness at your child's entire school or as a personal gift to a special child in your life, be sure to consider giving this powerful, peaceful present this holiday season. It may truly be the one "gift that keeps on giving," providing for a foundation of clarity, awareness, and focus for years to come.
Read what users of the Mindfulness Starter Kit have to say:
"With their fun mascot Mindful Ozzy, learning aids and exercises, my boys actually love sitting down to do their daily mindfulness practice. It's my favourite time of day too because it feels like we are really bonding as a family at the same time. Love it!" ~ Parent
"Mindfulness is a bit like learning that you have your own 'super-power', your own inner power that is always there if you need it … it makes you feel strong." ~ Child
And here's what educators have to say about Inner Rhythm's School Mindfulness Initiative:
"The Inner Rhythm mindfulness program was FANTASTIC! The children in our daycare learned a lot from it and the lessons have really stayed with us for the the entire school year. In order for mindfulness to really stick with the children, the educators need to be mindful themselves so that it seeps into the classroom setting. I recommend bringing this program to any daycare or elementary school." ~ Sherry, staff member at K.I.D.S Daycare
"The staff and students have wholeheartedly embraced the idea of Mindfulness at Elizabeth Ballantyne School. This whole new peaceful concept has allowed our school community to really see and feel the potential of alternative methods of dealing with the everyday pressures of stress and conflict. In a sense it has opened our school community's 'eyes' and 'minds' to the power of sound, touch, and breathing. Rekha's mindfulness approach is captivating and her calm demeanor permeates throughout any audience, classroom, or group. We have called upon Rekha for professional development workshops for the entire staff and our teachers and support staff absolutely loved the energy and philosophy that Rekha brought. As a result, our school has taken on this initiative and we have now networked with other schools that are participating in similar endeavours. Our school environment is enhanced by this initiative and we look forward to what this approach will bring to our school and community." – Otis Delaney, Principal of Elizabeth Ballantyne Elementary School
*This article was part of a collaboration with our advertising partner, Inner Rhythm. 
Latest posts by Green Child Magazine
(see all)