"Integrity" is a word Terri and Marc Hall take seriously.
Brand new parents to little Jackson (born last week!), they know "less is more" when it comes to baby products… and how important it is to choose pure options when baby care products are needed.
As owners of what is quickly becoming a one-stop shop for non-toxic personal care items, the Halls have a big task in front of them.  "At Integrity Botanicals, we personally test out and evaluate every brand and product to ensure its quality, safety and effectiveness before carrying it in our store," Terri shares.  "When you buy a product from Integrity Botanicals, you can be confident you are buying the best green products available. We do the research so you don't have to."
Isn't that exactly what busy parents are looking for… Someone to do the research for them?
It's all about trust.  And what word speaks the language of trust better than Integrity?
The mission of Integrity Botanicals is to educate consumers on the safety of conventional personal care products and offer authentic, healthy, safe alternatives.
"A company with a conscience…some may say it's an anomaly…we call it Integrity."
You won't find any product that contains synthetic chemicals, chemical preservatives, harsh detergents, artificial fragrances, sulfates, parabens, petrochemicals or other unhealthy toxins.  The only scents in the products they offer are derived from essential (fruit and plant extracts.)
Integrity Botanicals has an extremely loyal customer base.  They offer 3 free samples at checkout and a rewards program where you receive a point for every dollar spent and 5% back on every qualifying purchase.  Bonus reward points are available for reviews.  Other fun benefits when you shop at IB are:
"Free Freight Friday" on the first Friday of the month
Travel size products are available
Gluten-Free, Vegan, and USDA Certified Organic products
Monthly promotions to Facebook Fans
They've also set up a special discount for Green Child readers.  Just enter discount code GREENCHILD at checkout to get 20% off your order!
Here are our top product picks from Integrity Botanicals.  You'll find a complete ingredient list at each item's link.
For Baby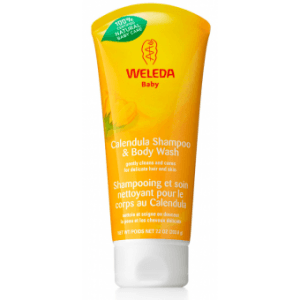 Calendula Shampoo & Body Wash by Weleda:  $12
A staff favorite!  Maybe it's all in our heads, but sometimes a little lather makes you feel cleaner.  This creamy, organic, plant-based wash cleans and softens without synthetic detergents. Biodynamic® and organic calendula flower extract soothes and softens your baby's hair and skin, while sweet almond oil absorbs fast and easily to keep your baby's skin and hair from losing moisture. A 2-in-1 product, and it's tear-free.
Baby Bottom Balm by Angel Baby:  $14.95  
Vegan and gluten-free, this balm contains organic olive oil, jojoba and shea butter moisturize and protect dry, sensitive, delicate skin. Organic tea tree, calendula and St. John's Wart contain antibacterial and antifungal properties to heal and soothe irritated skin. Works especially well with cloth diapers.
For Kids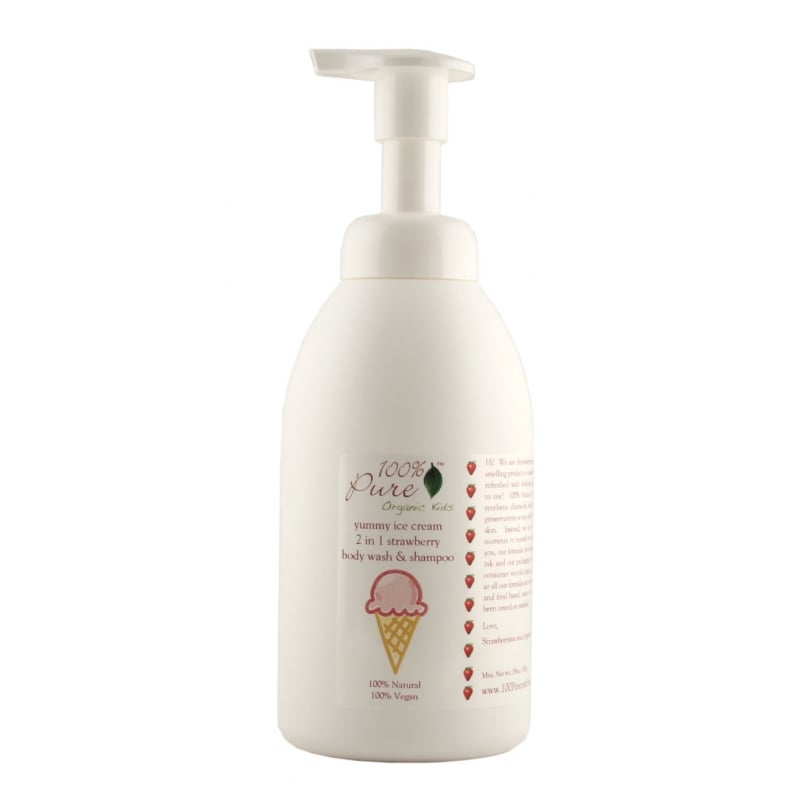 2-in-1 Strawberry Body Wash and Shampoo by Organic Kids:  $15
Another 2-in-1 product… this time with a delicious organic strawberry scent. Skin soaks up replenishing vitamins and nutrients and feels naturally clean and touchably soft.  Organic strawberry flavors(the flavors come from the juice extracted from strawberries) revitalize the senses and make bath time fun with a foaming dispenser!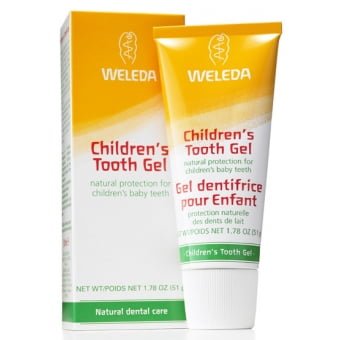 Children's Tooth Gel by Weleda:  $7
Natural silica gently cleans newly forming baby teeth and gums with this tooth gel for babies and children.  Biodynamic® and organic calendula flower extract helps soothe and pacify tender gums.  Has a gel consistency and is flouride-free.
For The Mom or Mom-to-Be
Natural Stretch Oil by Earth Mama Angel Baby – Non-greasy; easily absorbed; smells great with a harmonizing orange-neroli scent. 100% Vegan / Gluten Free
Foot Balm by Weleda – Calming and soothing relief for tired or swollen feet.
Arnica Massage Oil by Weleda – A warming, therapeutic oil; great for those tired muscles and aches and pains associated with pregnancy.
Coffee Bean Caffeine Eye Cream – Reduce under-eye circles and puffiness, especially great for moms not getting enough beauty rest.

Latest posts by Green Child Magazine
(see all)