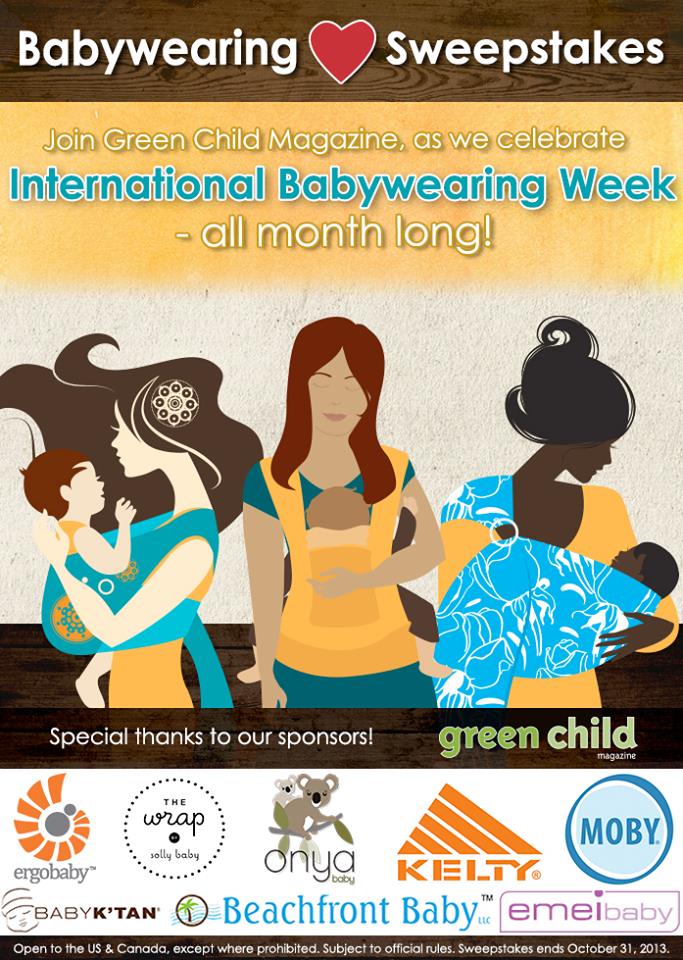 October is here, and it's Attachment Parenting Month! One of our favorite events this month is International Babywearing Week. This year it falls the week of October 7 – 13, but we're celebrating all month long!
Much research confirms how infants thrive with the power of touch, and wearing your baby meets this need beautifully. Babywearing also fosters happy, healthy, trusting babies and confident parents who get to have their hands free more often.
Every year our Fall issue, spotlights babywearing. Those happy little faces you'll see in our Real-Life Babywearing feature? They were genuine the entire afternoon of our photo shoot… talk about further confirmation that babies who are worn are truly content. We think you'll also get a kick out of our light-hearted quiz on whether babywearing is right for you.
So many benefits of babywearing.
So many gorgeous slings, carriers and wraps…
That's why we've teamed up with some of the best brands in the natural parenting business to bring you the 2013 Babywearing Week Sweepstakes featuring your favorite carriers from remarkable natural parenting brands like — Baby K'Tan, Beachfront Baby, emeibaby, Ergobaby, Kelty, Moby Wrap, Onya Baby, Solly Baby. Fill out the form below to enter for your chance to win. And Happy Babywearing!

Since 2010, Green Child has published a digital magazine devoted to natural parenting and conscious living. Hailed as "good for a green mama's soul," Green Child has grown into a resource valued by parents who care about bringing simplicity, compassion, social responsibility, and instinctual intelligence back to parenting.

Latest posts by Green Child Magazine (see all)