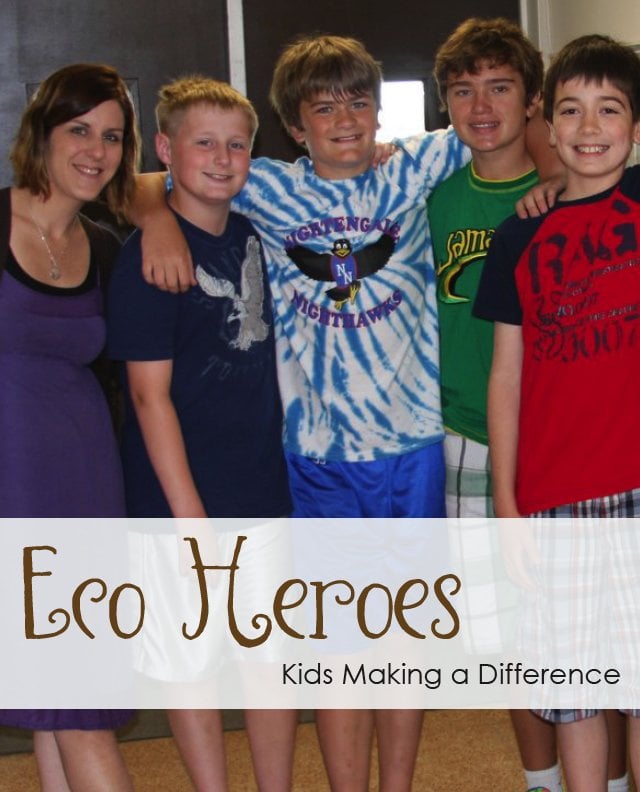 Even with demanding academic calendars and tight extracurricular schedules, an increasing number of kids and teens are finding a passion for environmentalism and landfill waste reduction efforts.  An often overlooked and under-appreciated group, kids are fast becoming eco-champions not only outside at the source, but in the classroom.
Kids Making a Difference for the Environment
Mathis LeBlanc and Trevor Bills are two such kids, utilizing their desires for a cleaner environment to help reduce needless waste, educate their peers, and raise money for their schools all at the same time.
Twelve-year-old Mathis LeBlanc of Massena, New York started collecting for TerraCycle's Drink Pouch Brigade in January, placing a container in his elementary school's cafeteria where kids can drop off their empty Capri Sun pouches.  To date, Mathis has helped collect more than 11,000 drink pouches that he can send to TerraCycle at no cost, generating "points" that he can use to raise money for charity or his elementary school.
The young eco-champion's dedication has not gone unnoticed. "Mathis took charge of the whole thing, he got it up and going in a week. He was so motivated that it motivated me," says Mathis's teacher, Melissa Power. With help from his mom, teachers, and several school janitors, Mathis now helps collect snack bags and drink pouches not only at his school, but other surrounding schools as well. "Next year, I want to start at the junior high," he says.
Trevor Bills is another elementary school student showing an incredible passion for recycling and waste-reduction. The eleven-year-old from Minot, North Dakota says that seeing the TerraCycle logo on the back of a Capri Sun package is what piqued his interest. "I saw how you sign up for a Brigade, they pay for the shipping, and your school gets money for it. I thought there was nothing to lose," says Trevor.
Since last year, Trevor's waste-collecting ambition has spread beyond his own classroom. "My class got involved, and about half way through the year a couple others did too." Now, says Trevor, his entire school is involved, helping him collect and remove candy wrappers, dairy tubs, Solo cups and more material from the waste stream. With the points and money raised for his efforts, Trevor started a recycling fund in school. "We donated the money to the PTA. We also use our points for TerraCycle products and donate them too. We had a contest and the winner got the products."
Mathis and Trevor both show what it means to be an eco-champion, even at their young age. By working to make their schools and local communities cleaner and greener, they are helping to not only educate their peers and raise money for their schools, but also to inspire other kids and teens like them who may not know where to start. Trevor shares important advice to others who want to help make a difference too: "I would say no matter what, believe in yourself."
As Director of U.S. Public Relations for TerraCycle, Inc., the world's leading upcycling and recycling company, Lauren Taylor helps manage various public relations programs and campaigns of TerraCycle and its brand partners.
Latest posts by Green Child Magazine
(see all)