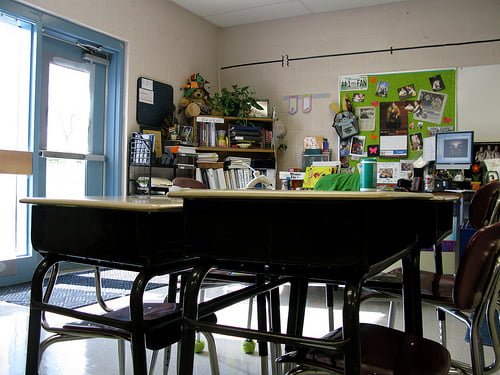 It never even occurred to me to be concerned about lead paint hazards in schools. Even after my
children were poisoned
, I assumed that their school was a "safe haven" away from the historic home that contained lead.

We were monitoring the boys' levels very closely after we moved to a new construction lead-safe home. It was only when our oldest son's blood lead level went up 60% in his first two months at school, that we opened our eyes to the possibility of lead hazards in schools.
After a little more inquiry, I was shocked to learn that there was no federal law (and that very few states or cities have laws) protecting children from deteriorating lead paint in historic school buildings. This seemed ironic, given the main impact of lead poisoning on a child is that it causes brain damage, I.Q. loss & learning disabilities (like A.D.D./ A.D.H.D. & Autism Spectrum Symptoms. It's one of those things that parents just assume is handled—you'd think that U.S. elementary schools would be free of—or at least tested for—the most extreme toxics hazards.
Think again…

I'm working on creating a new level of awareness about this, through my documentary film,
Mislead
that will hopefully help generate momentum to create a federal law. In the meantime, here's what you can do to protect not only your children:
Make Sure Your Child's School is Free of Lead
Open your eyes. If you see peeling paint in your children's school or day care – ask if it has been tested.
If it hasn't been tested, contact me & I'll send you a free test kit to do a preliminary test yourself.
Call your school district – find out what their policies are on lead-safe renovations and "clearance testing."
Don't let your children attend school where renovation work is happening. Renovation dust can be toxic—even in microscopic amounts.
Find out if your school has tested the water fountains for lead and ask if they keep records of how often the filters are changed. If they can't answer these questions, send your kids to school with a refillable bottle of filtered water from home.
Find out if the art teacher / wood shop teacher & science teachers are using lead-safe supplies.
photo credit: amsd2dth via photopin cc
Tamara Rubin is an internationally recognized, award winning* lead-poisoning prevention advocate and documentary filmmaker. She took on the cause of childhood lead-poisoning when her own sons were poisoned by the work of a painting contractor in 2005.


Through her advocacy work, Tamara has personally helped thousands of families create safer homes and environments for their children.
Latest posts by Tamara Rubin (see all)