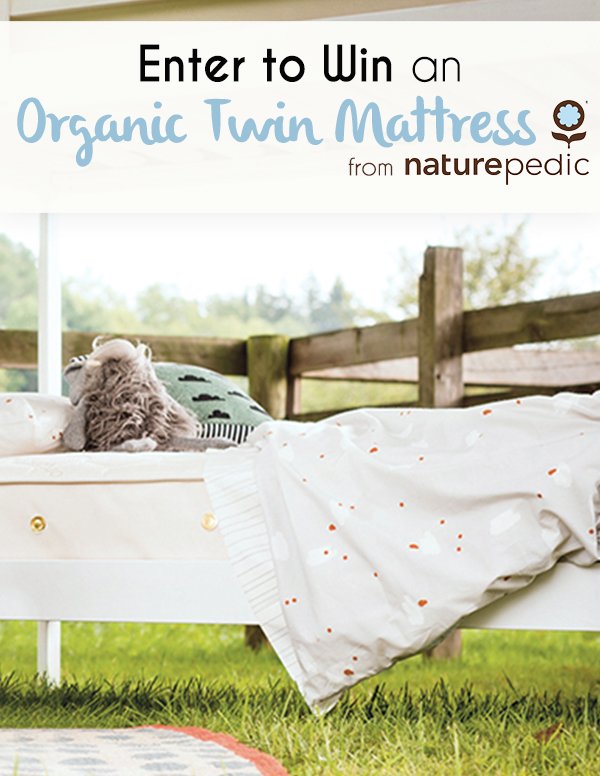 Whether updating your child's room before school starts or transitioning to a "big kid bed" from co-sleeping or a crib, a new mattress is key for a comfortable experience.
And what can bring a little more comfort to mom and dad?  How about WINNING the best mattress in the industry?
If you're looking for a bed that isn't full of toxic adhesives, dyes, chemical flame retardants, and a slew of other nastiness (seriously, there's a lot of nastiness), Naturepedic is the way to go. As the most recognized organic mattress brand in the U.S., Naturepedic offers a line of organic mattresses specifically designed with kids in mind, featuring a comfortable medium-firm support and organic materials throughout.
With GOTS certification, your mind can rest that your entire finished mattress (not just its individual component materials) is certified, completely meeting healthy non-toxic standards.
From luxuriously quilted organic cotton fabric to waterproof and dust mite-proof fabric, Naturepedic has thought of it all. The fact that these mattresses meet all federal and state flammability standards without the use of any fire retardant chemicals or flame retardant barriers is mind-easing icing on the cake. Naturepedic even stands behind their quality workmanship with a 20-year limited warranty.
There are so many reasons Naturepedic makes the best choice.
We're extremely excited to be giving away their allergen friendly 2-in-1 Organic Cotton Ultra/Quilted Mattress. Valued at $749, this mattress offers both a waterproof side to help with those training stages and a quilted side for a more luxurious feel later.
Designed specially for kids' growing bodies.
Certified organic cotton fabric and filling
Waterproof options available
Allergen-friendly (no wool, latex or soy)
No flame retardant chemicals or barrier
Comes in Twin, Full, Queen, Twin XL and Trundle sizes
Handcrafted by Amish in the USA with 20 Year Warranty
Giveaway is open to residents of the U.S. and Canada. Enter via the form below, and good luck!

Latest posts by Green Child Magazine
(see all)