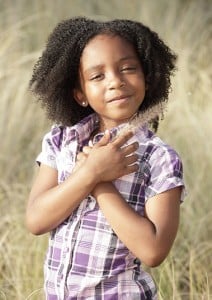 Green Child Magazine is an inspiring free resource for families who care about natural and healthy living. You'll find the latest in nutrition, organic products, holistic wellness, and of course — parenting advice to help you raise happy, healthy families!
With a digital (paperless) publication available online or any tablet device, Green Child leaves little impact on the planet.
In 2011, the original creators of GCM added the tagline, "Raising children the way nature intended." While we love the idea behind this phrase, it felt a little exclusive. Like somehow if you grab a fast food dinner or don't use cloth diapers, you don't fit in. That's not a parenting philosophy we want to spread, so we phased out the tagline from the magazine.
Whether you're just starting out along the path to more natural living or you're as "green" as Mother Nature herself… this community is stronger because you are a part of it.
We're all students in this world and we welcome you to learn and grow with us. Thanks to our advertisers who support our mission and help us keep this publication free. And we are thankful to you – our readers, who have formed a supportive community where everyone's voice (the deepest environmentalist to the mom or dad just tip-toeing in) can be heard.
Feel free to join one of our active Natural Parenting Communities… on Google + or Facebook.
And you'll always find the current issue for free at this link: https://www.greenchildmagazine.com/current-issue/

Since 2010, Green Child has published a digital magazine devoted to natural parenting and conscious living. Hailed as "good for a green mama's soul," Green Child has grown into a resource valued by parents who care about bringing simplicity, compassion, social responsibility, and instinctual intelligence back to parenting.

Latest posts by Green Child Magazine (see all)