After having our third baby, I still look back on my first baby shower with a good chuckle. We got three pack 'n plays (by some strange registry mix-up), gender specific outfits galore (we didn't find out the gender and requested neutral pieces), and zero of the cloth diapers we had requested.
By no means was I ungrateful.
I so appreciated the care and thought that went into every gift selection, but the experience made me realize that people don't always get you what you truly need. I also realized that while parenting choices and philosophies have changed and evolved… most baby shower traditions haven't.
Today, I'm sharing a postpartum recovery kit you can personalize for your recipient… including a simple DIY that will bring ease and healing those first few days.
This gift works for a baby shower, to take along as a super appreciative gift while visiting the new baby, or even to throw together for yourself if you're expecting.
Make a Natural New Mama Postpartum Recovery Kit
This kit includes many of the items that I wish I had years ago when we welcomed our firstborn. Feel free to add anything you know your recipient will enjoy, but here are the basics…
A practical, reusable basket
I found that I would roost in a couple of favorite spots throughout the house with each newborn, so at each place I seemed to amass a small stock of necessities. I still rely on natural baskets like these to reduce the look of clutter but keep supplies at hand. It also provides portability, so the new mother can carry it from room to room if she prefers this plan of action.
Plus, a beautiful basket helps you package up the gift with a waste-free, gorgeous gift presentation, and there are a million and one uses down the line for it. (I'm looking at you, endless stash of mismatched socks.)
A reusable water bottle and healthy snacks
Whether breastfeeding or not, moms need to keep up their strength and care for their own well-being as much as they do the baby's. By gifting a cool reusable water bottle, she'll be reminded to drink often. The snacks can be anything from a bag of almonds or trail mix to some clean eating granola bars or oatmeal enriched lactation cookies to help maintain mama's supply.
A lying-in plan for bonding with baby
Encourage mom and baby bonding by sharing a copy of Earth Mama's Lying-In plan with the new mother. You can print it out and include it in the basket, or send her the link so she can create it online before the birth.
Herbal teas
A nice herbal tea, such as Earth Mama's Organic Periodic Tea (make a note that this can't be used until AFTER pregnancy), can offer a new mom so many benefits. While the sleep deprivation is an obvious stress factor, there are others that some may not be aware of, such as the social anxiety of visitors (whether wanted or unwanted, helpful or otherwise), the overwhelm of caring for a helpless little one, and the possibility of postpartum depression and anxiety. With hormones going all over the place at crazy levels, simple moments of relaxation can be worth more than gold.
So, while tea may seem like a simple gift, this tea can actually help naturally regulate hormones and assist with cramping greatly. It is also said that warm fluids help heal a new mama from the inside out, so it's a win-win all around! You can find Organic Periodic Tea via Earth Mama Organics or at Amazon.
Breastfeeding supplies
In my own experience, I was flying solo in the breastfeeding department. I was the first in my family to nurse my babies since over 100 years ago, so needless to say, it was stressful. If I'd had someone gift me some reusable organic cotton nursing pads, Earth Mama Organics Organic Nipple Butter, Organic Milkmaid Tea or something as cool as these Booby Tubes for relief, I would have been set to handle a few of my early bumps in the road so much better.
Oh, and even more importantly?
I would've known exactly who to go to for support (when the super intense lactation consultant at the hospital intimidated the heck out of me) and to ask those questions that seem silly but are actually very important and normal. Giving a practical gift like this lets the new mama know that she can flash the midnight Booby Signal, and you'll come running faster than Batman.
A favorite novel, magazine, or picture book
No matter how attentive and helpful one's partner may be, when you have a newborn it can be isolating. I mean, you can only gaze at the wonder of a tiny, adorable little being a certain number of times a day (or get up for numerous late-night feedings staring at QVC for human interaction… or was that just me?) before the solitude sets in.
So, whether it's your favorite female detective novel, inspirational poetry, or a magazine (don't forget her free subscription to Green Child!) you know she'll appreciate, a not-too-serious read will help her feel a little more like a regular person again.
You can also throw in a new copy of your child's favorite picture book to get her into the habit of reading to the baby. We started reading to our son nightly when he was 2 weeks old. He's just turning six years old and LOVES reading (and at a third grade level, to top it off). I'm not saying there's a correlation…but, yup, there totally is. It also provides a nice family activity beyond feeding and diapering the baby.
A home-cooked meal or simple recipes
While you may bring a nourishing postpartum soup or freezer-friendly meal along when you visit the new baby, a new mama (and her partner) may appreciate simply having one less decision to make; even if it's as basic as mealtime. As you may know, Mom Brain is real and only exacerbated by sleepless nights. Your main priority is the baby, and even the most basic of your own needs fall to the wayside.
Shower? Teeth brushing? Fresh clothes? Eating at regular intervals? Momming is hard. So, jotting down your favorite 15-minutes-or-less recipes plus a bullet list of your favorite hacks and time savers is a thoughtful way to help skip that whole decision-making process of eating. It's funny how something so simple can give you extreme decision fatigue, but with a baby, it's reality.
Pain relief for mama
Whether the birth is vaginal or a C-section, mama will need some pain relief and comfort to get through the lying in period. To deal with the soreness and possible tearing, be sure to tuck in a box of Earth Mama Organic Herbal Sitz Bath sachets.
This miracle product is extremely helpful for taking a natural postpartum sitz bath, and it also can be added maternity pads to create padsicles (see DIY below) for additional soothing relief. While you're at it, include a stack of organic disposable maternity pads or organic cotton reusable menstrual pads.
Back to soothing comfort, Earth Mama Herbal Perineal Spray is another tool in the battle against perineal pain. A super soothing, ingenious touch-free bottle will offer relief and might just be her new BFF, along with a peri bottle.
DIY Natural Postpartum Recovery Padsicles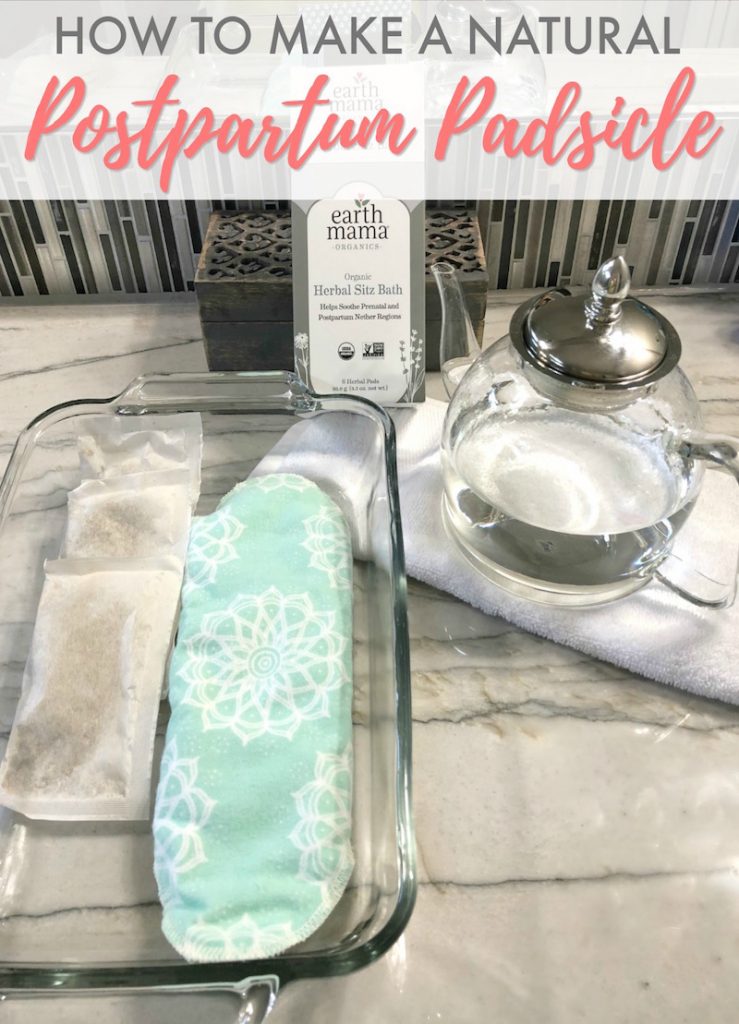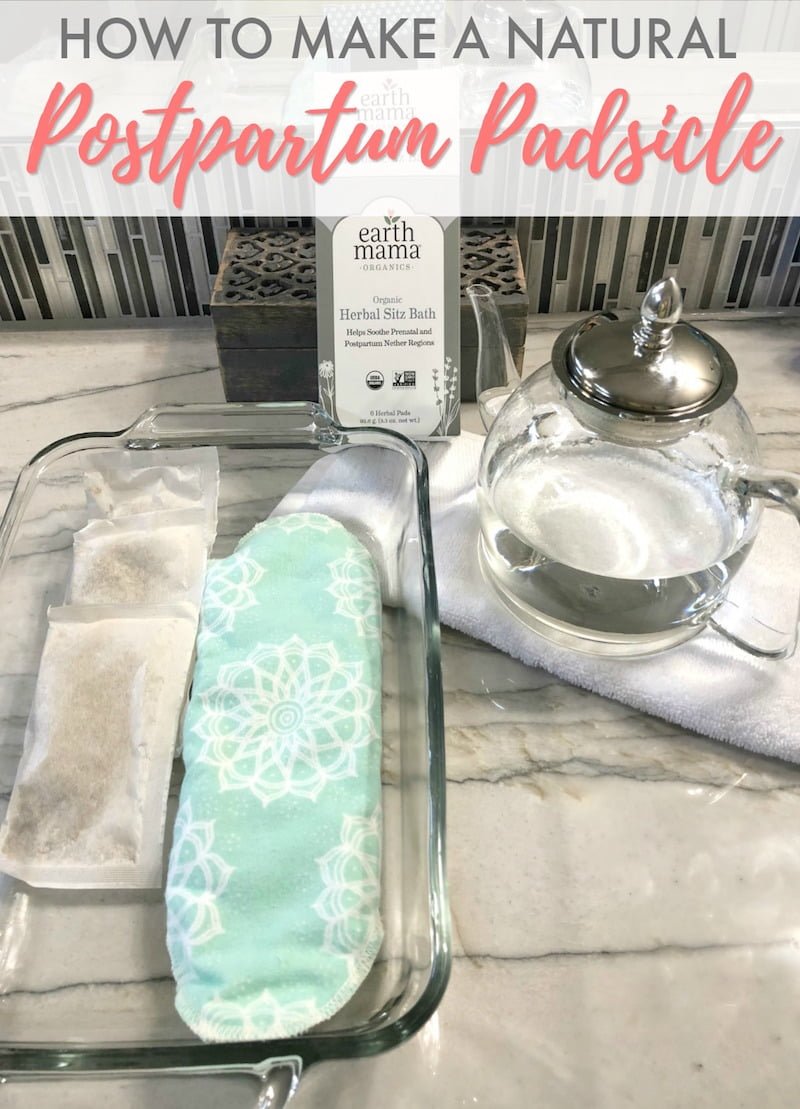 The most helpful item in this postpartum recovery kit is probably this natural padsicle. You can include the items in the basket or offer to put a batch in mama-to-be's freezer right before the big day.
Use natural fiber disposable maternity pads or reusable cloth menstrual pads to make the most gentle and toxin-free padsicles. You just don't want chemicals or irritants next to such a sensitive part of the body, especially when healing after child birth.
DIY Natural Padsicle Ingredients
Organic Herbal Sitz Bath herbal sachets
3-5 organic cotton maternity pads (wingless)
Glass dish
Tea kettle
Clean tray or baking sheet
Large zip-top bag or strips of unbleached parchment paper with rubber bands for keeping closed
DIY Natural Padsicle Directions
Boil 1-2 cups of water.
Lay a sachet in the glass dish and pour over an inch of boiling water.
Allow to steep, then cool.
Open pads and place on tray.
Pour liquid over pads, covering the entire pad.
Freeze pads (not sachet) on the tray in freezer.
When frozen, wrap in parchment paper with loose rubber band (not squeezing the pad, just keeping the wrapping closed) or in a large zip-top bag until use.
When needed, remove from freezer and let sit at room temperature until desired temperature.
Use as needed for cooling comfort.
This article is part of a collaboration with our advertising partner, Earth Mama Organics. All thoughts and opinions shared are strictly our own. Thank you for supporting the brands that make it possible for Green Child to share free natural parenting and healthy living content.
Megan McCoy Dellecese is a school librarian and writer, as well as a wife and mother of three. She enjoys blogging about living an imperfectly simple, green life with her family at Meg Acts Out and hopes to publish her first children's book this year.
Latest posts by Megan McCoy Dellecese (see all)