Whether you're gearing up to send the kids off to school or dusting off the shelves of your homeschool classroom, the season of school prep is here. A DIY desk organizer is a fun project for kids and it'll come in handy for homework time.
Be sure to see our how to articles on culling through all those school papers and how to create a family command center.
This fun project uses a handful of household leftovers and is endlessly customizable.
Materials:
An empty box (we used an old shipping box)
Toilet paper tubes
Glue
Paint, fabric, or tacky paper
Tape (optional)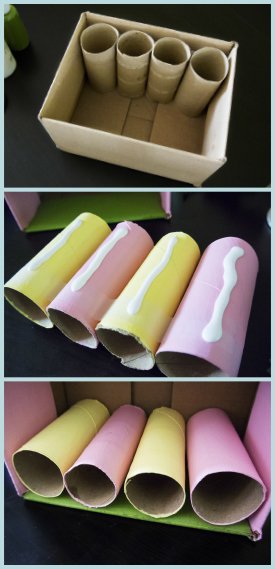 Instructions:
Find your components! We needed just 4 toilet paper rolls for this box, yours may be a bit wider, or narrower.
Once you've found the pieces, it's time to decorate. Paint is an easy and fast way to dress up the cardboard. Two coats should cover it pretty well.
Once the pieces are dry, use a piece of tape to hold your TP rolls together and apply glue ONLY to the side that will go up against the back of your box.
Place the TP rolls into the box and press firmly against the box. (We laid the box with that side down and then placed a paint bottle on top of the rolls to apply pressure while they dried).
When the glue is dried, decorate (stickers, doodles, etc.) and get organizing!

Latest posts by Green Child Magazine
(see all)