If you've been reading Anni Daulter's Back to School Lunch Leads, you're in the right place to find her mouth-watering school lunch recipes.  You'll want to make enough of these to take along with you to work, or keep in the fridge for lunch with the ones too young for school.
Today's menu is…
Black Bean Soup with Caesar Salad, Wheat Parmesan Chips, and Asian Pears & Clementines
Black Bean Soup
Lunch Lead: This soup can be made the night before for dinner and its hearty enough for a school lunch the next day. The Dressing for the salad also lasts up to 3 days refrigerated, so it can be made in advance as well.
Soup Ingredients:
2 cans of black refried beans
5 cups chicken broth
2 cups water
½ teaspoon garlic powder
½ yellow onion, chopped
¼ cup cilantro, chopped
1 pinch chili powder
1 pinch salt & pepper
2 pinches of cayenne pepper
Cooking steps for Black Bean Soup
Put chopped onions in a sauté pan with a pat of butter and sauté until brown and caramelized, approximately 15 minutes.
While onions are cooking combine, refried beans, chicken stock and water in a big pot or Dutch Oven, bring to a boil and then turn down to low and let simmer.
Add in cooked onions, garlic powder, cilantro, chili powder, salt and pepper.
Stir and let simmer for about 10 minutes.
Ready to pack in your child's lunch.
Makes 6 servings
Caesar Salad
Salad Ingredients:
1 head of Romaine Lettuce, chopped
¼ cup fresh parmesan cheese
2 cups Sour Dough Bread, cubed
Dressing Ingredients:
¾  cup parmesan cheese
¼ cup olive oil
1 teaspoon anchovy paste / optional
¼ cup vegetable oil
3 small garlic cloves
¼ cup fresh lemon juice
salt and pepper to taste
Preparation & Cooking steps for Salad
Preheat oven to 350 and place cubed bread on a cookie sheet and bake for about 5 min. until browned and crispy.  Take out and voila…croutons!
For the dressing: Mix all ingredients in a blender and mix until smooth.  Adjust salt & pepper to your liking.
Wheat Parmesan Chips
Chip Ingredients:
5 whole wheat tortillas
¼ cup fresh parmesan cheese
¾ cup butter
Cooking steps for Chips
Preheat oven to 350 degrees
Melt butter in a small saucepan.
Brush each tortilla chip with melted butter and sprinkle cheese on top.
Cut into chip size pieces and put on baking sheet. Bake for approximately 8 minutes or until crisp and browned.
Raw: Asian Pears & Clementines
Pears are packed with vitamin C and a great source of dietary fiber.  Combine these with clementines and you get a power packed antioxidant duo of a raw snack. Antioxidants are great for boosting your immune system, and everyone knows kids at school get colds! So boost up their immune systems naturally with these delicious fruits.
Image credit: Alexandra DeFurio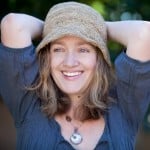 Anni Daulter, author of Sacred Pregnancy and The Organic Family Cookbook, is a Conscious Family Living lifestyle expert, professional cook, advocate of sustainable living and author of 6 books. She recently, along with Elena Rego began her new online website and community, Sacred Pregnancy.

Latest posts by Green Child Magazine
(see all)