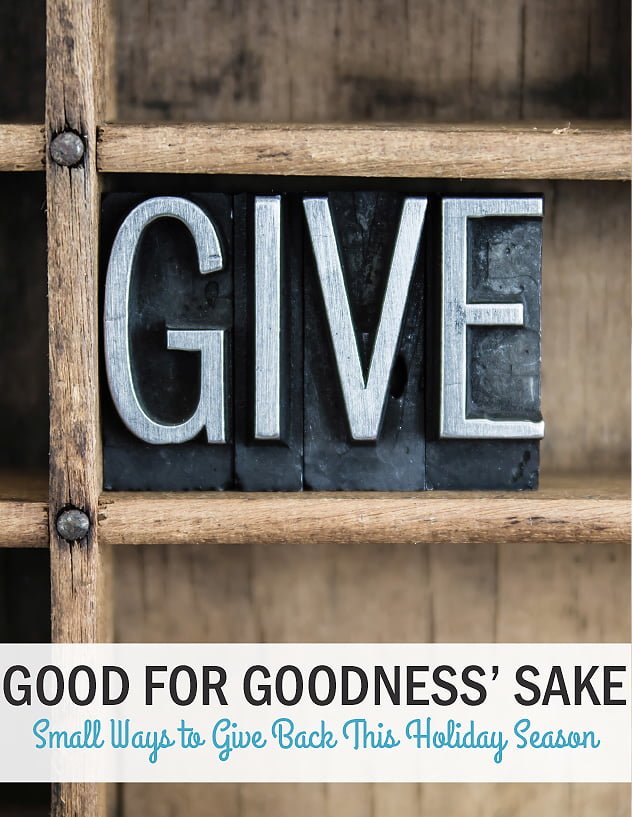 'Tis the season to be jolly, and for many it means one thing: gift giving.
The theory behind it is a noble and kind-hearted one. Many holiday shoppers truly enjoy the holiday music, bargain hunting, and intrinsic joy that accompanies finding just the right gift for a beloved recipient. And that's great.
Often, however, we get caught up in the pressures of finding just the right gift for that finicky relative or spending enough on each person or… well, the list goes on.
Simultaneously, we're often unaware that the highly stressed, on-edge persona we're portraying is on full display for our children. We tell them that giving is more important than receiving (and it is), but we're also showing that it's all about the presents.
This year, amid the hustle and bustle of finding those wonderful gifts for our loved ones, maybe we should try to incorporate some other small means of giving into our schedules and, in turn, consciousness. Getting our children involved in even one of these "simple acts of giving" on a small scale will impact the givers just as much as the recipients.
Give a Little Time
Since time is ultimately the most precious commodity during the holidays, finding just an hour or two to donate is a huge deal. Don't think that a local organization wouldn't appreciate it, whether you volunteer at a Salvation Army red kettle for an afternoon, work a church bazaar to benefit needy families, or serve during the busy times at a soup kitchen.
Be sure to turn the activity into a family affair, if age appropriate, and it could become an annual tradition.
Give a Little Extra
Is your planner absolutely packed?
Don't fret.
Keep your radar on the watch for local charitable activities like bake sale to help an animal shelter, a "Stuff the Bus" toy drive, or food drive at your child's school. Then, while you're busy making Christmas cookies, toss an extra plate together to drop off for the good of the animals, purchase an extra toy while shopping to help stuff that bus, or grab a few extra canned goods (the ones you'd buy your own family) while grocery shopping to send into school with your young one.
Even those small donations of a dollar here and there can add up to have a pretty big impact, and children take notice. It takes very little extra time, but helps in unknown, amazing ways.
Give a Little Less
Sure, this is contradictory to the last point, but hear us out. If you want to give back but are having difficulties making ends meet, especially at this budget-strapped time of year, consider what you're giving and how much.
Look at the gifts that will truly be held in high regard and nix one or two of the "filler" presents (you know the ones). The money you would spend on those items could be put towards a family with no gifts or towards the extra groceries for a family in far greater need than we might imagine.
Considering how difficult this time may sometimes be on our own wallets, it's heart-warming to think that we can loosen up even $5 or $10 to brighten the holiday of someone with absolutely nothing.
Give a Little Love
What is one thing any grandparent would love to receive, more than any item on his or her wish list? Hands down, special time with a grandchild. So, wouldn't it be a wonderful change for the child to be the one who asks for some quality time together (especially from a particular tween or teenager who has suddenly become far too busy)?
This doesn't have to be a holiday gift, necessarily, and can be as simple as a child calling up and requesting a date to make some Christmas cookies together. And, yes, we said "child calling" rather than having Mom or Dad do the contacting or shooting off a quick text.
Give a Little Mail
This tip is actually a two-parter. If you find yourself far too busy to send out holiday cards this year, what if you had your children take the job over? Just think about the heart-touching warmth of a child's simple message scrolled so carefully to each recipient. (Don't forget to consider one of our greener options for card-sending, if the green spirit should move you.)
Another meaningful idea is to send greeting cards to soldiers through your local Red Cross chapter or to sick children across the country. Getting your kids in on creating handmade cards will ensure that the meaning behind the task isn't lost, too.
Whatever small acts you decide to perform during the chaos of gift getting and list checking may simultaneously offer you something unexpected – a gift to yourself and your family of alleviated stress, a lighter heart, and a greater sense of purpose.
Megan McCoy Dellecese is a school librarian and writer, as well as a wife and mother of three. She enjoys blogging about living an imperfectly simple, green life with her family at Meg Acts Out and hopes to publish her first children's book this year.
Latest posts by Megan McCoy Dellecese (see all)