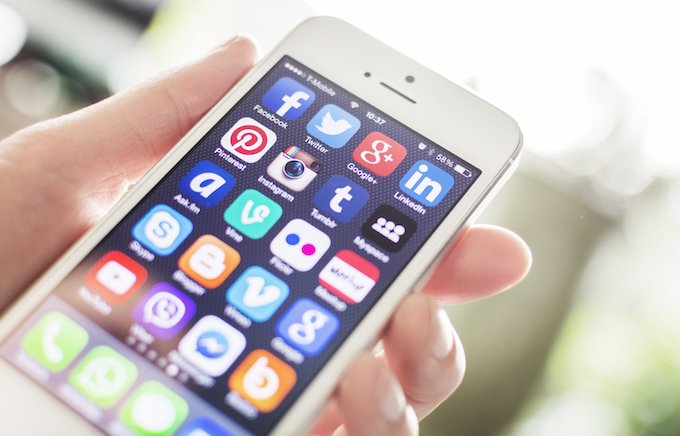 It's your first night out in months. You left your toddler at home in the hands of the most capable sitter you could find. She came with glowing reviews from your friends, so you're feeling comfortable enough to relax and enjoy yourself.
While waiting for a glass of wine you take a quick stroll through social media, and there's the cutest photo of your of your adorable toddler playing in the front yard with chalk. You smile… happy to see your little one so content — until you realize that the 42 people who liked the photo now know your child's face and may have a pretty good guess at where you live.
Social networks have been around for a while, but they weren't a concern back in your own babysitting days. With new territory comes a new reason to talk to your caregiver and set some guidelines that help keep your child safe. Think of it as an extension to the rules about not opening the door to an unannounced visitor. If you're extremely cautious about your child's digital footprint, you may want to extend these social media guidelines to grandparents and relatives, too.
Photo & Video Sharing
While you may not be fond of society's current tendency to overshare, it's not a bad thing that your sitter finds your kids adorable and fun enough to Instagram. It's a sign of her bond with them that she's proud enough to show them off. Setting some boundaries and explaining that while your little one might make a cute post, his digital autonomy is important until he can understand and control a social identity of his own.
Maybe she doesn't post photos of your children but with many teens, there's always the chance of a selfie with the location tagged or easily identifiable front door pictures that could have you on edge. Hashtags like #atSallys #withthebabes #915HouseSt should make you a little uncomfortable; after all, that's how Kim Kardashian and many more have been robbed.
Location Sharing is More Than a Cell Setting
Tagging a location on social media isn't the only way your babysitter could be giving away your address. They could mention an unusual feature of your home that could be enough to hint the location. Prohibiting photos, locations, or tags is a great rule. It can be especially important to mention if your home is Insta-worthy and you don't want strangers to know where you live or when you aren't at home.
You don't have to completely ban your sitter from the internet. Google is sharing your information with marketers all the time. Your sitter may need the internet for homework or to finish an online class. Or if she says she wants to Snapchat after your child goes to bed, just make sure she knows the rules still apply.
Social Media Guidelines to Discuss with Your Sitter
Care.com offers these suggestions for opening the lines of communication with your caregiver when it comes to social media use and sharing.
Turn off location
On many social media sites, the location of your nanny will become visible when he or she posts content. Make sure your nanny turns this option off so strangers won't be able to locate your child, house, etc.
Know what's off limits
If you are not comfortable with your nanny talking about your child at all, be upfront about it. Maybe you need a policy saying that your nanny shouldn't post, tweet, blog, etc. about any topic that involves your family. Or if your nanny wants to offer advice for other nannies on blogs, your family's privacy just needs to be respected.
Discuss if any photos are allowed
Can your sitter post pictures of your child? If so, can they be of your child's face? Or can she post, but not tag people or locations in photos?
Review privacy settings
If shared photos are allowed, ask your sitter to check that her privacy options are set, so that only her direct friends or followers can view her content.
Don't use names
Your nanny should never share your children's full names online. Decide if nicknames or initials are okay.
Avoid specifics about your home
Your nanny shouldn't reveal the exact location of your house, "check in," or give out any details that might tempt burglars.
Set usage rules
Do you want your sitter using social media at all while on the clock? Remember that she may need to keep in touch with her family as well. Decide on a system that is acceptable to everyone. Maybe she only checks her updates while your child is taking a nap.
Stay connected
If your nanny feels comfortable connecting with you, go ahead and "friend" or "follow" away. Encourage her to text you updates and questions, or send you photos of the children while you're away.
It's best to have these conversations up front so you can help avoid any uncertainty on either part. The rules you set now may evolve as your child gets older. But always keep in mind: it's ok to be a little extra cautious when it comes to the safety of your child.

Latest posts by Green Child Magazine
(see all)