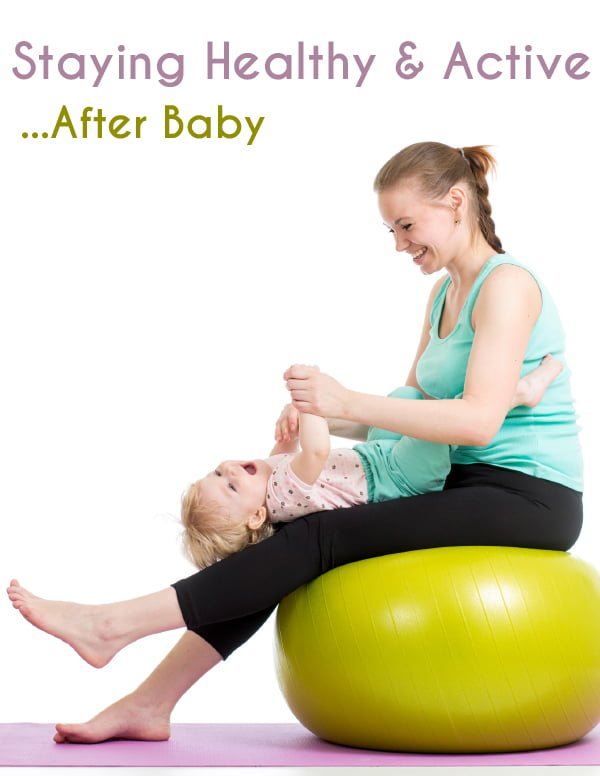 Movement and exercise are vital for good health. But it can be a challenge finding the time and energy for a workout.
Your baby is only a baby for a very short time, so try to find mommy and me or stroller workouts that you can do together. Instead of obsessing over getting in to pre-pregnancy clothes, focus on regaining the strength and energy that you need as a new mom.
Most doctors or midwives will suggest waiting 6 weeks after birth to begin traditional exercise.
Use the environment
You don't need a gym and you can take your baby with you. The best exercise out there is walking. It's something everyone can do and you don't need special equipment to do it. You can put your baby in the stroller or in a baby carrier for your walks.
Exercise shouldn't hurt
In fact, it shouldn't. Your body needs lots of energy to recover from pregnancy and childbirth and to take care of your baby (especially if you're nursing). Exercising at the right intensity will give you more energy, not take it away.
How do you know if you're working at the right level? Try the talk test. If you can talk so easily to your baby that you can carry on a regular conversation then you are definitely not working hard enough. However, if you're working so hard that you can't sing the ABC's to her, then you are working too hard. Find a good balance of being just a little bit out of breath. Yoga is a wonderful, low-impact exercise option that can also help you cope with new motherhood.
Any time is the right time
New moms don't have a traditional 30-minutes, three times a week to workout. So, just get active whenever you can. Take a 10-minute walk here, do some push ups there, and before you know it you'll have a workout. Get creative. Figure out ways to turn your chores around the house into a workout. The most important thing is consistency. Make a commitment to get active regularly.
Hydrate, Hydrate, Hydrate
Everyone is supposed to drink eight 8-oz glasses of water a day. If you are nursing, you'll need even more. Keep a reusable water bottle on hand to make sure that you are drinking water throughout your workout.
The best gift you can give to your child is a happy, healthy mom. Choose foods that will fuel you, exercises that will energize you, and enjoy the moments in-between.
Lisa Druxman, M.A. is a nationally recognized speaker and author and considered an expert in the field of fitness, particularly pre/postnatal fitness.Druxman earned her Master's degree at San Diego State University in psychology with an emphasis in exercise adherence and weight control.
Latest posts by Lisa Druxman (see all)