Help your kids sharpen their science skills by encouraging them to go outside and do what they do naturally.
It's an age-old parenting conundrum that takes center stage when summer rolls around each year: How do you keep your kids both educated and entertained? Here's an inexpensive and easy idea: Head outside with your children and help them reconnect with their inner scientist.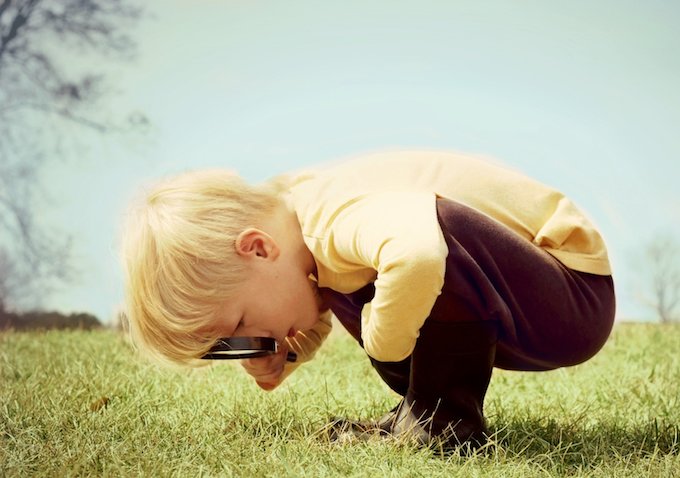 In today's tech-heavy, stranger-danger world, children spend more time indoors than ever before. All that time inside means kids are losing out on the benefits of being outside. Studies confirm that time outdoors supports children's mental health, helps enhance their cognitive, emotional and physical development, and leads to better academic performance.
Spending time outdoors also provides children the unique opportunity to strengthen important skills like observing and questioning — the same skills that are used daily by scientists.
This summer make time to regularly visit the park, spend time outside in the backyard, or simply take a walk around the block together. Once outdoors, help your children practice the two important science skills detailed below.
Observe
Being of shorter stature in an adult-sized world makes for a unique perspective. When forced to look up at everything, kids can't help but see things differently and notice things that adults don't. And, perhaps because life in all its wonder and beauty has not yet become monotonous, children pay great attention to the new sights, sounds and experiences they encounter each and every day. Kids by nature are powerful observers. Science requires that same keen observation.
Remind your children how to really pay attention to what they see and hear outdoors. For toddlers and preschoolers, point out the different colors of flowers, the shape of their leaves, or the chirp of a grasshopper. Show them the ants crawling on the pavement and the squirrels scampering in and out of trees.
For grade-school children, point out the differences in bird calls, the numerous shades of green represented in a grove of trees, or the variety of insects on the beach. For teens who enjoy being creative, provide art materials or a journal, and guide them in locating a spot outside where they can sit independently and sketch what they observe or compose nature-inspired poetry.
Are your teens attached to their hand-held devices? Encourage them to utilize their technology as an observation tool. Challenge your teens to record a bird call, snap a selfie with a butterfly or take an artsy pic of their favorite flower using an interesting filter. Suggest using apps like iNaturalist to identify the species they've recorded. Be sure to inquire about their observations. You may be surprised to learn that your teens saw and heard things in nature that you didn't even notice!
Question
Running the gamut from "Are we there yet?" to "Why do I have a curfew?" kids are notorious question-askers. Curious from birth, children inquire about anything and everything. Although sometimes nerve-wracking for parents, all of those questions play an essential role in how kids learn about the world around them. Asking questions is also an essential part of scientific discovery.
Remind your children how to contemplate the outdoors by asking questions about the things they notice in nature. Give them an example of how to do this by asking questions yourself. If younger children express that yellow flowers are their favorite ask aloud, "I wonder if insects have a favorite color?" When your grade-schooler drips ice cream on the pavement outside inquire, "Do ants like to eat ice cream, too?" If your teen notices that bees visit one plant more than others ask, "I wonder why?" Providing examples of questions about nature can help inspire children to think along the same lines.
Observing and questioning go hand-in-hand. When children notice details in nature, curiosity follows. With a little encouragement, children are sure to apply their innate questioning skills to all they observe outdoors. Once they get going, you may need to brace yourself for an onslaught of questions!
Take it to the next level
Keep the momentum going by helping your children find answers to their questions. Head to the library, search the internet or visit the zoo or a museum. Better yet, take it a step further and guide your kids in gaining insight into their questions through additional observations. Assist your children in observing insects near flowers of different colors.
How many insects did you count near each different color flower? Did one color attract more insects than others? Encourage your children to watch the drip of ice cream on the sidewalk. Do they notice any ants near the drip? How many? How long did it take ants to find the puddle? By making similar observations, scientists find answers to their questions in much the same way.
Observing and questioning are essential components of scientific discovery. The natural world just outside your front door provides limitless opportunities for your children to practice these skills. Get outside with your children this summer and practice being scientists!
Remind children to always be careful around insects, plants, or bodies of water that could be dangerous, and always leave nature as you found it.

Latest posts by Green Child Magazine
(see all)