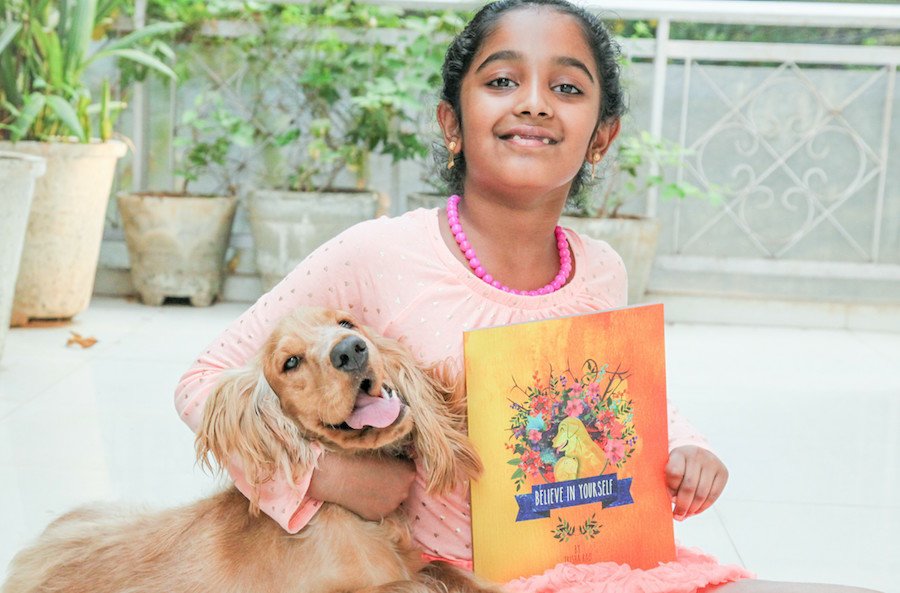 Last year, eight-year-old Trisha Rao was feeling anxious about her upcoming school exams, so she turned to poetry to help work through her feelings and bolster her self-confidence as she prepared for the tests. "It was a good way to remind myself to stay calm, be confident, and believe in myself," Rao says.
Since then, inspired by news reports about the Syrian refugee crisis, Rao has expanded the verses of her original poem into a heartfelt book entitled Believe in Yourself. In it, Rao offers the same positive message she created to comfort herself in the hopes it will soothe the innocent, displaced Syrian children she's developed such compassion for.
Rao, now nine years old, was born in San Diego and currently lives in Hyderabad, India with her parents. Like many other girls her age, she likes to spend her free time doing things like swimming and playing sports and video games. She's a fourth-grade student at a Montessori school and loves to learn new things. Exceptionally curious about the world around her, Rao has a wide variety of academic interests. "My favorite subjects are English, history, science, math, matter and astronomy, and physical geography," she says. "And I love to read."
Thanks to a routine established by her father where they read the newspaper together every day, Rao is knowledgeable about and interested in current events. "It helps me understand what I'm learning at school," she explains.
Rao was horrified when she first heard about the atrocities taking place in Syria and the impact its civil war has had on millions of children. "I learned about the Syrian refugee crisis while reading the headlines," she says. Touched by the stories of the young people and their struggles, Rao felt compelled to help them somehow. The best way to do that, she felt, was for her to extend her words of comfort to them. "I feel that the Syrian refugee children are going through a very tough time, and they need to hear a message of hope," she says. "I'm happy that I was able to write this book and share this message with them."
With the help of family and friends, Rao transformed her poem into a full-fledged book, edited by Anjali Kariappa and designed by Pranati Khanna.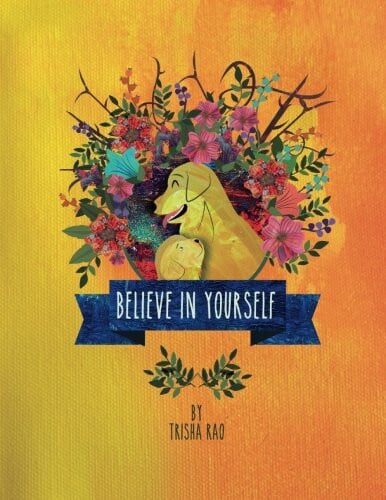 Believe in Yourself follows the tales of Sunshine the pup (based on Rao's real-life Cocker Spaniel of the same name) and Papa Dog. Each page presents a lesson on topics such as overcoming challenges, persevering under pressure, and of course, believing in one's self.
According to Rao, the story came from her heart. However, her cheerful, brightly-colored illustrations of nature's creatures in all shapes, sizes, and shades came from a natural artistic talent her parents first discovered when Rao began painting at a young age. "I have more than 300 acrylic paintings," says Rao. "I love to paint because I love colors and the magic they bring about. All the illustrations in the book are collages of my drawings from the animal kingdom overlaid by my acrylic paintings that I've been making since I was two years old."
Believe in Yourself was launched in Turkey, where Rao recently had the opportunity to meet Syrian refugee children currently living in Istanbul and read her book to them. She says the face-to-face encounters she had with these fellow children who have been through so much during their short lives made a lasting impression on her. "It was an amazing experience to meet the refugee children," she says. "I was sad that they lost their homes, homelands, and families."
What particularly impressed Rao were the upbeat attitudes her peers possessed despite the ordeals they've faced. "They taught me that you can be positive in difficult times and have hope and believe in yourself," she says. "While these kids had lost so much, they were still positive and playful. It made me feel grateful for the things that I have in my life, like a home and my family."
The refugee children have embraced Rao's encouraging message so much that the Istanbul Centre for Support to Life has begun translating Rao's book into Arabic so they'll be able to read it in their own language. Believe in Yourself has also received high praise from reviewers and earned Rao a 2016 gold medal from the Independent Publishers (IPPY) Book Awards for Best Children's eBook.
In an effort to get Believe in Yourself into the hands of as many children as possible, Rao and her family have pledged to donate a copy of the book to a refugee child for every copy sold. This isn't the first time Rao's talents have been put to use in support of a good cause. When India's Andhra Pradesh was severely flooded in 2009, Rao's paintings were made into greeting cards which were then sold and the proceeds donated towards scholarships for the children affected by the disaster.
Not one to rest on her laurels, Rao is already looking ahead to what's next. "I'm working on writing my second book," she says. "It will take a while, but I know it will be an exciting story." Rao is too young to have any concrete career plans just yet, but the future looks bright for this gifted young girl with a big heart and so many reasons to believe in herself. "I want to be many things when I grow up," she says. "I want to paint and write more and be happy."
Latest posts by Melissa Fales
(see all)