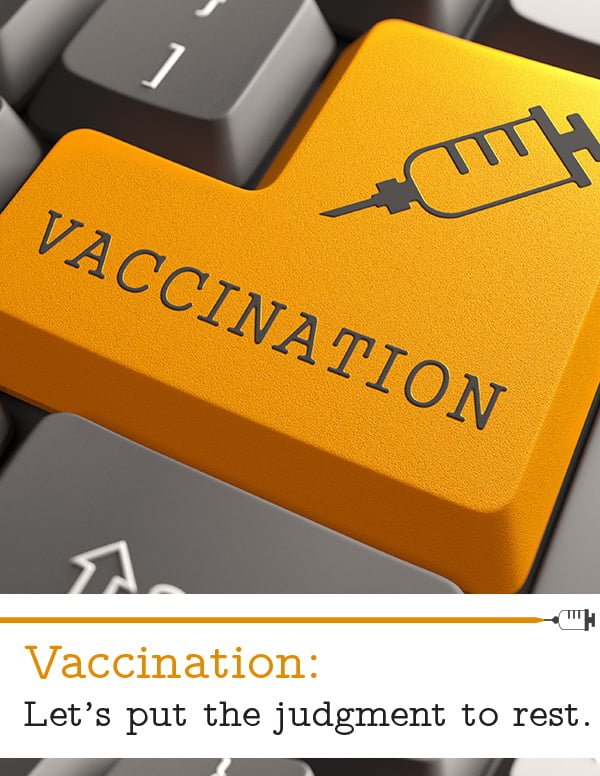 Any debate can get ugly. The vaccine debate is no exception. Recent stories in the mainstream media stories – including articles published by USA Today and The Washington Post – dish out the blame, accusing parents who don't vaccinate of being "hysterical," "hostile," "irrational", and a threat to public health. Horror stories abound, featuring babies and children maimed for life or killed by vaccine-preventable diseases.
On the other side of the issue, anti-vaccine proponents offer plenty of horror stories of their own. The entire scene has begun to resemble a football game, where parents are expected to root for one team or the other.
Pressure From Both Sides
Unfortunately, when the "ball" is your child, it's hard to know which side to take – or whether to take sides at all. No matter what decision you make, someone is bound to tell you you're wrong – implying, of course, that you're a horrible parent. No wonder so many parents feel pressured and confused about vaccination.
The problem is that instead of supporting parents to weigh the evidence and make the best possible decision for their own families, this "ball game gone bad" atmosphere tends to pressure them into choosing a position and defending it. Sadly, children are rarely the winners when this happens.
The following true stories illustrate my point.
Possible Vaccine Injury Goes Unreported
When I first met McKenzie,* she was a bright, active two year old. She was highly verbal and loved to play and laugh. The next time I saw her, she could not speak or even swallow on her own. Her muscle control was erratic, and she no longer responded to her name. McKenzie had suffered a bout of encephalitis, shortly after a routine MMR vaccination.
Was the vaccine at fault? No way to know. McKenzie's mother refused to question her doctors' and nurses' assertion that there could not possibly be a connection. She undoubtedly couldn't face the thought that her decision to vaccinate could have led to her child's injury.
This is totally understandable, but what if there really was a connection? If so, allowing the incident to go unreported could potentially contribute to additional tragedies, since vaccine safety improvement depends largely on feedback from the field. Also, if McKenzie's illness was determined to have been vaccine-related, her family might have qualified for much-needed assistance through the National Vaccine Injury Compensation Program. On the other hand, if an investigation revealed that there truly was no connection, that also would be valuable information that could help others make sound decisions in the future. Alas, we'll never know for sure. Also, I don't know if McKenzie had had any adverse reactions to prior MMR inoculations, but if she did, it might have prompted a more cautious parent to delay or refuse additional shots.
Mom Expresses Second Thoughts About Vaccine Refusal
On the other side of the playing field, one mother of three who decided to delay vaccinating while her children were very young recently confided in me that she wasn't sure she'd do it the same way again. "I wanted to delay vaccinating when they were very little. I just got used to fighting the medical establishment about it. I also was part of a community that was very anti-vaccine. Looking back, I wish I'd started the shots earlier, when my kids were past infancy. Our family did get the whooping cough, twice. The first time was awful. The second time we caught it early and got on antibiotics right away, but we still ended up in quarantine for days. And my daughter ended up getting a ton of shots at once (before entering college), which is what I wanted to avoid in the first place!"
Cutting Through a Diseased Atmosphere
It's easy to point fingers at parents when things go wrong. But doing so is both unfair and counterproductive.
The real problem lies with the polarized atmosphere of debate that surrounds the entire vaccine issue. The Great Vaccine Debate marginalizes parents' real concerns and pushes them into either unthinking compliance or knee-jerk defiance.
Let's do a reality check. Why don't we start by admitting that both points of view regarding vaccines are valid:
Vaccines are effective at reducing incidence of contagious disease in large populations.
When vaccination programs are put into effect the incidence of widespread disease generally goes down – often to the point of regional elimination of the disease. This has occurred time and again in every region of the world. While some argue that certain diseases were naturally declining anyway due to increased sanitation and other reasons, no other cause can explain a 98-100% decline in the incidence of 9 out of 10 highly contagious diseases in the U.S. since widespread vaccination programs were implemented. In addition, a quick look at WHO's global track record of combating disease through vaccination programs is pretty convincing evidence that these programs do work. It's also good to remember that many of these diseases do carry a significant risk of serious complications and/or death amongst those who contract them.
Vaccines can and do cause injury and/or death to some individuals.
If this were not the case, we would not have a government-funded Vaccine Injury Compensation Program or Vaccine Adverse Event Reporting System (VAERS). Even the Institute of Medicine's highly publicized report, Adverse Effects of Vaccines: Evidence and Causality, which did not find any link between vaccines and autism, states: "(E)vidence convincingly supports a causal relationship between some vaccines and some adverse events—such as MMR, varicella zoster, influenza, hepatitis B, meningococcal, and tetanus-containing vaccines linked to anaphylaxis." In addition, the CDC estimates a VAERS reporting efficiency ranging from only 68% to under 1% for various adverse events, so the actual occurrence of vaccine-related injury could be much higher than the medical establishment would like to admit.
The vaccine question isn't black and white, but shades of gray.
Isn't it time to abandon the all-or-nothing game and begin a thoughtful and respectful dialogue instead? There will probably never be a vaccine solution that satisfies everyone. But by exploring the research and options with open minds and with an attitude of mutual respect, perhaps we can minimize the risk and heartache for all involved.
A Call to Medical Providers
As much as we all want to protect our children, the reality is that either course of action could bring them harm. Most parents know this intuitively. Sometimes medical providers brush off a parent's concerns because the risk is "so small." However, statistics don't matter when your child is the one afflicted. Ridiculing or brushing aside a parent's concerns can erode their trust, and can even lead to their seeking medical care elsewhere, or not at all.
A much better approach is to acknowledge parents' concerns as real, and driven by love for their children – and then support the parents in making the most informed decision possible for their unique family.
This requires the medical provider, above all, to cultivate an open mind. The history of science is full of cases where what we now accept as fact was once violently opposed. Rather than dismissing information that challenges our views, why not hear out the opposing point of view, and strive to understand it? Do the necessary research to come to your own conclusion. Research deeply – don't just rely on the party line. "When you do research and read books, be sure to find out who the author is, their background and who commissioned them to write the book…You should know this relationship, also you should consult alternative practitioners to the get another point of view," suggests Dr. Tyran Mincey D.C., a Board Certified Applied Kinesiology practitioner who describes himself as "not anti-immunization, just pro-information". Most parents will respect a medical provider's opinion when given with compassion and thoughtfulness.
Finally, it's important for medical professionals to acknowledge that parents have the right to decide for their own families. When parents are allowed to take the time to thoroughly research their choices without feeling pressured, they are more likely to stay open minded and make the best possible decisions for their families. And if the worst should happen, this approach can also minimize feelings of guilt, blame and anger at times when families and communities are better served through support and understanding.
There is a Middle Ground
The basic question in every parent's mind is: "Do the benefits of vaccinating my child exceed the risks?"
By seeking out medical providers who are willing to spend time addressing their concerns – and by keeping an open mind themselves – parents can begin to make sense out of the vaccine scene, and determine a course of action that is right for their individual child. As Aileen Marty, M.D., FACP, Professor of Infectious Diseases at Florida International University Department of Medicine's Health Travel Medicine Program and an unapologetic proponent of vaccine use, states:
"It is unfortunately, ridiculously overly simplistic to say, "Vaccinate or don't vaccinate". The reality is that vaccinations, like medications, have to be tailored to the individual, the community, and the circumstances regarding exposure and risks… There is a middle ground, but it involves recognizing the risks of not vaccinating and having a scientific and rational understanding for when for a particular child there may be particular vaccine-preventable disease that should not be given. It should never be "all" or "none", it has to be tailored for the risk."
Here are a few tips to help parents make sense of the vaccine scene:
Know your diseases:
For most of us, the diseases we're asked to immunize our children against are simply funny-sounding names. Do some research and find out for yourself:
What are the actual consequences of contracting these diseases? For instance, the CDC reports that about half of infants younger than 1 year who get pertussis end up in the hospital.
How is the disease transmitted? Does vaccinating your child in infancy make sense for a disease like hepatitis B, which is transmitted primarily through needle sharing and unprotected sex?
How likely is exposure? Certain diseases, such as measles and pertussis, which once were extremely rare in the U.S., are making a comeback. Then there's tetanus, which is present in many soils and can persist in the environment for decades.
Know your vaccines:
Some vaccines are safer than others. One of the best ways to find out about vaccine safety is by reading the pharmaceutical manufacturer's package inserts for each individual vaccine. Many of these include documented percentages of incidences of adverse reactions. You can also research vaccines online. Keep in mind, though, that vaccine companies do update their products, so look for recent research. (One prominent anti-vaccine website posts reams of studies pointing to various vaccine dangers. However, virtually all the studies are dated before the turn of the 20th century. In a field that is constantly changing it's impossible to make decisions based on 20, 30, or 40-year-old research.)
Follow the money:
Money doesn't always corrupt, but it can. It doesn't hurt to find out as much as you can about who funds what when making decisions on behalf of your child.
Know your child:
Does your child have any acute or chronic conditions that could affect their reaction to a vaccine? Some reasons to refuse or delay vaccination include:
An underlying condition (such as an immune problem or cancer) that precludes live vaccines
Illness on the schedule vaccination date (a quick read through VAERS reports – which are public record and available online – indicates that a high percentage of vaccine adverse reactions occur in children who have a cold or other previous condition)
Allergy to any ingredient of the vaccine, or to the ingredients used to culture the virus or bacteria
A prior history of reacting to the particular vaccine
A strong family history of a bad reaction to a particular vaccine.
Taking Charge of Your Child's Vaccine Schedule
Once you've taken all this into account, it's time to choose your approach. There is no right or wrong. You can use the CDC's recommended vaccine schedule or abstain from vaccines altogether, but it's also OK to take the middle road.
It's within your rights to choose certain vaccines and refuse others.
As wellness coach and mom of four Aida Adams puts it, "Never rely on a fear based decision. Ever. For medical or any choice for that matter. I believe that the main vaccines are a good thing, (but) some diseases (can) be avoided with preventive care medicine, supporting and building your immunity and strengthening what I call your body health intelligence. Preventive care alternatives are a powerful tool to approach the medical field as a whole. That, and learning to disagree without fighting."
You can also delay administering any given vaccine. Parents concerned about vaccinating very young infants or giving multiple vaccines at one time putting undue stress on a child's immune system may want to explore this option.
Amy Baxter MD FAAP, Director of Emergency Research at Scottish Rite Children's Healthcare of Atlanta, is pro-vaccine, but she is quick to point out that the CDC's recommended vaccine schedule is also hard on children psychologically. "The incidence of fear of needles has increased 252% in the past two decades, keeping pace with the number of vaccines given. Kids get 6x the number of injections, and this results in a fear that can last a lifetime. Needle pain, and the relentless number older kids get at once, affect how they feel about preventative healthcare. While the injections before age 2 don't correlate with any adverse problems and the schedule is good, between ages 4-6 kids do better with no more than 2 at a time. They're already protected, and the CDC allows for the boosters to be given at any time between age 4-6, so there is no reason to give them all at once except convenience (and possibly health insurance policy)."
Regardless of your ultimate decision, it's important to realize that no decision is foolproof. Life involves risk, in this as in everything else. The best we can do is make the best of our available resources. And by choosing dialogue over debating the issue, you'll be doing just that.
Christie Anne Martin (formerly Michelsen) provides results-driven business writing services to companies serving elite markets, including the Intellectual Elite (engineers & C-suite executives); the Financial Elite (affluent consumers and high end business buyers); and the Heart Elite (environmentally, socially, and spiritually aware audiences.)
As principal of Green Ink Copywriting, Christie has helped dozens of companies—from dedicated solopreneurs to top level agencies and multi-national corporations—improve their client retention, lead generation, and sales conversion through the written word. To learn more about Christie's content- and copywriting services, visit her at GreenInkCopywriting.com.
Latest posts by Christie Anne Martin (see all)