Our Pregnancy & Birth issue! From a minimalist nursery to the beautiful story of a homebirth, you'll find recipes, advice, and products for a healthy, happy pregnancy. Plus find winter outdoor games, family fun on a budget, ways to encourage your child, and more!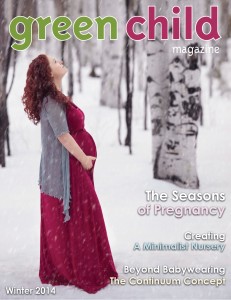 Be sure to grab your FREE subscription to Green Child Magazine. As always, we love to hear what you think. Jump into the conversation and share your thoughts on Twitter, Facebook, G+, Instagram or Pinterest.
If you'd like to get Green Child straight to your iPad, be sure to download our app in the Newsstand.