Giving Tuesday: Holiday Peace Through Giving Back
Giving Tuesday falls on November 29 this year. You'll find outstanding, vetted social justice and family-focused charities to support in this edition of Naptime Activism.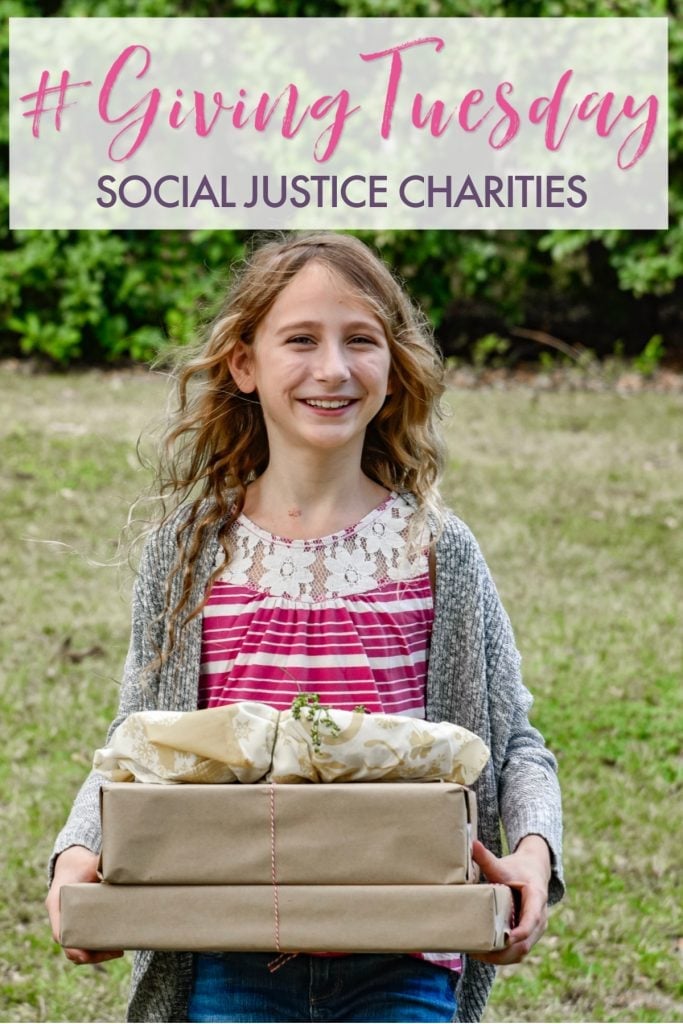 The holiday season has so much getting that it can make us yearn for giving. After the presents are wrapped and we settle in for the warmth of the season, we may want to do something to help others. It makes us happy when we give of our time or money, especially when our giving builds social connections.
Don't forget though, that naptime activism is about giving in a way that works for your particular family circumstances and the ages of your children.
SOCIAL GIVING
Fortunately, we live in a golden age of social giving. Technology has allowed us to get to know thousands of non-profit organizations and given us the ability to donate money easily and securely.
Many for-profit companies embrace social entrepreneurship and combine business with a social purpose. They fund and implement social, cultural and environmental solutions through a non-profit arm or from a percentage of profits.
Websites like Kickstarter, Indiegogo, and Crowdfunder offer opportunities for businesses, books, films, albums and individuals to solicit funding for creative projects or personal needs. Even Facebook now offers a Donate Button and a birthday donation option.
HOW TO EVALUATE A CHARITY
If you're interested in donating to a charity, check out Charity Navigator, where you can find the charity's overall rating on finances, accountability and transparency.
See also: Holiday Gifts That Give Back
A non-profit, for example, should spend less than 30% of its revenue on management expenses. Or, go to Charity Watch for a detailed report card of more than 600 companies.
GIVING TUESDAY
There's a day once a year that makes it easy to give back. Giving Tuesday, the Tuesday after Thanksgiving, partners with registered non-profits and with businesses that organize events to benefit non-profits. The day encourages us to give time, money or the power of our voices along with our families, our community, our company or our organization.
FAMILY & SOCIAL JUSTICE ORGANIZATIONS TO SUPPORT
Giving Tuesday highlights organizations to support in our local communities and it's always best to start locally. Also, here are seven worthy national organizations.
RAICES provides free and low-cost legal services to immigrant children, families, and refugees in Texas. The organization offers the National Families Together Hotline (866-378-2667), which is staffed from nine to five; callers can leave messages 24 hours a day.
According to the nonprofit, FREEDOM FOR IMMIGRANTS, few immigrants have access to a court-appointed attorney, a telephone call, or a speedy trial. Freedom for Immigrants offers a National Detention Hotline (209-757-3733) and is dedicated to abolishing immigration detention.
In 2000, history teacher, Charles Best, designed DONORS CHOOSE, a website where teachers could post classroom project requests that needed support. You can choose the project(s) you want to support. Today, the organization is open to every public school in America. Donors Choose has vetted and fulfilled over 600,000 classroom project requests.
PAWS OF WAR matches veterans with trained service dogs that can help them through tough times: many veterans of foreign wars suffer from Post Traumatic Stress Disorder (PTSD). Paws of War rescues most of their dogs from shelters and provides them with the intensive service dog training that they need in order to help their veterans. The veterans receive a service dog in training at no expense to them.
FEEDING AMERICA is the nation's largest domestic hunger-relief organization—a powerful and efficient network of 200 food banks across the country. As food insecurity rates hold steady at the highest levels ever, the Feeding America network of food banks has risen to meet the need. The organization feeds 40 million people at risk of hunger, including 12 million children and 7 million seniors.
Founded in 1909, NAACP is the nation's foremost, largest, and most widely recognized civil rights organization. The association worked for 30 years to eradicate lynching and its legal team, led by Thurgood Marshall, was responsible for the Brown v. Board of Education (1954) decision, which outlawed segregation in public schools. Its members and supporters are the premier advocates for civil rights in their communities, leading grassroots campaigns for equal opportunity and conducting voter mobilization.
CHILDREN'S DEFENSE FUND (CDF) has worked relentlessly for more than 40 years to provide a strong, effective and independent voice for all the children of America, particularly poor children, children of color and those with disabilities. CDF educates the nation about the needs of children and encourages preventive investments to lift children out of poverty; protect them from abuse and neglect; and ensure their access to health care. In 2000, Founder and President, Marian Wright Edelman, received the Presidential Medal of Freedom, the nation's highest civilian honor.
ONE-STOP DONATING FOR GIVING TUESDAY
If you are interested in donating to any of these organizations or other worthy non-profits, you can easily find donate buttons on their websites. You can also go to ActBlu, where you can search for your favorite non-profits and donate to several at one time.