Plastic in Tea Bags (and all the brands that don't contain it)
You'd probably be surprised to learn that most tea bags contain up to 25% plastic. In fact, we didn't know about plastic in tea bags until we watched a viral BBC video about tea production in 2017.
Canadian researchers published a study in the American Chemical Society's Journal of Environmental Science and Technology which found that steeping a single plastic tea bag at brewing temperature releases about 11.6 billion minuscule particles known as "microplastics" and 3.1 billion "nanoplastics" into each cup (source).
This article was originally published in June 2018 and updated in Dec 2022.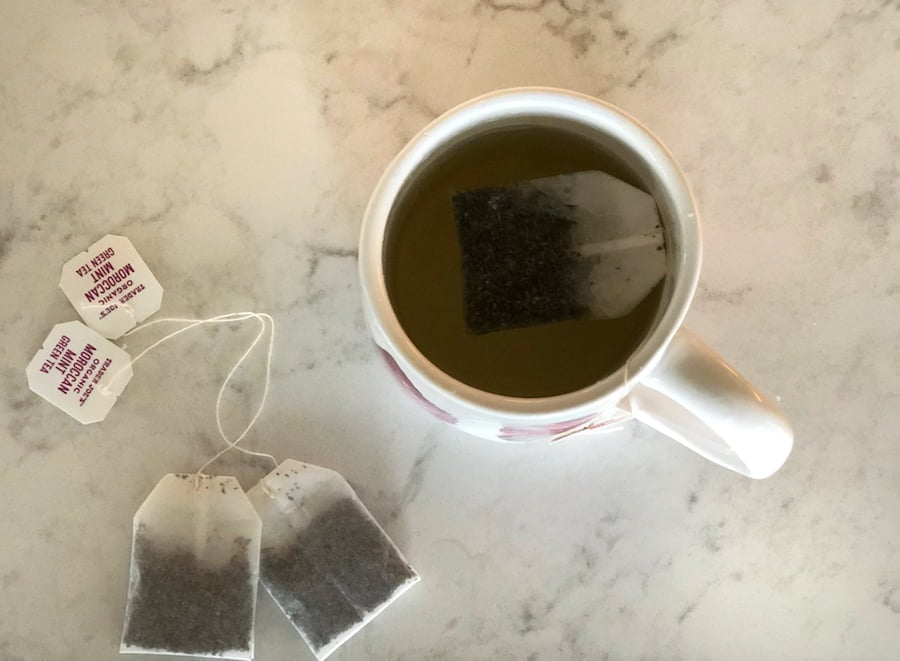 "We think that it is a lot when compared to other foods that contain microplastics," Nathalie Tufenkji of McGill University in Quebec, told The New Scientist. "Table salt, which has a relatively high microplastic content, has been reported to contain approximately 0.005 micrograms plastic per gram salt. A cup of tea contains thousands of times greater mass of plastic, at 16 micrograms per cup."
A spot of tea… and some plastic?
When you look at a tea bag, plastic usually isn't the first thing that comes to mind. Yet about a quarter of each tea bag (from most brands) is comprised of this substance. You can watch how tea bags made (see it here) to see how plastic is incorporated.
WAIT – WHY IS PLASTIC IN TEA BAGS?
It may be hard to believe, but most brands of bagged tea contain plastic. With millions upon millions of cups consumed daily, this adds up to a lot of plastic.
So why is plastic in tea bags to begin with?
In order for the tea bags to seal up and keep their shape in hot liquid, a plastic polymer, namely polypropylene, must be added. Even though the amounts of plastic found in tea bags is minimal — and vary between manufacturers — it adds up to quite a bit when you look at the big picture.
Due to the plastic content, conventional tea bags cannot completely decompose. This makes them a bad option for compost material and the environment… not to mention your body!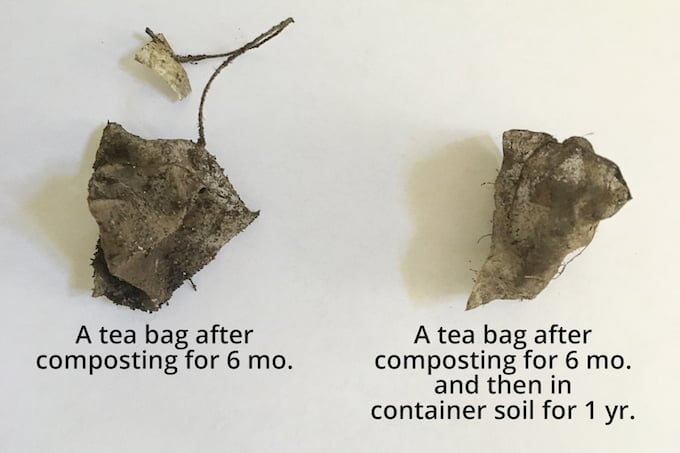 Like most plastics, polypropylene is known to adversely affect the body's endocrine system (source). And as we've covered many times, endocrine disruptors can lead to a plethora of health issues and other maladies that can become chronic conditions (source).
One would think making the switch to plastic-free tea bags would be easy, but many tea manufacturers protest that non-plastic bags would be too costly to implement.
THE HEALTH BENEFITS OF TEA
The rich antioxidants (also called polyphenols) in green tea are extremely beneficial to the heart and brain. Tea is known to alleviate acne, bad breath, colds, stress, and prevent eye diseases like glaucoma. Although too much caffeinated tea can lead to a lack of sleep, just the right amount before bedtime is one of the many therapies that are recommended to put an end to raucous snores, leading to better overall sleep as well.
The University of Maryland Medical Center reports that, "Polyphenols contained in teas are classified as catechins. Green tea contains six primary catechin compounds: catechin, gallaogatechin, epicatechin, epigallocatechin, epicatechin gallate, and apigallocatechin gallate (also known as EGCG). EGCG is the most studied polyphenol component in green tea and the most active."
"Green tea also contains alkaloids including caffeine, theobromine, and theophylline. They provide green tea's stimulant effects. L-theanine, an amino acid compound found in green tea, has been studied for its calming effects on the nervous system."
HOW TO AVOID PLASTIC IN TEA
Although the bigger tea bag manufacturers seem hesitant to make the switch to plastic-free bags, you don't have to wait to start drinking tea the safer and eco-friendly way.
You can also choose brands that don't use bisphenol-A (BPA), phthalates, or polypropylene. Other great options are tea bags made from organic cotton, hemp, or certain plant fibers.
CHOOSE LOOSE LEAF TEA
If you've used bagged tea because you thought loose leaf was too much trouble, you're in for a pleasant surprise. Organic loose leaf tea can be made just as conveniently and it's typically more flavorful because the tea leaves haven't been ground to dust to fit into a tiny plastic-riddled tea bag!
Many organic loose leaf tea brands come in easy to store tins or eco-friendly packaging.
Good Earth
Numi Organic Tea
Golden Moon Organic Tea
The Tao of Tea
Firebelly Tea
Golden Wattle Tea (Australia)
Loose leaf tea is a more economical choice since they are priced by weight while tea bags are priced per bag. You can also reuse loose leaf tea to make a second cup to cut expenses and waste. You can buy loose leaf tea in bulk. This involves as little waste and plastic contamination as possible, but loose leaf tea can also be purchased in cans or boxes if bulk is not an option for you.
HOW TO BREW LOOSE LEAF TEA WITHOUT PLASTIC
There are plenty of simple ways to avoid plastic tea bags. One way that probably doesn't require any new kitchen purchases on your part is to boil water on the stove top and pour it into a mug of loose leaf tea. If you don't want to drink tea leaves, strain it with a stainless steel strainer or a piece of cheese cloth you can wash and reuse.
A stainless steel tea infuser eliminates plastic contamination and the need for straining. Pour hot water into a tea mug and steep with loose leaf tea in the infuser for 3 to 5 minutes.
This electric kettle makes heating water extremely fast and easy.
This glass tea kettle comes with a stainless steel infuser. We add filtered water, turn on the gas stove, and add two teaspoons of loose leaf tea to the infuser as the water is heating. The process takes about 7 minutes from start to simmering in your favorite mug.
For Keurig users – Instead of buying single-use pods (10 billion of them end up in landfills each year) to brew tea in your Keurig, get a stainless steel refillable pod to use again and again. Simply scoop about two teaspoons of loose leaf tea (or coffee) into the pod and use your Keurig as usual. One of the Green Child team members used the same stainless cup for 8 years and it's still in perfect condition.
CHOOSE BRANDS THAT DON'T USE PLASTIC IN THEIR TEA BAGS
If you just really love brewing bagged tea, look for brands that don't use plastic in their teabags. It's hard to find a published list anywhere, but from the outreach we've done, here are some brands that have confirmed they do not use plastic in their string-and-tag teabags:
Numi Organic Tea – "We've been concerned about the potential health risks of steeping chemicals in hot water since day one. We use biodegradable, unbleached Manila hemp fiber for our tea bags. They are Non-GMO verified and will degrade over time in a normal compost heap." – Ahmed Rahim, CEO and co-founder of Numi Organic Tea.
Republic of Tea – "Teabags from The Republic of Tea come in our signature unbleached round paper teabags with no unnecessary strings, tags, or staples – the same way we have been making great tasting tea bags for over 27 years. The Republic of Tea does not make nylon or silken tea bags."
Clipper Tea – They announced on their website in 2018, "We are so proud to have launched the world's first plastic-free, unbleached and non-GM pillow tea bags."
Pukka Herb teas – Their website states: "We use a simple stitch of organic cotton and a unique folding process. This means we don't need to use polypropylene to hold our teabags together and our teabags are free from plastic. We were the first company to ever use organic strings to hold our teabags together without the need of a metal staple or polypropylene."
Yorkshire Tea – This is a new addition! As of September 2021 Yorkshire has transitioned away from plastic. There still could be some of the old plastic bags on shelves, so here's how to tell which packaging contains the new bags.
Tielka – In 2017, Tielka started packaging their Fair Trade teas in a plant-based tea bag fabric that comes from a sustainable, bio-renewable source. Tielka tea bags are also industrially compostable.
You can also grow tea leaves yourself. Some of the herbs used to make tea are fairly easy to care for, and knowing where your tea leaves are coming from can give you that extra sense that what you're drinking is healthy.
TRY TEA CRYSTALS
You can skip the brewing process altogether with Pique Tea crystals (find them at Pique's website or on Amazon). Mix them in either cold or hot water – and watch them dissolve with no tea bag required – for a delicious tea that is loaded with beneficial polyphenols.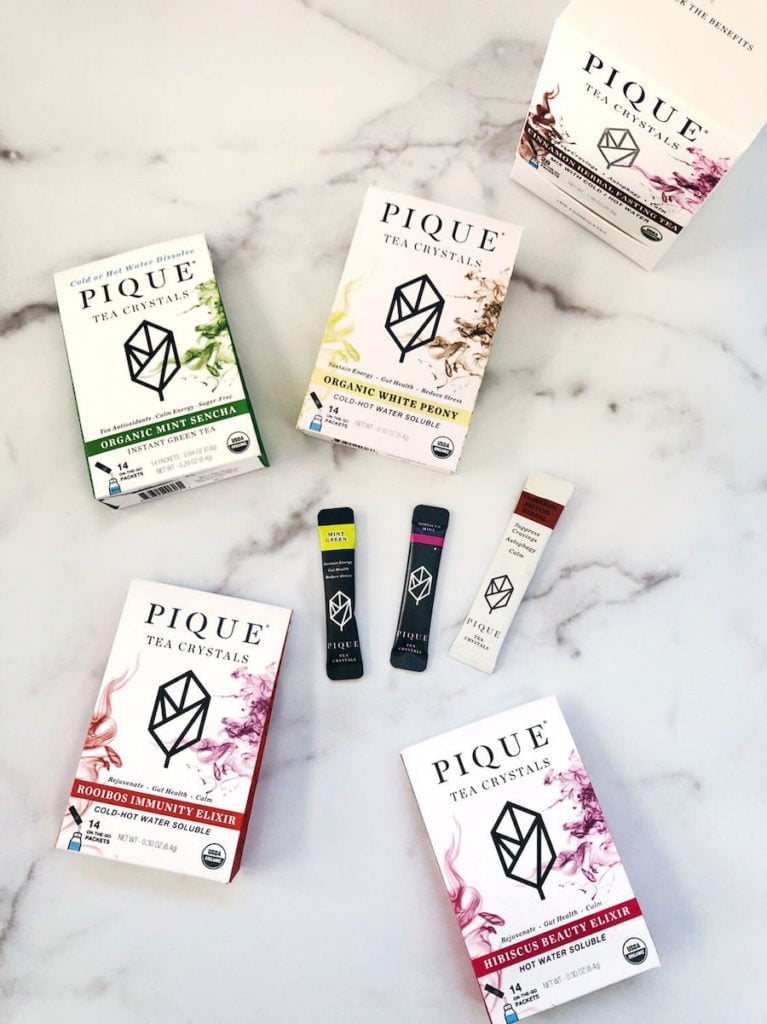 Their unique teas are composed of supercharged 100% organic tea crystals, which are Cold Brew Crystallized, meaning they deliver maximum antioxidant capacity – 6x the antioxidants of tea bags and 20x the antioxidants of bottled tea. Plus you'll find no preservatives, sugar, or additives in these little packets.
Some of our favorites are the Organic Jasmine Green Tea, White Peony, Organic Earl Grey, and we're totally loving this huge selection of their Herbal Gut Health Accelerator Bundle.
Tea crystals from Pique are concentrated and deliver 12X the antioxidants of other teas. Plus they are triple toxin screened for pesticides, heavy metals and mold so it's safe to drink every day. They also screen their teas for pesticides, heavy metals, and mycotoxins (toxic mold).
Get 5% off your first Pique Tea order with code GREENCHILD.
There are plenty of options that can give you the tea you love while also protecting the environment and your health. That way you can enjoy the numerous health benefits of tea without any of the side effects of plastic.
You might also enjoy these articles:
The problem with single-use plastic and how you can avoid it
The health benefits of matcha tea
The 15 most important steps to go green